You are here:
Home › News › 2017 › 03 › 03 › Salvos Freedom Partnership Leads Push For Modern Slavery Act
Salvos Freedom Partnership leads push for Modern Slavery Act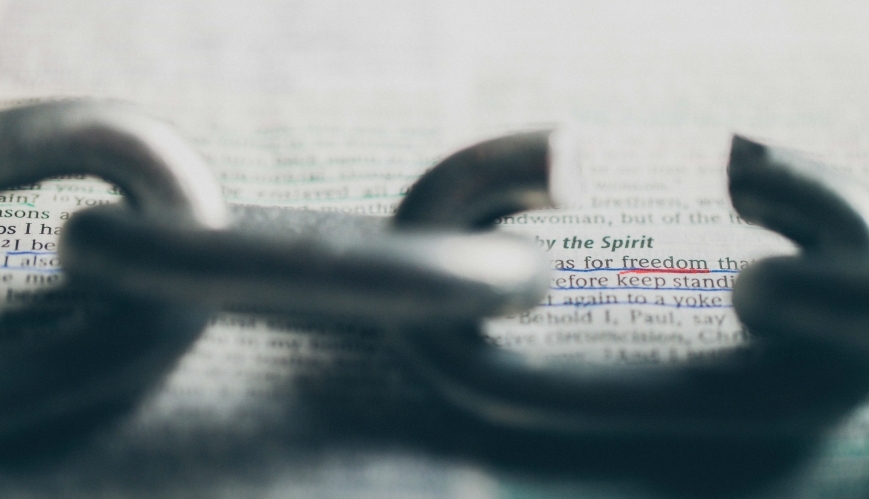 Salvos Freedom Partnership leads push for Modern Slavery Act
3 March 2017

The Federal Government's decision to look into whether Australia should adopt national legislation to combat modern slavery has been welcomed by The Salvation Army's Freedom Partnership to End Modern Slavery.
A government committee has commenced an Inquiry into establishing a Modern Slavery Act in Australia, comparable to the United Kingdom's Modern Slavery Act 2015. Such legislation would require businesses to publicly report on the steps they are taking to address worker exploitation and slavery in their supply chains.
The Freedom Partnership team played a major role in bringing the need for a Modern Slavery Act (MSA) to the governnment's attention and response.
On 2 December last year – the International Day for the Abolition of Slavery – The Australian Freedom Network (AFN), representing 18 faith leaders from around the country and chaired by The Salvation Army, wrote to Prime Minister Malcolm Turnbull calling for the establishment of an Australian MSA.
Mr Turnbull referred the letter to Attorney-General George Brandis, who subsequently announced the inquiry on 17 February. It will be undertaken by the Foreign Affairs and Aid Sub-Committee of the Parliament's Joint Standing Committee on Foreign Affairs, Defence and Trade.
"We are extremely glad that the voices we represent are being heard, and that the Australian Freedom Network could make such a contribution into an inquiry being established," said Jenny Stanger, National Manager, The Freedom Partnership. "If adopted, this national legislation will greatly discourage exploitation and slavery in Australian supply chains. We have also called for an Independent Anti-Slavery Commissioner to oversight, monitor and evaluate these efforts."
Mr Turnbull thanked The Salvation Army for its work in fighting the scourge of modern slavery. "I thank The Salvation Army and the Freedom Partnership for its commitment to this important cause by educating Australians about slavery and providing ways in which they can take action," he said. "You are empowering everyone to make a difference."

The Freedom Partnership and AFN are optimistic about the outcome of the inquiry.
"This is an opportunity for business to shape its response to slavery and human trafficking in our domestic economy, in the Asia Pacific region where slavery is most prevalent, and throughout the global community," said Jenny.
"We would like to see this issue discussed in the boardrooms of companies across the country, and to see NGOs, service providers, unions and workers involved in collaborative supply solutions.
"The voluntary actions that many companies, organisations and churches are taking to be ethical and socially responsible are wonderful, but not everyone is motivated by humanitarian concerns.
"Legislation provides motivation. The challenge will be for businesses to resource a governance and due diligence framework that is meaningful beyond first-tier suppliers and to look deeply into their supply chain to assess and address risk. There is no perfect model but there are some promising multi-stakeholder initiatives we can learn from. Similar Acts in the UK and USA offer promising practices and we will continue our role of educating and advocating as this inquiry process goes forward."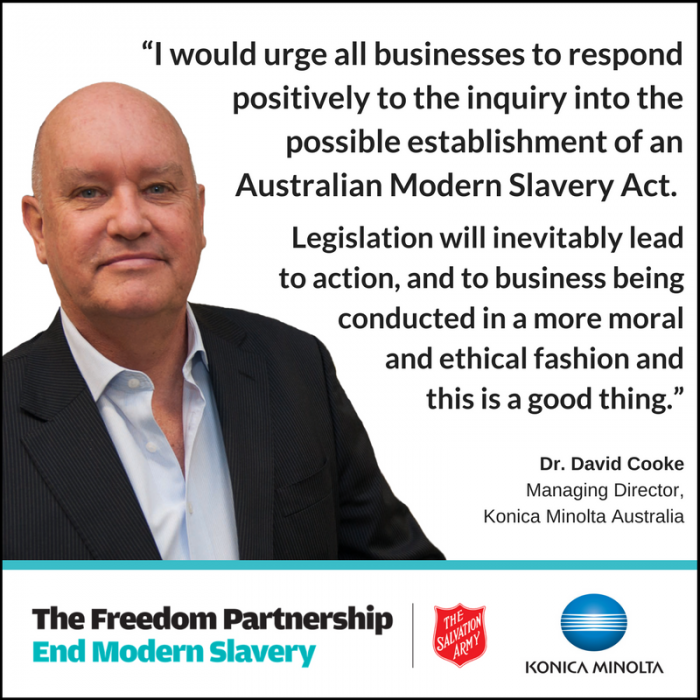 Konica Minolta (KM) Australia is a part of the AFN's MSA Working Group. KM has invested in ethical sourcing and is also a supplier to The Salvation Army.
Slavery does happen in Australia today. An Australian Federal Police spokesman said the cases of slavery referred to the agency included debt bondage, forced labour, forced marriage, organ harvesting and sexual servitude. In cases of forced marriage and human trafficking alone, the cases have doubled in the past two years from 70 to 169 – including at least seven child-trafficking and 36 forced-marriage incidents just in NSW.
According to the 2016 Global Slavery Index (GSI), an estimated 45.8 million people around the world are in some form of modern slavery, which describes a range of exploitative practices including human trafficking, forced labour, wage exploitation, forced marriage and debt bondage. The GSI also estimates that 4300 people are currently enslaved in Australia.
To be invited to events about the impact of a Modern Slavery Act (MSA) on Australian business, please send your contact details to endslavery@aue.salvationarmy.org
For more information, see endslavery.salvos.org.au/wp-content/uploads/2016/09/GFN-Joint-Dec-Ed2-Book-Single-Pages-0116-AUS-AFN.pdf