You are here:
Home › News › 2017 › 03 › 10 › General Cox Leads 80th Anniversary Celebrations In Mexico
General Cox leads 80th anniversary celebrations in Mexico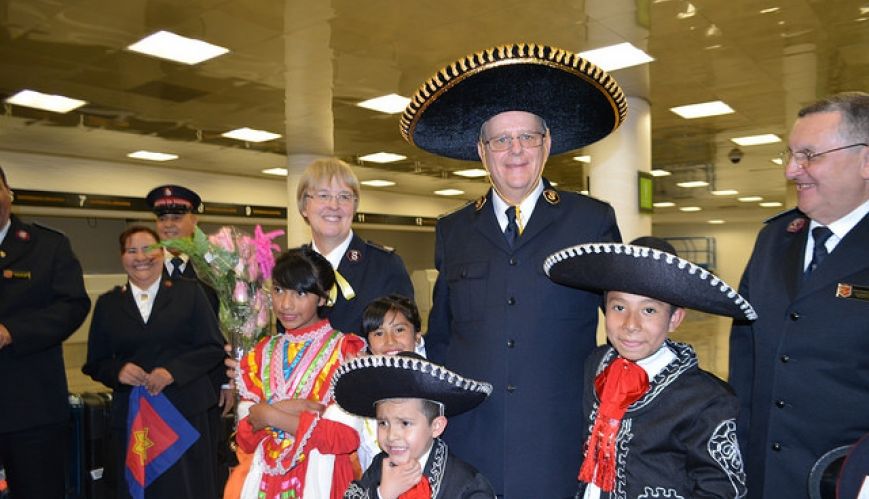 General Cox leads 80th anniversary celebrations in Mexico
10 March 2017
General André Cox admitted the first Mexican Salvationist to the Order of the Founder, The Salvation Army's highest honour, during his visit to the country in late February.
General Cox, the world leader of the Army, and Commissioner Silvia Cox, World President of Women's Ministries, travelled to Mexico to celebrate the 80th anniversary of Salvation Army ministry in the country.
Among the many highlights of their visit was the presentation of the Order of the Founder to 92-year-old Major Angela Vargas Rodriguez de Tavares, the daughter of two of the country's first Salvationists.
Arriving in Mexico, the international leaders were welcomed at the airport by the territorial leaders, officers and cadets. At a press conference with reporters from TV and radio stations, the General explained that Salvationists must be messengers of peace in this turbulent time, giving particular prominence to the critical issues of immigration and refugees.
During an inter-church gathering, Bishop Andrés Hernández said: "To speak of The Salvation Army is to know that, at dawn, they begin their days on their knees, in faith, facing the unknown." Meetings with government representatives opened doors for The Salvation Army to work with the authorities in promoting human rights and giving support to the displaced.
The 80th anniversary congress was attended by hundreds of Salvationists from all over Mexico. During one of his Bible messages the General spoke about "unity in Christ", emphasising growth through prayer and Bible reading. Mentioning the Army's long history in Mexico, he encouraged the congregation to remember the past but to focus on the future, both in their spiritual life and in social action towards the community.
Commissioner Cox warned the territory's young people: "It is not enough to have good intentions – we should seek God with all our hearts." In the women's ministries meeting she quoted Colossians 3:13-14, which speaks about forgiveness and love, emphasising that Salvationists and other Christians must clothe themselves with these qualities in order to be transformed more and more into the image of God.
At the holiness meeting 56 Salvationists who responded to the call to officership were offered words of challenge by the General.
The congress concluded with a march of witness and an outdoor meeting at which The Whole World Mobilising flag was flown. The meeting included people kneeling in prayer to seek the Lord.
For the full version of this article, and to view all the photographs, go to salvationarmy.org/ihq/news/inr070317