Making every moment matter at Aged Care Plus centres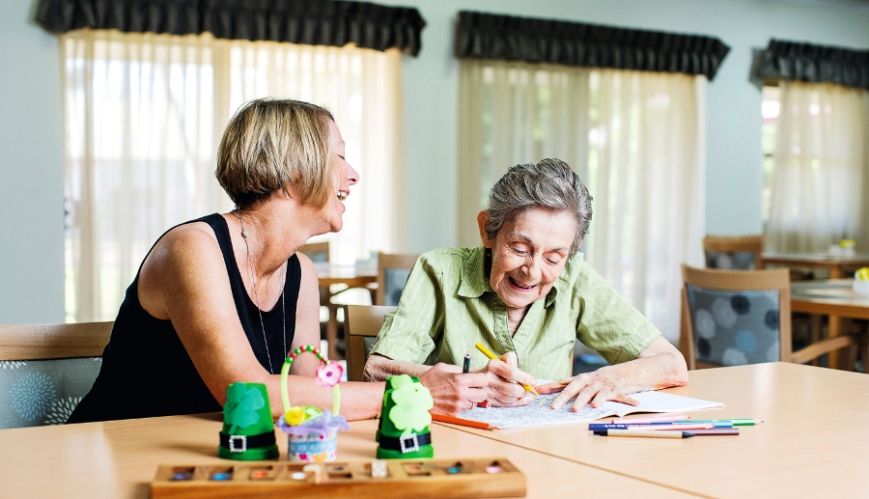 Making every moment matter at Aged Care Plus centres
23 March 2017
By Lauren Martin

As the Australian Capital Territory marks Seniors Week, The Salvation Army's Aged Care Plus is celebrating the success of its new Making Moments Matter dementia care model at Mountain View Aged Care Plus Centre in Canberra.

"Moments are the key to life," says Peter Bewart, Aged Care Plus Executive Manager – Care Services. "Living with dementia is like living in a constant fog where your experience of reality is confused with unsequenced thought patterns. Within this experience, you continue to retain your emotional awareness and overwhelmingly the most powerful emotion is love. Making Moments Matter represents the ability of our staff to tap into those real emotions and make them matter. The results we have seen over the last six months are evidence that these moments are being achieved and thus improving lived experience."

Since introducing Making Moments Matter in July last year, Mountain View Aged Care Plus Centre has seen a 100 per cent reduction in "expressive behaviours" among residents being cared for under the new dementia care model. The "expressive behaviours" that have been reduced include verbal and physical aggression, agitation, wandering, isolation and confusion. There has also been an 85 per cent reduction in falls.

Amanda Jackson, the daughter of Sue Jackson, who is a resident of Mountain View Aged Care Plus Centre, says she's thrilled with the new program. "I can already see how the program is providing greater quality of life for the residents when compared with the older programs. They are engaged and welcomed into a new home and I can see they are no longer bored or reserved."

Valuing each individual is at the heart of Making Moments Matter, which focuses on enablement, rather than dependence. So, daily routines at Mountain View Aged Care Plus Centre are relaxed, with residents expressing their feelings and desires about what activities they would like to take part in that day, at the time that they would like to do them.

Making Moments Matter allows residents to take part in cooking, cleaning, gardening, reading or other activities and household tasks as they choose.

Aged Care Plus expects further improvements as staff and residents settle into the new care model. Construction will start within the next six months to build fully-functioning small households within the centre, featuring domestic kitchens and laundries in which residents can carry out daily routine tasks.

Making Moments Matter is an internationally awarded program originally pioneered in the United Kingdom by Dementia Care Matters, titled the "Butterfly Household Care Model". Aged Care Plus was selected as one of only two aged care providers in Australia to launch it.