You are here:
Home › News › 2017 › 03 › 27 › International Staff Songsters In Full Voice For Mission
International Staff Songsters in full voice for mission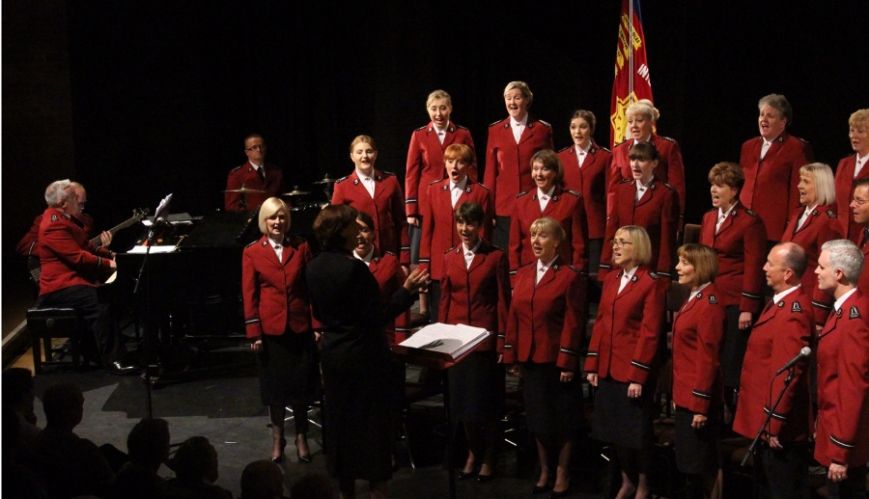 International Staff Songsters in full voice for mission
27 March 2017
The International Staff Songsters of The Salvation Army are making final preparations for their two-week tour Down Under next month.
The ISS, the premier choir of the Army, begin their tour in Perth.
"We are really excited about the visit of the International Staff Songsters to Australia with their launch in Perth," said Perth Fortress Songster leader Sian Clack. "The ISS are not only musically outstanding but their message of God is a powerful one.  With a group which has these qualities, our hope is that people who don't normally worship anywhere will feel moved, uplifted and inspired and those who know Christ as their personal Saviour will be blessed, challenged and empowered"
Added Deputy songster leader Helen Mulder: "Due to the vastness of Australia visiting groups often are confined to either the west or east coast due to time, cost and distance factors so we're delighted to be the first stop for this all Australian tour! It's the first time the ISS have been to Perth so were looking forward to hosting them. We are anticipating a wonderful few days of singing and fellowship."
The first concert of the Australian tour will be on Monday 3 April. They will also perform a day time concert in Mandurah, 70km south of Perth, on 4 April.
"This is targeted at seniors and folk in some of our regional centres who are not able to make the trip to Perth," said Helen. "Corps Officers Captains Michael and Erica Cossington have been working hard to promote the concert and have had a wonderful response from the local community.  It also means the ISS will get to see a snippet of Western Australia outside of Perth."
The ISS will perform a further six concerts in Australia and New Zealand. The Australia dates include Brisbane (5 April), Sydney (10 April), Canberra (11 April) and Hobart (12 April), concluding in Melbourne on 15 April.
"It is a thrill to have the International Staff Songsters touring our country," said Ken Waterworth, The Salvation Army Australia Southern Territorial Creative Arts Director.
"They represent the very best of what Salvation Army music making is all about. Their musical presentation will no doubt be outstanding but more importantly than that I know their ministry will be powerful. 
"This is not only an occasion for Salvationists to be inspired and blessed but also a fantastic opportunity for us to invite others to what will be a wonderful evening of music. The challenge for us all is to take the opportunity to use their visit as a tool for mission – a pathway to connect community with our church.
"I encourage Salvationists to support this tour with pray, believing that God will work in a mighty way through the efforts of this outstanding group of Christian musicians." For all tour details and concert bookings, go to sarmy.org.au/isstour