Cyclone damage inspections underway as mop-up-begins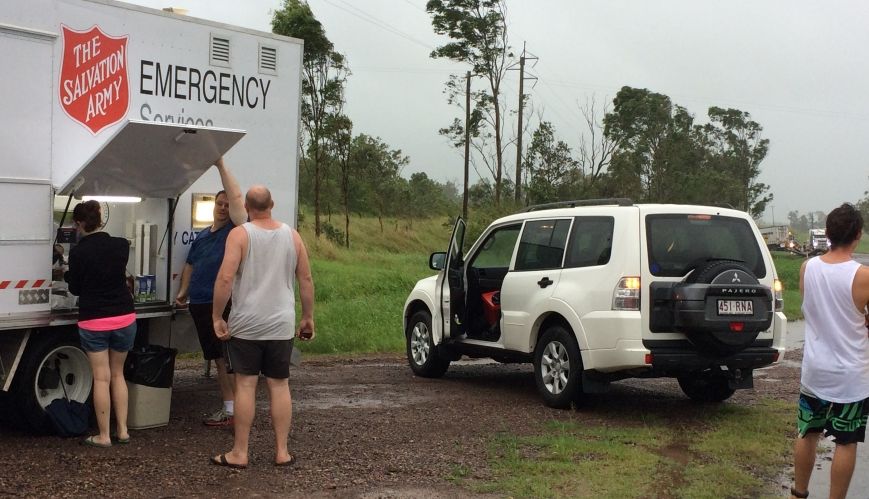 Cyclone damage inspections underway as mop-up-begins
29 March 2017
As the damage from Cyclone Debbie is being assessed The Salvation Army has launched a disaster appeal to support communities in the aftermath of the natural disaster. 
This follows the Queensland State Government's announcement today of a $1million contribution to four leading charities assisting with the emergency response. The Salvation Army will receive a $250,000 donation to help devastated communities.
The Queensland State Government has asked The Salvation Army to play a key role in the Cyclone Debbie emergency response effort.
Today the clean up began as the Salvation Army Emergency Services (SAES) and disaster response teams worked with local authorities to respond to the most immediate needs.
Salvation Army properties in Bowen have also suffered damage, although the extent of that damage is not yet known. Weather has hampered inspection of Army properties in Mackay.
In Bowen, the weather has cleared and gentle breezes are blowing. Debris covers the roads, many trees are down and roofs have been ripped off many houses.
"There is a lot of damage in the town," said Envoy Heidi Grice, Bowen Corps Leader.
"The family store has also been damaged. There is flooding inside and the front fascia signage has been ripped off. There is also water all around the windows of the corps building and the guttering has been torn out of one side of the building.
"It was the first cyclone we've been in and we didn't really know what to expect. We had winds of 145km/hr, which were strong, but other places got more than 200km," said Heidi. "We are still really assessing the damage here."
Major Peter Sutcliffe and his team from Rockhampton made it through to Mackay this morning.
"We will be deployed north to Proserpine as soon as the roads open, although that may not be until Friday or Saturday," Major Sutcliffe said. "Once the State Emergency Services, who are already working here, have their logistics in place, we will respond to their callout as well."
SAES teams from Bowen will also join the deployment to Proserpine.
On their way north to Mackay, the team waited with other stranded motorists while a road accident was cleared.
"We checked with the police there and fired up our generator to serve tea, coffee and biscuits to those waiting," said Major Sutcliffe. "We also gave the police hot coffee and refreshments, for which they were most appreciative! It was the least we could do to offer help on the side of the road!"
Winds and rain are still being felt in Mackay, where many of the homes have lost power.
"Many trees and branches are down and the cane fields have been flattened," said Lieutenant Steve Spencer, Mackay Corps Officer. "Cars that have been in accidents are on the side of the road. I sat at an intersection waiting for the lights to change and the car was shaking with the winds. Thunderstorms are now forming, which for this area means torrential rains. We aren't out of this by a long shot!"
In Townsville, the SAES teams and their supplies remain on standby.
Read our Cyclone Debbie coverage or follow us on Facebook.
Donate to The Salvation Army's recovery efforts by calling 13 SALVOS (13 72 58) or online at salvos.org.au. You can also make a donation at any local Woolworth's checkout or Westpac branch. Or simply Text "HELP" to 1999 2769 to donate $5 per sms. Visit salvos.org.au or call 13SALVOS for full details.