You are here:
Home › News › 2017 › 03 › 31 › Saes Teams Swing Into Action As Floods Devastate Parts Of Nsw And Queensland
SAES teams swing into action as floods devastate parts of NSW and Queensland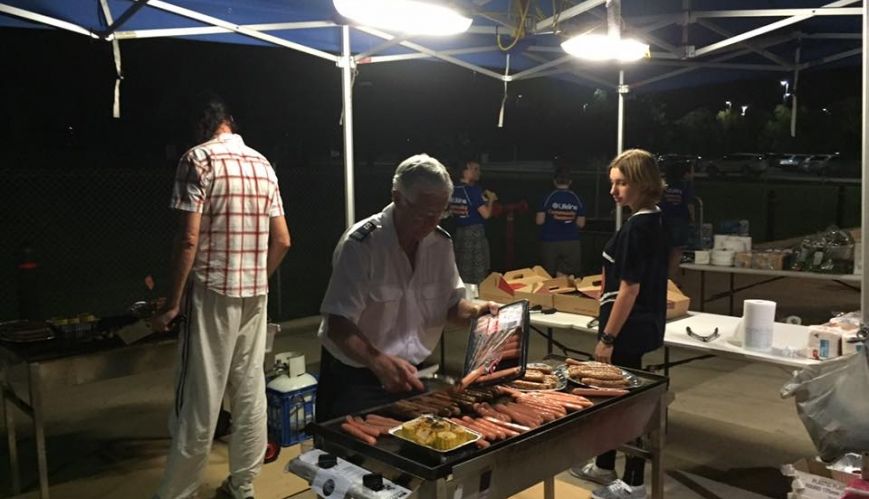 SAES teams swing into action as floods devastate parts of NSW and Queensland
31 March 2017
Mass evacuations prompted by near-record floodwaters are keeping Salvation Army Emergency Services (SAES) in south-east Queensland and northern NSW on high alert today.

Almost 20,000 people were ordered by the State Emergency Service (SES) to leave their homes last night as torrential rain and gale-force winds from ex-Cyclone Debbie battered the areas around Tweed Heads, Lismore, Murwillumbah and Kyogle, causing major flooding.

More than 1000 Queensland schools remain closed today and energy company Energex reported that it was working to restore power to almost 90,000 properties in the south-east of the state, with strong winds hitting the region overnight.

In Lismore, where floodwaters this morning breached the town's levee, the SAES team is at the evacuation centre at the Southern Cross University campus. They served supper to evacuees coming in last night, and breakfast to about 160 people this morning.

"Pizza was also ordered for those who missed dinner, Anglicare is giving out dry clothes, so it's a real team effort," said Captain Jennifer Reeves, Lismore Corps Officer. "We are taking it as it comes, as you'd expect in an evacuation centre."

Lachlan McKay, SAES Emergency Services Coordinator in NSW, brought in an emergency catering unit truck and assisted the team with breakfast this morning. They expect to serve lunch and dinner today, and will then wait to see what is required.

"At the moment, the number of people at the centre is going down as people move out to friends and family," said Captain Reeves. "We are seeing what is happening in town though with unbelievable flooding, so we really don't know how things will develop. We have a good team, we are ready, but it's early days yet."

The SAES team at Tweed Heads served dinner to around 30 people at the evacuation centre at Banora Point last night. Today they have been called out to feed 100 evacuees at the Kingscliff evacuation centre. Flood warnings for the Tweed River remain in place today, and the team is waiting to see what response will be needed.

"The evacuation centre at Banora Point is still open and we are just on hold to see what will happen there next," said Major Leanne Elsley, Tweed Heads Corps Officer. "The situation is not finished yet."
SAES volunteers at Tweed Heads prepare meals for the evacuation centres as river levels in the region continue to rise.
The SAES teams from Bundamba and Ipswich are sharing the load at the evacuation centre at the showgrounds in Ipswich.
The crew served dinner last night, and breakfast and lunch today.
"We are just now waiting to see if we need to be available for dinner tonight, as the Bremer River is expected to peak around 1pm, and we will know more then," said Captain Greg Pack, Ipswich Corps Officer.
"As well as people who have been evacuated from low-lying areas and local flooding, we have also been feeding Red Cross, security staff, traffick controllers, ambulance officers and other personnel from essential services."
SAES volunteers at the Ipswich evacuation centre prepare hot food for evacuees and essential services personnel. Photo Major Ben Johnson.
The Bundamba Corps is next to Bundamba Creek, where water levels have also been rising. Major Ben and Captain Emma Johnson have also been sandbagging the corps property. "The water is very slowly starting to recede, so we don't think there will be damage, but we will see what happens," said Major Ben.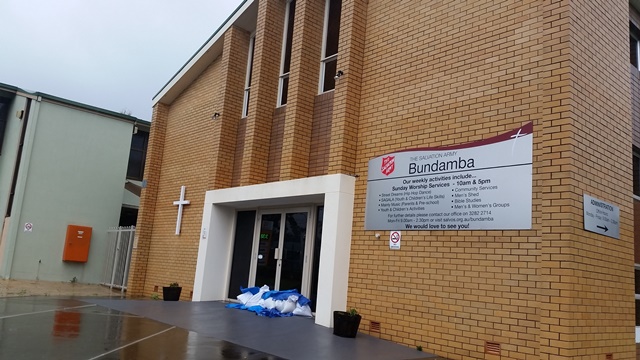 Precautionary sandbagging at the Bundamba Corps as the adjacent creek rises. Photo Major Ben Johnson.
Meanwhile, the clean-up from the damage caused by Cyclone Debbie in northern Queensland continues, with SAES teams serving residents in evacuation centres in Mackay, Bowen, Proserpine and Townsville.
Read more on the SAES' work during Cyclone Debbie.
Donate to The Salvation Army's recovery efforts by calling 13 SALVOS (13 72 58) or online at salvos.org.au. You can also make a donation at any local Woolworth's checkout or Westpac branch. Or simply Text "HELP" to 1999 2769 to donate $5 per sms. Visit salvos.org.au or call 13SALVOS for full details.