You are here:
Home › News › 2017 › 04 › 02 › Salvos Put Up Hand To Help With Looming Flood Crisis In Rockhampton
Salvos put up hand to help with looming flood crisis in Rockhampton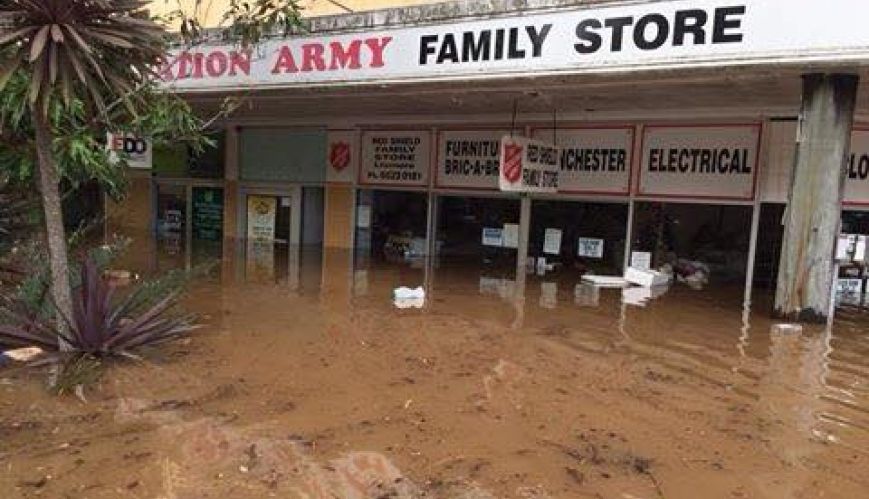 Salvos put up hand to help with looming flood crisis in Rockhampton
2 April 2017
As clean-up operations continue in North Queensland and northern NSW in the aftermath of Cyclone Debbie, residents of the Central Queensland city of Rockhampton are bracing themselves for record flood levels as the Fitzroy River continues to rise.
This afternoon, Salvation Army Emergency Services (SAES) were preparing for what might be the region's worst flood in 60 years. Rockhampton Regional Council reported today that more than 1800 homes had been doorknocked, encouraging residents to evacuate. An evacuation centre at the Rockhampton Showgrounds has already opened and the SAES is on hand to assist where needed.
"Our crew will assess what facilities are available and will remain down there, with other corps volunteers, to respond to catering needs," said Captain Dale Brooks, Team Leader, Capricorn Region Corps.
"At the corps meeting this morning, 43 people put up their hand to help, so we will have plenty of help. We are expecting more and more people to come to the evacuation centre over the next few days, as the awareness rises within our community, with the expected peak of the river to be between Wednesday and Thursday.
"The Fitzroy River is now at five metres, with the major flood level reading at 8.5," said Captain Brooks. "To give you an idea, we are expecting between 9.4 and 9.5 metres. Once in 100 years there is a 9.6-metre event, so this one could be it.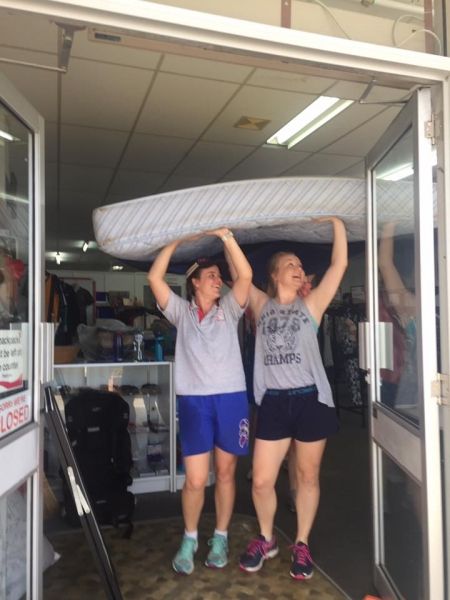 Volunteers begin the work of cleaning up the Bowen Family Store.
"Up to 5000 properties are expected to be affected and many, many people displaced. Despite this, the mood is one of people wanting to help."
In south-east Queensland, floodwaters are beginning to recede, revealing the extent of the disaster and the clean-up to come.
The SAES team at the Banora Point High School evacuation centre at Tweed Heads has been feeding evacuees and emergency services personnel since Thursday. Many of the evacuees came into the centre late last night and in the early hours of this morning.
The highway south has been cut at Chinderah, so evacuees and stranded travellers are waiting at the centre until they can continue their journey and return home. The SAES team fed 130 for breakfast and almost 80 for lunch.
Captains Bronwyn and Ashleigh Barkmeyer and volunteers were yesterday sandbagging the Life Community Hall at Slacks Creek as locals prepared for the Logan River to peak.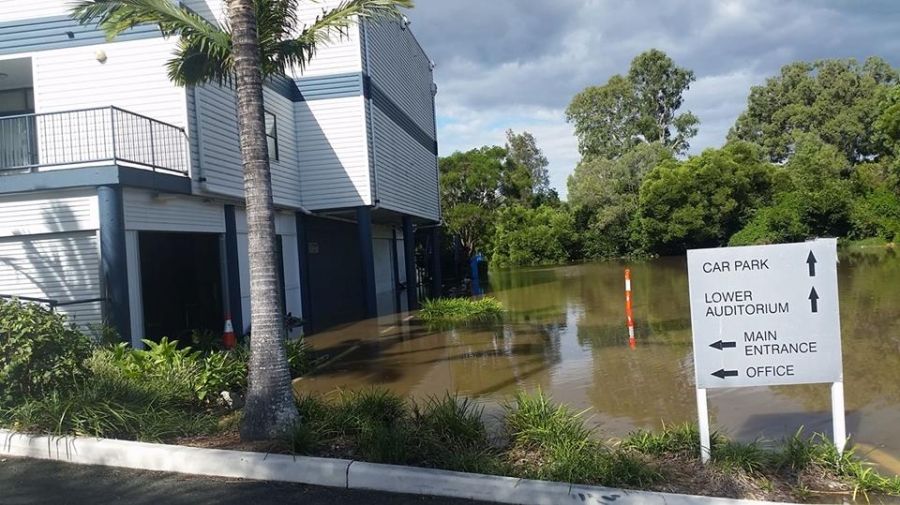 Floodwaters at the Salvation Army's Life Community Community Church at Slacks Creek.
In North Queensland, the restoration of power in parts of Mackay has lifted morale in the SAES team.
"You wouldn't know there had been a cyclone through here; it's such a sunny, bright day," said Lieutenant Lydia Spencer, Mackay Corps Officer.
The SAES has been feeding evacuees and emergency services personnel at the evacuation centre, which is now closed.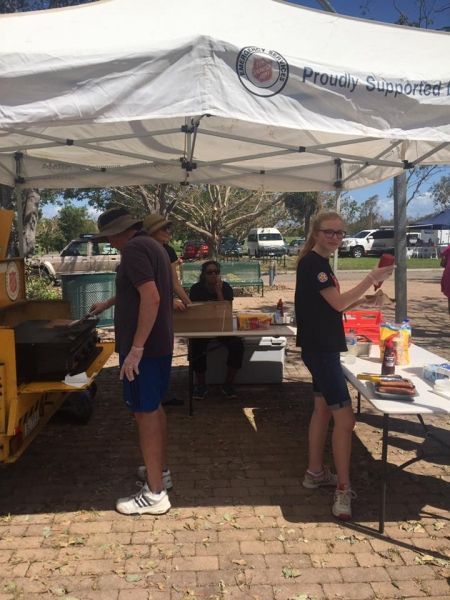 Townsville Riverway provides a BBQ at the Bowen Community Recovery Centre.
For the next four days, they will be feeding the State Emergency Services (SES) team, providing cooked breakfasts and dinners, and a packed lunch.
"We have set up at their base of operations in town, where they stay and sleep while they're here," Lieut Spencer said.
"Relief teams from Gladstone have gone through to Proserpine and Airlie Beach, while another team will relieve those of us in Mackay. Our team will continue to serve meals, but the shopping and preparation will be done by the Gladstone teams."
Recovery sites at Mackay and Bowen have now opened with further sites expected to open at Cannonvale and Proserpine in the next few days.
Read more on the Cyclone Debbie clean-up.
Donate to The Salvation Army's recovery efforts by calling 13 SALVOS (13 72 58) or online at salvos.org.au. You can also make a donation at any local Woolworth's checkout or Westpac branch. Or simply Text "HELP" to 1999 2769 to donate $5 per sms. Visit salvos.org.au or call 13SALVOS for full details.