You are here:
Home › News › 2017 › 04 › 05 › Salvation Army At Heart Of Recovery Sites For The Long Haul
Salvation Army at heart of recovery sites for the long haul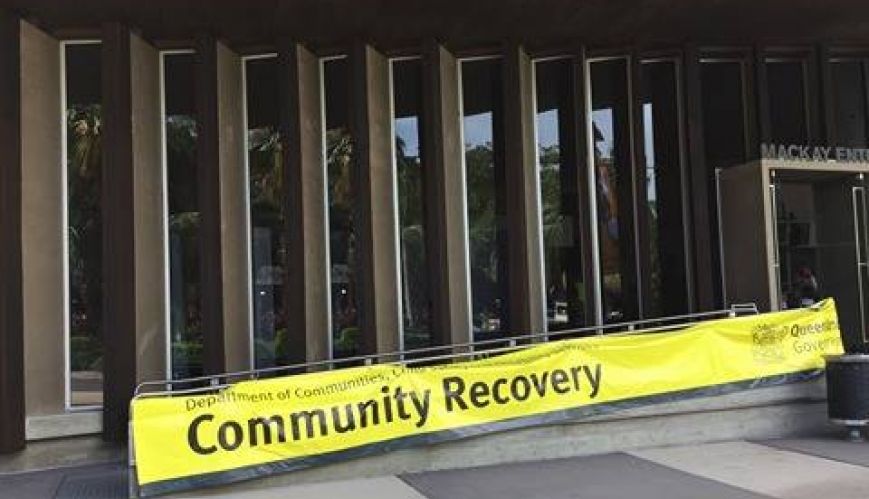 Salvation Army at heart of recovery sites for the long haul
5 April 2017
The Salvation Army is an integral part of the recovery sites that are operating and being established throughout the cyclone and flood-ravaged areas of Queensland and Northern NSW.
Recovery sites (called "hubs" in Queensland and "centres" in NSW) are run by the Department of Communities, Child Safety and Disability Services, which establishes them in disaster zones as soon as it is safe to do so. The sites work on a multi-agency approach to emergency disaster response and recovery and include access to services offered by government and non-government agencies such as The Salvation Army, Centrelink, Red Cross, Lifeline and others. Not all agencies are in every hub.
"At the beginning of disasters there is often a lot of help and support," said Kim Lee, Strategic Disaster Manager for the Australia Eastern Territory. "The Salvation Army is part of these hubs because we are in this for the long haul. It's a long-term process to help people rebuild their lives, and not just their homes."
Kim has spent the past few days in Northern Queensland, attending government meetings and assisting local Salvation Army Emergency Services (SAES) teams and coordinating the arrivals of trained disaster response personnel around the territory, as they respond to the government's invitation to be a part of recovery sites.
"I am here to assist in setting up the hubs and getting a sense of what is working and what is not, and how we can best help in these sites," Kim explained. "The Salvation Army launched a disaster appeal last week to provide an opportunity for Australians to support communities ravaged by Cyclone Debbie in North Queensland, which followed the Queensland State Government's $250,000 donation to The Salvation Army's effort to help devastated communities. We are putting that money to work through the hubs, assisting those who need immediate help with Woolworths and a limited amount of universal gift cards, so people can get what they need straight away."
In Prosperine, the SAES continue to feed people waiting for assistance at the recovery hub there. Photo Lieutenant Chris Ford.
Major Rick Hoffmann, Territorial Social Program Director ((Recovery, Chaplaincy, Disability, Disaster Teams), explained that The Salvation Army's levels of financial and material support are based on an assessment of needs and individual circumstances. Chaplaincy support is also available as requested.
"The Salvation Army, and some other non-government organisations, can also assist people who are ineligible for government assistance, for example due to the Australian residency status, such as backpackers," said Major Hoffmann. "We can often provide immediate assistance where sometimes other types of assistance can take days to become available."
Colonel Mark Campbell, National Chief Secretary, and Lieutenant-Colonel David Godkin, Queensland Divisional Commander, recently visited some of the cyclone-affected areas of Northern Queensland and saw first-hand what people had experienced and how The Salvation Army was responding.
"It was an honour and privilege to visit, listen to and hear of the incredible work of the Army in these critical days of emergency throughout Queensland," said Colonel Campbell. "In particular were the government representatives coming to both David and me expressing their gratitude of the work The Salvation Army does. On behalf of the national leadership team we would want to express our own gratitude for the committed work of our people."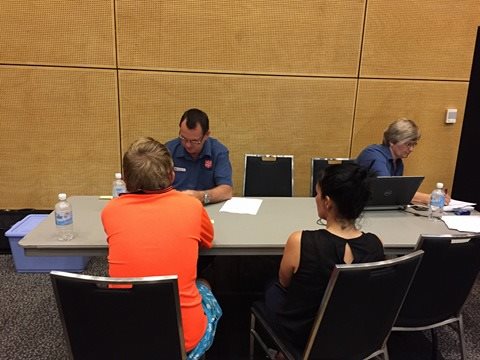 Salvation Army personnel work with those most impacted by the aftermath of Cyclone Debbie.
The Salvation Army is also on the ground, ready to listen to people's stories. "Having a presence in the sites is also very powerful," said Kim. "Many people are really struggling after what was, in Northern Queensland, a 36-hour cyclone and storm. They are glad to see us, to talk, and for the immediate assistance we can offer.
"The Department of Communities, Child Safety and Disability Services assesses people based on different criteria and can offer them disaster grants for things like structural damage, and loss of house and contents."
"Government grants have also just been announced, but these can take time to process which is especially hard for those on low incomes and the marginalised."
In Queensland, there are recovery hubs in Mackay, Bowen, Proserpine and Cannonvale. There are also centres in NSW. In Lismore, Casino and Ballina, the centres operate through the Salvos Connect sites. The Byron Bay centre is based in Mullumbimby in partnership with local council. A hub may possibly open in Rockhampton, once the flood has peaked and needs are assessed.
Local team leaders are managing the hubs in Mackay with Major Tracey Wicks, and Byron Bay with Lieutenant Wes Bust.
"Wherever Debbie goes, we will follow!" said Kim. "All the sites will continue to operate until the need is not there anymore. Our work will also continue in the community outside of that. The SAES response is also important – we work together, feeding people at the recovery sites or wherever the community is."
Through all this recovery work, Major Hoffmann emphasised that The Salvation Army acknowledges the resilience of all the people impacted by Tropical Cyclone Debbie and its aftermath.
"We also acknowledge the many people who come together to respond in many different ways to help," he said. "It really is a whole of community effort. The Salvation Army is humbled to be able to play its part by God's grace. We are also very grateful for the generosity of the Australian public to help make all this possible."
For information on The Salvation Army's disaster appeal, go to salvos.org.au