Business community gives appeal a $1.3m kickstart
Business community gives appeal a $1.3m kickstart
5 May 2017
Sydney's business community came out in force for yesterday's 2017 Red Shield Appeal launch, donating more than $1.3 million towards The Salvation Army's national goal of $73 million.
The Salvation Army's National Commander, Commissioner Floyd Tidd, officially welcomed more than 500 business and community leaders at the Westin Hotel, thanking them for their ongoing support of Army's work.
"In the response to the recent Cyclone Debbie with the support of Woolworths, our National Natural Disaster Partner, our teams were able to be on the ground providing support immediately," he said.
Chair of The Salvation Army Territorial Appeal and Fund Development Committee, Frank O Halloran, announced the donation tally, which included his own donation of $225,000, and a $200,00 gift from the NSW Government.
More than 500 business people and community leaders were gathered at the Westin Hotel yesterday for the launch.
Woolworths Group Managing Director and CEO Brad Banducci, who officially launched the Appeal, spoke of the significance of being able to partner with The Salvation Army in their quest to be a "business with purpose".
"There are always natural disasters in Australia and, therefore, we need to respond in those and we can think of no better partner to work with than The Salvation Army," he said.
Mr Banducci said he had witnessed first hand the "amazing" work of The Salvation Army in Queensland and Northern NSW during the recent relief and recovery efforts in the aftermath of Cyclone Debbie.
"They really made sure that people in dire need got food, shelter, clothing – whatever it took," he said.
The powerful and honest testimony of Gale Lamont (pictured below with singer Silvie Paladino), a long-term alcoholic whose life was turned around by The Salvation Army's Selah Farm rehabilitation centre on the NSW Central Coast, touched the hearts of the corporate community.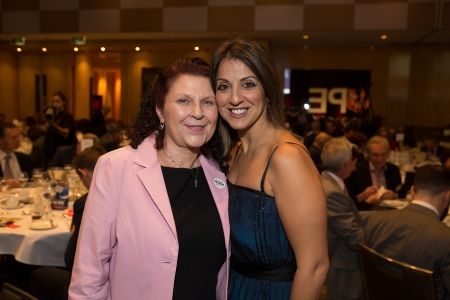 Gale told her heart-wrenching story of 24 years of addiction and 21 failed rehabilitations before being referred to The Salvation Army's 10 month-recovery program.
"From the moment I walked in, I was treated with respect. I was treated as though I was the only person in the room. I wasn't judged and I can say I was loved backed to life," she said, a smile breaking across her face.
The room then erupted in spontaneous applause when Gale shared that she had been alcohol-free for seven years and seven months.
Now a senior soldier of Long Jetty Corps, on the Central Coast, Gale described those who helped her as an "Army of angels".
The event, compered by television presenter Georgie Gardner, also included two moving performances from Melbourne singer Silvie Paladino.
Lieutenant-Colonel Kelvin Pethybridge, Chief Secretary-in-Charge of the Australia Eastern Territory, closed the event with a final challenge to the audience to be part of bringing transformation through the Red Shield Appeal and in their own lives.
The Salvation Army's annual Red Shield Appeal doorknock will be held on the weekend of 27-28 May or donate online.