Volunteering fills void in Justin's life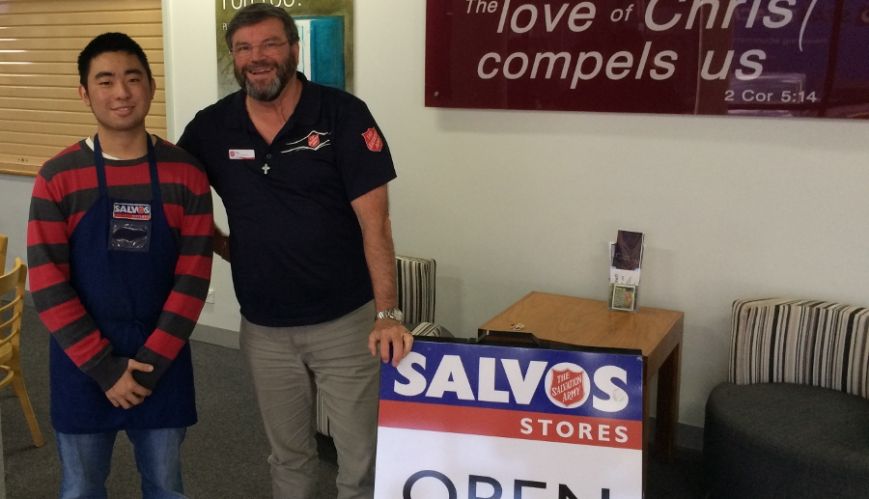 Volunteering fills void in Justin's life
8 May 2017
Justin Zhu found himself at a loss after dropping out of university. Without study or work, he wanted to find something meaningful to do with his time.

He knew The Salvation Army's annual Red Shield Appeal was coming up. He remembered volunteering to doorknock as a high school student, and decided to seek out the Army and offer his time again.

Rockdale, in Sydney's south, was his closest Salvation Army centre, and it was here that he met the corps officer, Major Paul Kinder.

Most people volunteer a few hours on either Saturday or Sunday of the doorknock weekend, but Justin signed up to both days and then asked Major Kinder if there was anything else he could do to help.

Major Kinder suggested the Salvos Store, which is in the same complex as the corps. Justin now volunteers two days a week at the store, and, at 19, is the youngest staff member.

"Having a lot of free time and just looking for work isn't really, well, it's just monotone you know?" Justin said.

"[Volunteering] is a good way to break the cycle. Talking to people and meeting new people ... it's a great way to stay in touch with people.

"If it wasn't for the Salvos I'd probably be spending my days at home just wasting my time."

During his shift, Justin stocks shelves, sorts through donations, serves and chats with customers and other volunteers. He loves it so much that he also volunteers two and sometimes three days a week at another Salvos Store at Darlinghurst. He says the staff and other volunteers have become like family: "They've made me laugh, I've made them laugh. I like it a lot!"

Justin has since resumed his studies, enrolling in a TAFE course, but he says volunteering will always be part of his life. "I'd definitely recommend it. It's a good experience," he said.

National Volunteer Week runs from 8-14 May.
Read National Commander Floyd Tidd's thank you message to our volunteers here. If you have a volunteer you'd love to celebrate, send us a message.