New Salvo picture book teaches children to be kind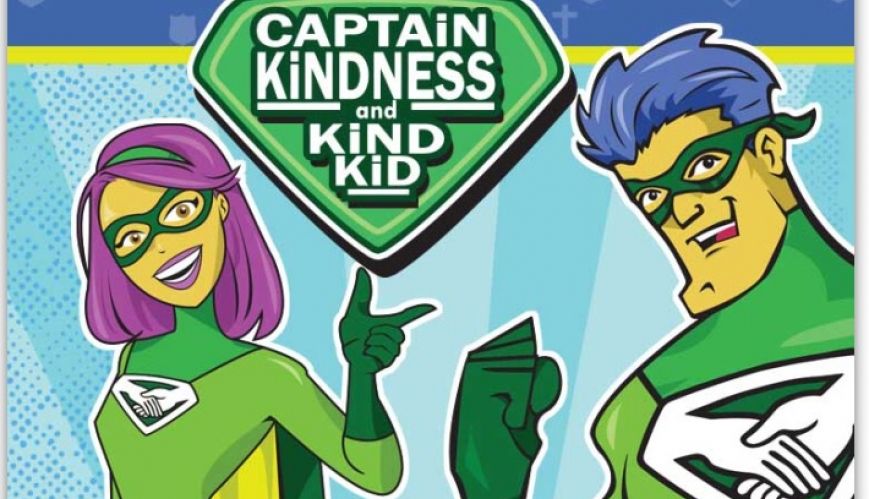 New Salvo picture book teaches children to be kind
15 May 2017
By Claire Hill

Families at Rouse Hill Corps in Sydney's north-west were treated to a visit from Captain Kindness and his sidekick Kind Kid during the Sunday morning service on 30 April.

Children watched intently as the pair bound into the room with their brightly coloured capes flowing behind them.

Captain Belinda Atherton, Divisional Salvos Caring Coordinator, then led an interactive segment where the superheroes and children in the audience were interviewed about the power of kindness.

The visit from the characters helped commemorate the official launch of Captain Kindness and Kind Kid: It all begins with Grace, a new Salvation Army-produced picture book, designed to help children understand the difference they can make in the world when they choose to be kind.

The book follows the journey of Kind Kid, an ordinary schoolgirl who becomes a superhero when Captain Kindness recruits her to be a force of kindness in her school. 

Every child in attendance on the day was gifted a copy of the book. After the service there was opportunity for children to pose for a photo with the heroes, purchase additional copies of the book or enjoy morning tea.
Author and illustrator of the book, Rod Allen, said: "I have loved superheroes since I was three years old, so to be asked to invent them from scratch was really a dream project for me. I love that we are using the sense of fantasy and imagination that comes with superheroes to give kids this important message." 
Rod and Belinda received a welcome surprise earlier in the month when nearly 600 copies of the book were purchased in less than an hour before the launch had even occurred.

"We just thought we'd let the people on Territorial Headquarters know that the book existed, so we mentioned it at the start of an existing headquarters event. We had a couple of boxes up the back of the room and expected to sell about 30 copies but sold several hundred in that first hour. We were shocked. The orders have just kept coming in since then despite us having done very little publicity so far."

Belinda says the book has helped her own son with his relationships at school. "When we were still in the process of editing the book I brought a draft copy home to read with my six-year-old son Noah. At the time he was having trouble with a friend at school. The two boys wanted to be friends but were having trouble playing well together. We read the book at bedtime and he immediately said, 'I need to share this book with my friend Jack!' For me that was a golden moment."
"This is the purpose for Captain Kindness. I was able then to talk to Noah about how he could be like Captain Kindness and choose a response of kindness and understanding rather than react out of the frustration and anger he was feeling. For me to see my son recognise his own real life situation reflected in the story and to see it offering him a way to deal with it – this is the whole reason why we are doing this." 
The book is targeted at primary school-aged children and can be purchased for $2 from mysalvos.org.au/captainkindness

For more information about the Captain Kindness initiative visit the book Facebook page or email salvos.caring@aue.salvationarmy.org