Celebrities celebrate Salvos' Donut Day in Adelaide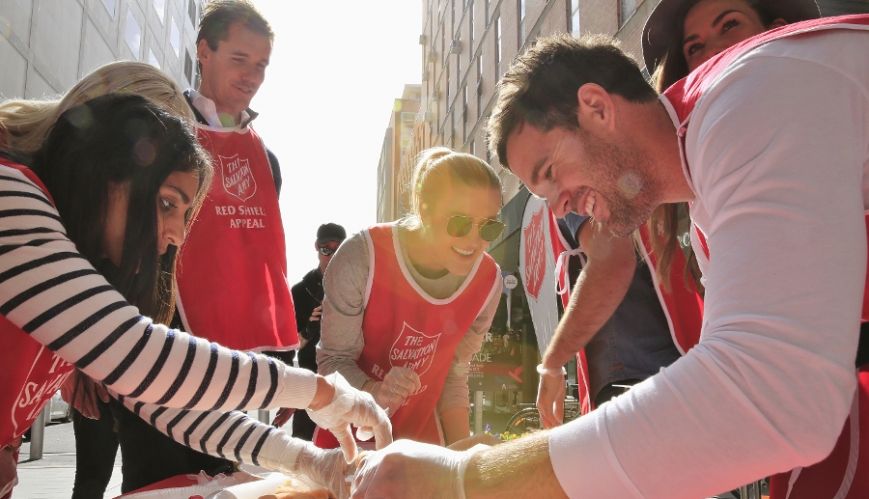 Celebrities celebrate Salvos' Donut Day in Adelaide
26 May 2017
By Jessica Morris

A host of Adelaide celebrities showed off their creative side in Rundle Mall this week by supporting The Salvation Army's annual Donut Day and raising awareness for this weekend's Red Shield Appeal Doorknock.

Fifty celebrities gathered under the Gawler Place canopy to decorate donuts in the most creative and innovative way possible, with some interesting results.

The Adelaide event has been held for past nine years as a forerunner to National Donut Day on the first Friday of June each year. National Donut Day was created by The Salvation Army in 1938 to honour the men and women who served donuts to soldiers during World War One.
Judged by My Kitchen Rules contestants Tim Attiwill and Kyle McLean (pictured right), they headlined a spate of stars including Kate and Harry from House Rules, Nova breakfast team Lewis & Lowe with Hayley Pearson, Rebecca Morse, Kate Freebairn and Nick Butler from Ten Eyewitness News Adelaide, Channel 9 journalist Will McDonald, and previous winner of My Kitchen Rules, Bree May.
"It actually isn't easy (judging) ... there was a lot of pressure on our shoulders!" Tim told Adelaide Now.

Salvo mascot "Shieldy" was joined by Divisional Commander, Major Barry Casey, and Divisional Public Relations Secretary, Mark Foyle, as they interacted with passers-by and the media to promote the Red Shield Appeal.
 
The Salvation Army in South Australia aims to raise $710,000 over the next few weeks, contributing to the national doorknock goal of $8 million. The overall national goal is $73 million.
The donuts were generously provided by Donut King Smithfield and set the tone for a day of fun and conversation.
"We had great local news coverage to help create awareness in South Australia about the Red Shield Appeal and we were also able to underpin the ESIS report," said Divisional Community Fundraising Coordinator, Duan Kereru. "There were heaps of happy, smiling faces and we had a great day."
In an interview with Nine News Adelaide, Mark highlighted the significance of the new tap-donation system, which is the first of its kind being trialled across Australia.
 
"In the past if you'd see a Salvo on the street, you'd get change from your pocket and give it to the Salvos. More and more people don't have the change in their pockets anymore, so The Salvation Army has adopted a tap and go machine" he said. "If you can give, please do."
The annual Red Shield Appeal doorknock will be held 27 and 28 May.