Young collectors kicking goals for the Salvos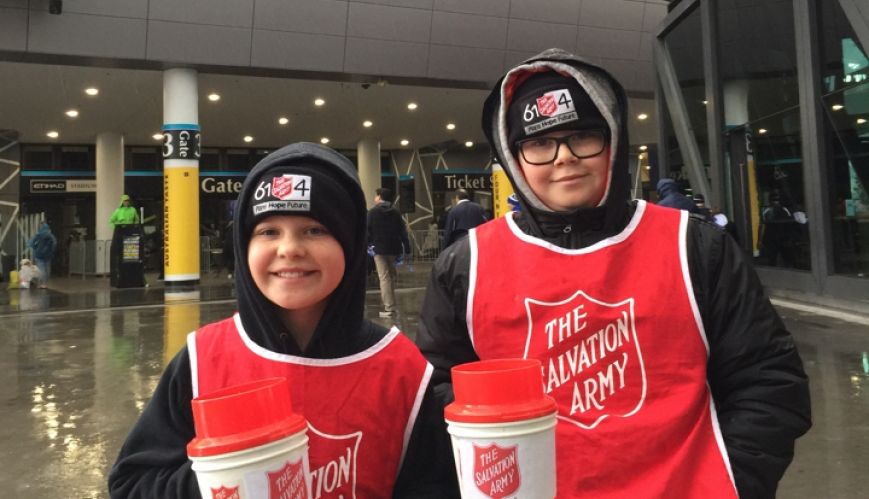 Young collectors kicking goals for the Salvos
15 August 2017
By Jessica Morris

They say that AFL's more than a game, and that's certainly the case for Caeden and Keilah Roberts. Since they began collecting for the Salvos outside Etihad Stadium in Melbourne last year, these audacious kids have found that Victorians' passion for footy is matched by their generosity to help those in need.

Caeden, 11, and Keilah, 10, can be found rain, hail or shine (quite literally in Victoria) asking footy fanatics to donate their loose change before they see they favourite AFL team play. And they've had stellar results.

Last year they raised enough money for Major Sandra Nottle to purchase a new washer and dryer for the Melbourne 614 Corps' homelessness program. Their continual volunteering also means that more people have access to food and a safe place to sleep at night – and that's all that matters to Caeden.

"I like doing this because I can help people who are stressed about not getting enough bread, clean and dry clothes. I really like meeting new people and making them happy by saying hello," he says.

Keilah agrees. For her, it's not about standing out (although she does count a camel ride around the MCG as a highlight), but playing her part to help others.

"I like collecting and helping because I'm 10 years old; I'm young, I can't help people properly but I can help this way. Everybody should do their bit to help," she says.

Having grown up in the Salvos, helping others is part of Caeden and Keilah's DNA, and they became volunteers when their mother, Catherine, an employee at Melbourne's 614 Corps, told them there was a gap collecting donations. They jumped at the chance to help out, and have since become a staple in Melbourne's AFL life. 


"Some people like finding me each week to give me their donation; they think I'm lucky. One man saves all his five-cent coins in his piggy bank and comes to find me before the game," laughs Keilah. "Lots of people tell me they're sorry they don't have any change, but that's ok, we'll get them next time!"

It's not difficult to find Caeden and Keilah at their regular post. Often they'll stand together (they assure me this makes them more popular with donors), donning a red Salvo bib and an AFL beanie. The fact that they are kids also draws in more of a crowd, even if it does surprise locals who are used to more traditional collectors.  

"I really like meeting new people and making them happy by saying hello. I think they're happy to see kids collecting," says Caeden.

Between regular football fans and mascots, the kids certainly keep busy, but always under the watchful eye of their parents, the police and stadium staff. But with all the fun, what keeps them coming back is the assurance they are helping others.

"I like that I get to meet new people, have fun, do my bit, help others, have a laugh and become more confident in everything I do," Keilah says.
 
A generous spirit, a cheeky smile, and a heart for the hurting – Caeden and Keilah are just being "everyday" salvos.