You are here:
Home › News › 2017 › 09 › 05 › Drunken Tom And Hot Milner Australias First Salvation Army Officers
'Drunken Tom' and 'Hot Milner' - Australia's first Salvation Army officers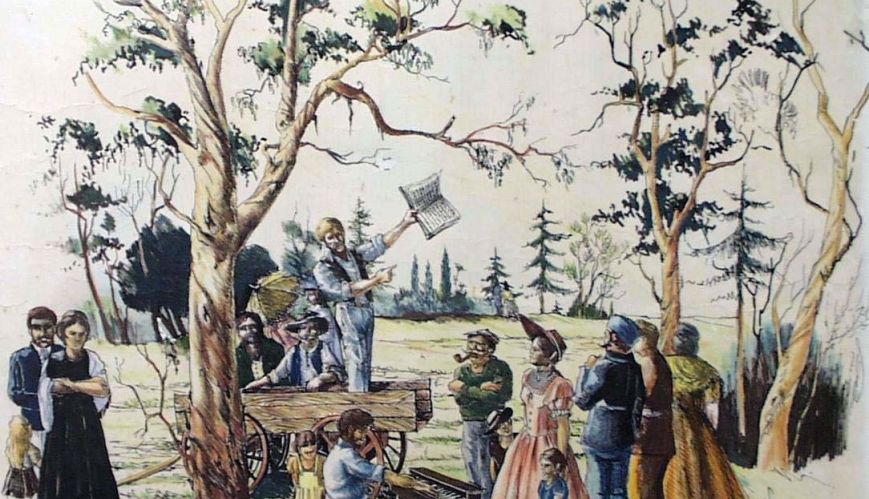 'Drunken Tom' and 'Hot Milner' - Australia's first Salvation Army officers
5 September 2017
As The Salvation Army today celebrates its 137th birthday, others online takes a look at the first officers sent to Australia, Captains Thomas and Adelaide Sutherland in this edited extract of a Hallelujah! magazine article.*
After starting The Salvation Army on the back of a horse-cart in Adelaide's Botanical Garden, John Gore and Edward Saunders wrote to General William Booth requesting that officers be appointed to lead the work "down under". On 5 January 1881, General William Booth, appointed Captains Thomas and Adelaide Sutherland to the work. But who were they? 


Thomas Sutherland was born on 13 July 1857 in Norfolk County, England. Life was hard. He became a blacksmith but fell in amongst bad characters and took to heavy drinking and fighting. To his parents' disappointment, Sutherland became known as "Drunken Tom". He left home, made his way to the bright lights of London while still a young lad and continued to whet his appetite for more trouble.

Roughly clothed and having no work, he put his musical talents to work as a strolling vagabond (or busker). One day he was drawn to a group of happy-sounding people singing along the streets of Hackney. He stopped, listened and followed them back to their mission hall. He enjoyed the singing and returned a number of times.

In 1877, female preachers were rare, and when young Catherine Booth (daughter of William and Catherine Booth) aged 18, arrived to lead the meeting, 20-year-old Tom was not only intrigued but so moved by her message that "Jesus Christ can change your life", he was converted and immediately welcomed into The Christian Mission.

Christian Mission (and later Salvation Army) tradition at that time was to adopt a nickname – unfortunately Tom initially retained "Drunken Tom", although he soon became known as the "Converted Blacksmith". His enthusiasm for the work had him shouting, singing and testifying, and eventually won him another change of nickname to "Glory Tom" because his voice seemed to come from the "Glory-Land". In fact, his tombstone in Karrakatta Cemetery, Claremont, Western Australia, carries the inscription "Glory Tom".

His fervour for the work attracted the attention of General Booth. After six months as a member of The Christian Mission, Tom was among the first group of 10 recruits to enter officer training at Manchester Corps in 1879, under the supervision of Ballington Booth, son of the General. Prior to this there was no systematic training facility for officers.

Following training, Tom was sent to some of the most hostile environments imaginable. At Darwen in Lancashire, he was so brutally set upon by "roughs" (ruffians) that his life was seriously at risk. He apparently came close to losing his life, such was the brutality of ruffians who were hired by publicans to harass and beat up members of The Salvation Army because of their opposition to pubs, distilleries and breweries.

On recovering, he took charge at Spennymoor in County Durham. There he experienced great success in managing to convert some of the biggest drunkards and blackguards to the Army's Christian cause. No other church would have such troublemakers. But Glory Tom went right after them, since he previously was one himself and could relate to their troubles. Tom was obedient to the General's command: "Go for souls and go for the worst."

While in Spennymoor, Tom went for another soul – and became engaged to Captain Adelaide Ann Connell Milner who was born in 1860 in North Thoresby, Lincolnshire, England, and lived her childhood in Hull. Following her mother's death, young Adelaide was sent to boarding school. At 12 years of age, she was converted and in 1878, at 16, she was influenced by Captain Elijah Cadman of Corps #21 Leeds and became a soldier.

It is interesting that the first permanent officer training facility, established in April/May 1880, was for ladies. There were 30 women who entered the former home of the General and his family at 15 Gore Road, Hackney, under the direction of Emma Booth, daughter of the General. It seems that Adelaide Sutherland was among these first cadets.

In her desire to save people from their sins, she became an aggressive warrior. Her preaching was fiery and hence she was referred to as "Hot Milner". The General had quietly told her to "mix a little sugar with her pills", adding "they would go down better". The roughs who misbehaved were asked by "Hot Milner" to "be quiet". If they disobeyed, they were shown the door. If they refused to leave, "Hot Milner" would vacate the platform, grab them by the collar and "bounce" them out, sometimes landing them on their heads. She won over many of these roughs. She also won over Thomas Sutherland who, at an officer's meeting conducted by General William Booth, saw this young woman and whispered to his friend, Captain Issac Unsworth, "that girl is going to be my wife".

Following a brief courtship, General Booth gave the couple three weeks to get married, as "I need you both for an important posting". After a few months, the Sutherlands received orders to pack and prepare for Australia. On 5 January 1881, commencing at 7.30pm, General William Booth conducted the farewell meeting for Captain and Mrs Thomas Sutherland at the People's Hall, Whitechapel, They had been chosen and appointed to be the first officers to take official charge of The Salvation Army work in the Colonies of Australasia.

* The full article, written by William Sabin Booth, appears in Volume 1, Issue 1 of the 'Hallelujah! magazine, which was produced as part of the "Keeping it Alive" history project undertaken by the four Salvation Army territories in the South Pacific area. Copies can be purchased from Salvationist Supplies stores.