You are here:
Home › News › 2017 › 10 › 12 › Aussie Officers Join Wildfire Relief Effort In California
Aussie officers join wildfire relief effort in California
Aussie officers join wildfire relief effort in California
12 October 2017
Australian Salvation Army officers, Captains Nesan and Cheryl Kistan, and their family, along with thousands of other people, have been evacuated from their home and corps as a result of wildfires raging in the Anaheim Hills fire in Southern California.
The Kistans, who moved to the United States to become corps officers at Tustin Ranch, in the south-western suburbs of Los Angeles, only a couple of months ago, have been serving evacuees with a Salvos team at the Red Cross evacuation centre at nearby Modena High School.
"The community support has been amazing," said Nesan. "Starbucks employees bringing coffee, families dropping off cases of water, friends at the Olive Garden bringing meals and our friends at Ralph's Grocery Store in Tustin supplying fruit, bread, sandwich meats, water and ice. All of this is helping us to help others!
"We are still not allowed back to our Tustin Ranch campus, but we're receiving reports it is fine. Our home is okay, but there is lots of smoke and ash. Our prayers continue for those in the devastated areas and for the firefighters!"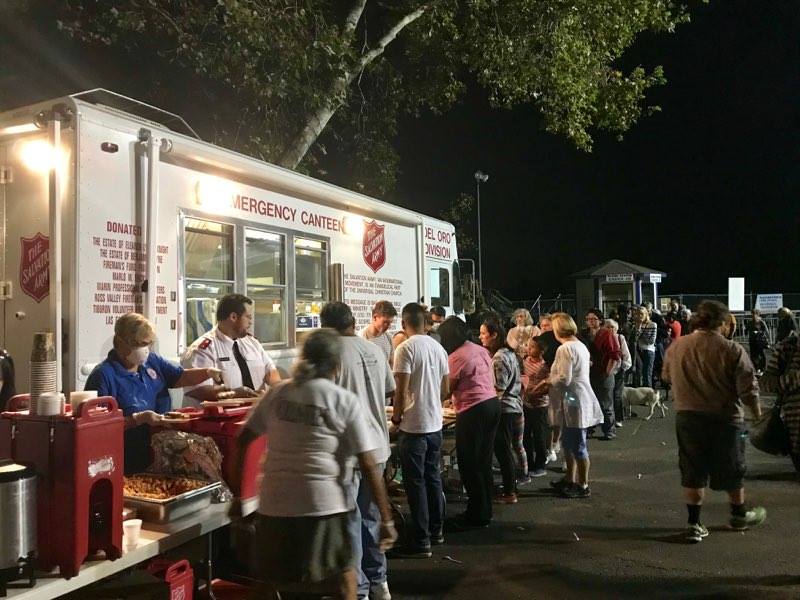 The Salvation Army is providing meals for those who have been evacuated from their homes as the fires continue to burn.
Northern California has been harder hit and is entrenched in a thick smoky haze as fire crews continue to battle the 15 or so blazes that have killed at least 21 people, damaged or destroyed around 2000 buildings and charred more than 46,000 hectares spanning eight counties.
Governor of California, Jerry Brown, has declared a state of emergency for Napa, Sonoma and Yuba counties, north of San Francisco
The Salvation Army continues to provide meals at evacuation centres in Sonoma and Napa. So far, more than 2700 meals have been served in Santa Rosa, while 700 meals were distributed in Napa.
A Salvation Army mobile kitchen from San Jose is currently preparing meals at the Santa Rosa Corps building, a facility which currently does not have any running gas.
Additional Salvation Army officers are also supporting the meal service in Santa Rosa, and crews will remain assisting those in need as long as their services are required.
To make a donation to local disaster relief operations, go to bit.ly/norcalwildfires