You are here:
Home › News › 2017 › 10 › 18 › Peddles Warmth And Accessibility Delight Salvationists During Australia Visit
Peddles' warmth and accessibility delight Salvationists during Australia visit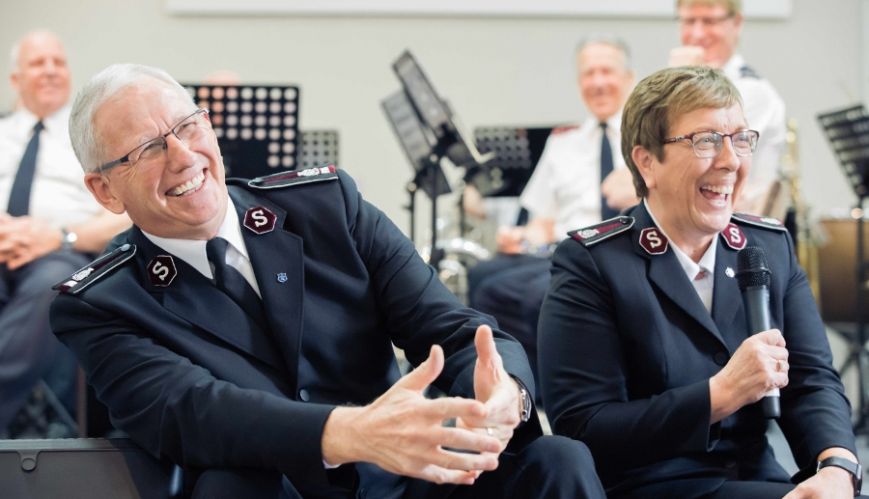 Peddles' warmth and accessibility delight Salvationists during Australia visit
18 October 2017
By Dave Goodwin and Scott Simpson

The Salvation Army's Chief of the Staff, Commissioner Brian Peddle, and World Secretary for Women's Ministries, Commissioner Rosalie Peddle, have spent the past week in Australia encouraging Salvationists and engaging in meetings with leadership.

The Peddles' visit began last Friday night, with the Australia National Command welcoming them to Australia at a Public Meeting held at the Melbourne City Conference Centre.

The meeting included a number of testimonies, including those from members of The Salvation Army's Recovery Church and its Farsi congregations, as well as a presentation from Salvo Stores CEO Matt Davis who spoke about the work the organisation is doing. Captain Claire Emerton (Corps Officer – Dandenong) also shared the privileges and challenges of working with a number of different cultures.

In a wide-ranging interview, the Peddles displayed a delightful rapport as they entertained the crowd with some humorous back-and-forth banter. This was followed by comments from the National Commander, Commissioner Floyd Tidd, who spoke about "Living Our Vision".

The Melbourne Staff Songsters introduced Commissioner Brian Peddle with a lovely rendition of Wondrous Cross, after which he provided an inspiring challenge to Salvationists to shine like "stars in the sky" (Philippians 2:15) and make sure we venture "out of the barracks" to speak into the lives of people.

The Peddles then travelled to Sydney, where a Praise and Worship Meeting was held at Hurstville Corps on Sunday afternoon. The meeting followed a similar format to the Friday night gathering in Melbourne, the Peddles again delighting the congregation with their warmth and accessibility.

Earlier in the day, they had been involved in the morning Holiness Meeting at Auburn Corps in Sydney's west. During the service, Commissioner Brian Peddle presented Salvos Legal founder and managing partner Luke Geary with the Order for Distinguished Auxiliary Service, The Salvation Army's highest international award for a non-soldier or officer.

The Peddles are spending this week with leadership of The Salvation Army in Australia, in conference at The Collaroy Centre on Sydney's northern beaches. They have also taken part in officers' councils in both Melbourne and Sydney.