You are here:
Home › News › 2017 › 10 › 23 › Australian Officers Reflect On International Experiences
Australian officers reflect on international experiences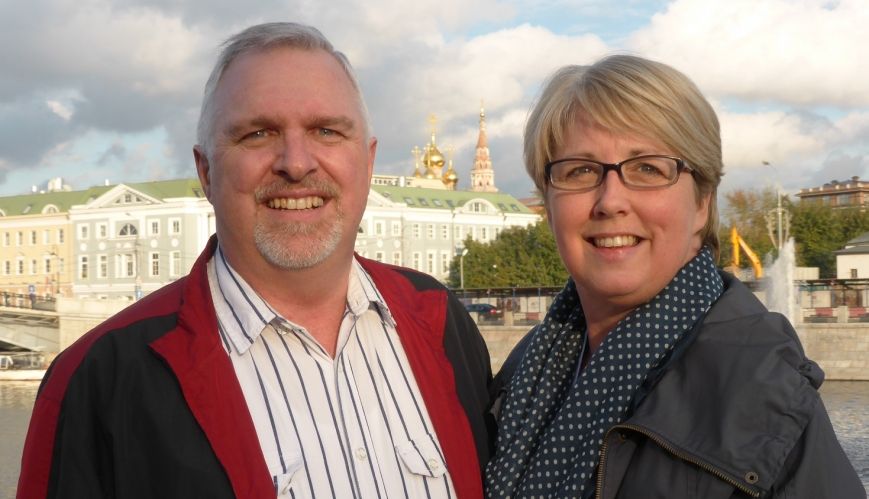 Australian officers reflect on international experiences
23 October 2017
As the end of the year approaches, several Salvation Army officers from both Australian Territories, currently serving overseas, are on the move – to another international appointment, returning to Australia, or leaving for an overseas appointment.
Others Online has spoken to several of these officers about their international service, and some of their reflections on their upcoming moves, are below:
Colonels Rodney and Wendy Walters
The Walters will be leaving their roles as territorial leaders for the Eastern Europe Territory (EET) – Colonel Rodney as Territorial Commander, and Colonel Wendy as Territorial President of Women's Ministries and Secretary for Personnel – to lead the Singapore, Malaysia and Myanmar Territory (SMM) – effective January 2018.
Colonel Wendy will serve as Territorial President of Women's Ministries, and Colonel Rodney as Territorial Commander.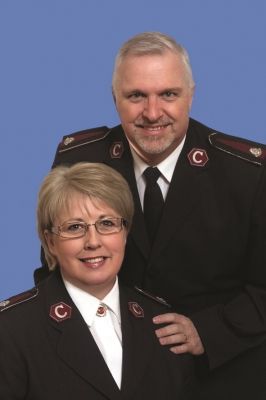 Colonels Rodney and Wendy Walters.
"We are excited about the new challenge – we are very much aware that there will be challenges – but also know there will be many and varied blessings and joys that we will experience," they said.
"We know that the heat and humidity will be one of the first things that will hit us – coming from Eastern Europe's winter and into the tropics of the equator will be very noticeable!
"Having had three very different countries as part of the territory is something we have been used to here in the EET, so we are looking forward to embracing new cultures and customs as we move around the SMM Territory.
"We love being with officers and soldiers and look forward to meeting and working alongside a whole new team. We share the same calling and covenant, just from different beginnings, but we are on this journey together.
"We will miss those we work alongside here; we will miss our officers and soldiers whom we have come to love as we have shared this part of the journey together. We will miss the exciting chapter that we believe EET is moving into.
"We wait expectantly to see what this new chapter in our life and ministry will look like – we stand humbly before the Lord and simply say 'please continue to guide us and use us'."

Majors Robert and Vanessa Evans
The Evans' are currently corps officers at Melbourne's Cranbourne Corps, where they have served for five years.
Pending the arrival of visas, the Evans will be heading to the Solomon Islands to serve as the officers in charge there. They will oversee the existing work in the capital, Honiara, and expand The Salvation Army's presence throughout the islands.
The appointment is effective December 2017.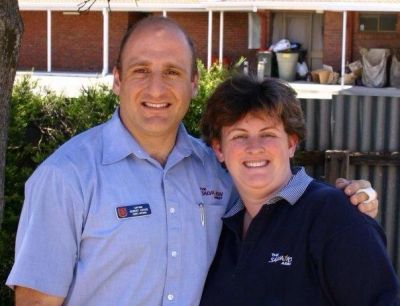 Majors Robert and Vanessa Evans
"Vanessa and I have felt a strong calling to serve overseas for most of our officership, which has been fuelled by a number of cross-cultural mission and ministry opportunities in each of our appointments, beginning at Palmerston Corps in the Top End of the Northern Territory," said Major Robert.
The Evans' have also led five corps-based mission trips – to Chiang Mai, Thailand; and to Denpasar, Jakarta and Palu, Indonesia.
Major Robert also trained with a group of officers from The Salvation Army's South Pacific and East Asia Zone for International Emergency Services and was deployed in Christchurch, New Zealand, with the Earthquake Relief team.
"Having served in the Northern Territory for four years, we are really looking forward to returning to a warm tropical climate!" the Evans' said. "We have a strong heart for mission and a pioneering spirit, so we are excited by the opportunity to develop and grow this relatively new presence of The Salvation Army in the Solomon Islands."

Majors Earle and Christine Ivers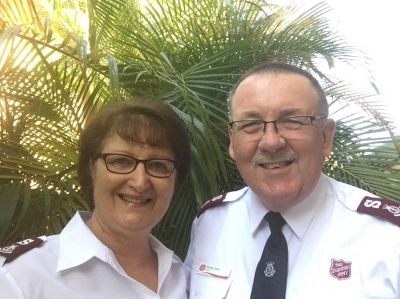 Majors Christine and Earle Ivers
Majors Earle and Christine Ivers have been appointed to New Zealand as Divisional Leaders of the Southern Division. Their new appointment will commence in January 2018. After 19 years in Queensland, the Ivers' are excited to minister in The Salvation Army New Zealand, Fiji and Tonga Territory.
"Having heard so many good things about the life and ministry of The Salvation Army in New Zealand, we are truly looking forward to this next season within our service. We are excited and expectant as we wait to see the new things that God has in store for the Southern Division and for the communities within the South Island," Major Earle said.

Majors Drew and Leanne Ruthven
Majors Leanne and Drew Ruthven, who have been serving as Regional Leaders in Romania, part of the Eastern Europe Territory, will be returning to The Australia Southern Territory.
Effective January 2018, Major Leanne will serve as Assistant Divisional Commander for the Victoria Division. Major Drew has been appointed as Salvation Army International Development Coordinator at National Headquarters, and will also receive an additional appointment in the office of the National Secretary for Personnel.
"We have loved living in Europe," said Major Leanne. "It feels like the world is on your doorstep. In Australia, going abroad means either a plane flight or a boat trip. In Romania, it means driving to any of the five bordering countries (Bulgaria, Serbia, Hungary, Ukraine and Moldova). It takes less time to drive from our house to Greece, than it does to go from Sydney to Melbourne.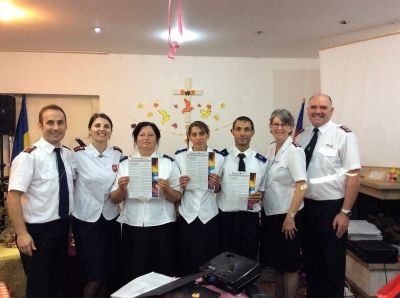 Majors Leanne and Drew Ruthven (far right) with officers and new soliders in Romania.
"But we didn't come to Romania to be tourists, although being able to explore this part of the world has been an added blessing. We came here to serve God through The Salvation Army, and it's been both an enjoyable and a trying journey. We have faced legal issues, funding problems and sometimes overwhelming bureaucracy. We have also met great people and seen God do amazing things. The Army is still a novelty in Romania which, while it has caused difficulties, means there is great potential for growth.
"There is so much we will miss: Orthodox Church bells ringing out morning, noon and night. The commissioning of Salvation Army officers conducted in four different languages. The opportunity to engage with donors from around the globe. The joy of seeing young people from difficult backgrounds putting up their hands to follow Christ. Employees with no previous knowledge of the Army who have embraced who we are and why we do what we do. These are legacies that we trust will eventually bear fruit.
"Over the years we have served outside Australia we've been constantly reminded of two things. Firstly, human nature is the same regardless of nationality, culture, language or approach to spirituality. The problems we have faced in Romania are pretty much the same as those at home, just on a different scale. There are needy people. There are greedy people. Twenty per cent of the people do 80 per cent of the work. There are Christians who get what following Jesus is about and those who don't. Secondly, we have learnt over and over again that no matter where you are, God is able to meet every need. He is faithful. Prayer really works.
"We return home with mixed feelings; sorry to leave but happy to be returning home to family and new work challenges. We will miss being part of the ongoing development of this corner of the Army world. But we leave it in the Lord's hands. It's his work after all, and he will do it."

Majors Jeff and Sue Winterburn
After three years in the United Kingdom with the Republic of Ireland Territory (UKI), Majors Jeff and Sue Winterburn are returning to Australia to take up new appointments in January 2018.
"We never cease to be amazed by the faithfulness of God and his hand on our lives," they shared. "Leaving family and travelling across the other side of the world was a daunting task as we had no idea of what we were going to be faced with. But what a privilege and honour it has been to serve him here in the UKI Territory, in particular here in the Cardiff Canton Corps in the South Mid Wales Division.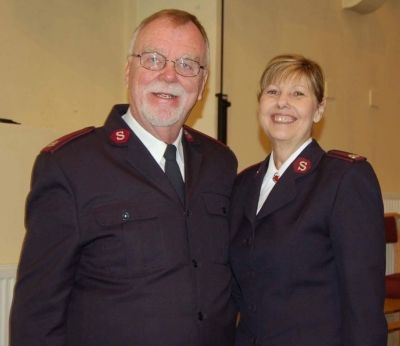 Majors Jeff and Sue Winterburn.
"At first I was appointed as the Divisional Director of Evangelism and Sue as Corps Officer of Cardiff Canton which is the largest corps in the division," said Major Jeff. "It's a strong traditional corps with fine musical sections. After six months I was appointed to the corps to be with Sue. What an amazing journey it has been – not without its struggles though, but we have witnessed the working of the Holy Spirit in this place.
"Returning home to Australia has mixed emotions for us, but we believe that we were here for a season and God has been faithful as we have given him our best.
"We have learnt to appreciate the difference in culture and the tradition of the Army. Wales has a very strong heritage and the people are proud of it. The Army is strong in its faith and people want to see revival in the corps. We will miss the anticipation of the people who are waiting on the Holy Spirit to break through. We will miss the beauty of the county. Everything is so green! Why wouldn't it be, it's always raining! Truly though this has been God's appointment for us at this time.
"We will soon commence our new appointments in the Queensland Division which are for Sue – Safeguarding and Safe Salvos Training Officer for the Queensland Division, and me as the Communications and Fundraising Secretary.
"We take up these appointments as we have done in all our appointments over the last 30 years – with an expectancy that God has so much in store for us!" they said.

Captains Daniel and Melissa Templeman Twells
Captains Daniel and Melissa have been serving in the Japan Territory – Captain Daniel as Training Officer at the College for Officer Training, and Melissa as Koto Corps Officer and an assistant in the Territorial Youth Department.
From January 2018, they will both be serving as Divisional Youth and Children's Ministries Secretaries in the Western Australia Division.
"Overseas service has provided us with a broader picture of the international mission and ministry of The Salvation Army; it has opened our eyes and our minds to various ministry expressions previously unknown to us, and has helped us to develop a greater understanding of ourselves in terms of our spirituality and our identity in Christ," they said.
Captains Daniel and Melissa Templeman Twells
"Aside from practical things like heated toilet seats in winter and plastic covers for your shopping bags on a rainy day, we will miss seeing the courage and faith of the salvationists here, especially the young people as they seek to live out their Christian witness in a very difficult and sometimes oppressive spiritual climate.
"One of our sayings here has been, 'You can never outgive the Japanese!' The sense of hospitality and caring for the needs of your guest is second to none, and this care for others is evident in their daily faith walk.
"I have learned that God can use us despite our weaknesses, he equips us for the task and provides the right people around us to get the job done," said Captain Melissa.
"While individualism is a quality valued by much of western society, I have learned that there is much to be said for the value of community," said Captain Daniel. "My life is not my own, it both affects and is effected by those around me, hopefully for the good."
The Templeman Twells are looking forward to the next part of their journey.
"We are looking forward to a season close to family, we are looking forward to living and working in English, we are looking forward to meeting new people, reconnecting with old friends, working with the youth and alongside the youth workers of WA," they said.

"Oh, and meat pies and fish and chips of course!"

Additional Appointments

Majors Glenn and Julia Price will be returning to the Australia Eastern Territory to take up new appointments in January 2018, as Corps Officers of the Blacktown, Sydney, Corps.
The Prices have been serving in the Russia Command for four years – Major Glenn as General Secretary, and Major Julia as Command Secretary for Women's Ministries, Children, Youth and Family.
The Prices also served in Russia, then part of the Eastern Europe Territory, from 2005-2008.