Darwin hostel offering a safe breathing space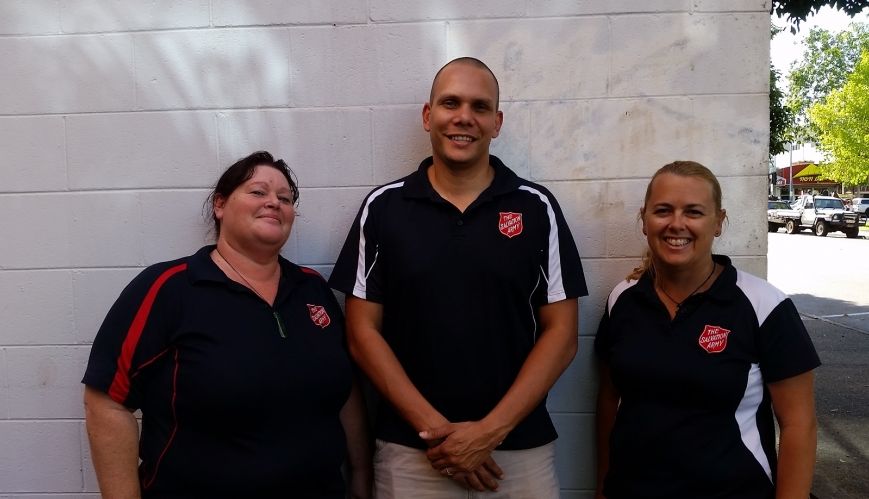 Darwin hostel offering a safe breathing space
25 October 2017
"When I heard young Indigenous people saying that, 'if you're Aboriginal, going to prison is like a ritual', I knew I had to do something," said Shannon Bartlett, case worker at The Salvation Army's Red Shield Hostel (RSH) in Darwin.
Located in the street that boasts the largest consumption of alcohol in Australia – Mitchell Street – the RSH provides crisis and medium-term accommodation for up to 80 men and women over 18 who, as hostel manager Michelle Collicoat explains, "need somewhere to catch their breath".
Shannon, who is originally from Derby, Western Australia, became a case worker specifically to work with Indigenous youth. "It's not just Indigenous young people who need support though," he said. "I'm here for everyone, regardless of the background they come from."
To all his clients, Shannon emphasises the need for education. "Education is king, and it's what is going to change the lives, and the direction, of these youth," he said. "That's why here in the RSH, we have a library. And I try to encourage reading whenever I can."
When Shannon initially meets his clients, he discusses their circumstances, the level of crisis they are experiencing and the level of support the RSH can offer them. He then links them with any additional services in the city that they might need as part of their support plan.
"I definitely case manage by empowering others," he shared. "We work together on the steps they think they need to follow, and then I help and support them to follow up on their commitments. Deep down, they know what they need to do, they just often need help to realise that, and to do it."
Assistance for clients can include help with gaining affordable accommodation – a chronic problem in the Northern Territory, with people on the government housing waiting lists for years – applying for jobs, overcoming addictions, reconnecting with family, and a range of appointments and meetings.
Shannon and the RSH team also work with Venture Housing and Ethan Real Estate as part of the national housing affordability scheme where the government pays for 30 per cent of accommodation costs for qualifying applicants.
Shannon loves his work, and the team at RSH. "The staff here is just great, and our level of communication 'off the charts'," he said.
"It is challenging at times, working with addicted and intoxicated people, and finding them suitable accommodation, but I build rapport with them and work with my team and we get positive results – people find accommodation, get work, set up mental health plans, reconnect with family, change their hygiene practices, and communicate with others.
"Every day is certainly an adventure and no two days are ever the same!"
Getting people off the streets
Shannon, the Doorways program and hub outreach services work with clients at the RSH to help them meet their goals – whether it's around mental or physical health, housing, employment or other services – to get them off the streets.
"We take clients that have been forgotten or that other agencies won't take – such as those from the mental health ward, rehab and homelessness programs, or correctional centres," Michelle explained. "We have a high percentage of Indigenous clients, but see people from a range of backgrounds and cultures.
"We are building a great team who are all working for the betterment of the residents and the hostel. We can't save the world, but we can save some and that makes it all worthwhile."
The Salvation Army's RSH, Sunrise Centre, and Catherine Booth House work closely with each other, and agencies, for the best outcomes for their clients in the city.
Through the Hub Outreach Services, RSH also alternates with the Palmerston Outpost [20km SE of the city] to offer services including Centrelink appointments, legal advice, mental health and nursing services.
"We have had great feedback from both service provides and clients, so we are looking to grow this service so clients get what they need and don't have to go door-to-door retelling their story," Michelle said.
Sustainable change
The majority of clients stay at the RSH for up to six months. The 69 rooms cater for up to 80 people, and the hostel is usually at least 90 per cent full.
The RSH was originally built to house people returning to Darwin after Cyclone Tracy almost levelled the city in December, 1974.
Hostel workers don't just work with clients who come in to access their services. They often join with the Safer Cities Program workers and visit vulnerable people who have been homeless for a long time and live without safe shelter across the city – in the long grass, in parks, beaches, and alcoves.
"We work with and advocate for them to get sustained tenancy agreements for safe accommodation, link them with employment providers as appropriate and work through the issues that got them on the streets in the first place," Michelle explained.
"Many are Indigenous whose communities have driven them out and they can no longer live with multiple other families in the city."
The RSH also works to create social opportunities for the residents – such as trivia and games nights. They also link Indigenous clients with groups who take them on fishing trips.
"We also encourage people to leave the hostel to be involved in the community," Michelle said.
Although the work at RSH is demanding, continual and challenging, Michelle and her team regularly see the positive side of all that they do.
"When someone comes in at a low point in life for many different reasons – homelessness, addiction, unemployment, broken relationships – and they leave here with somewhere to live, a job, or have reconnected with family and friends – it's incredibly rewarding," Michelle said.
Looking forward and if funding is available, Michelle and her team would like to hire more intake workers to offer more extensive case management, refurbish the residents' areas in the building, and improve security systems.
"It's all very much a work in progress," Michelle said.