You are here:
Home › News › 2017 › 11 › 22 › Alice Springs Community Says Hello Yellow To New Thrift Shop
Alice Springs community says "hello yellow" to new thrift shop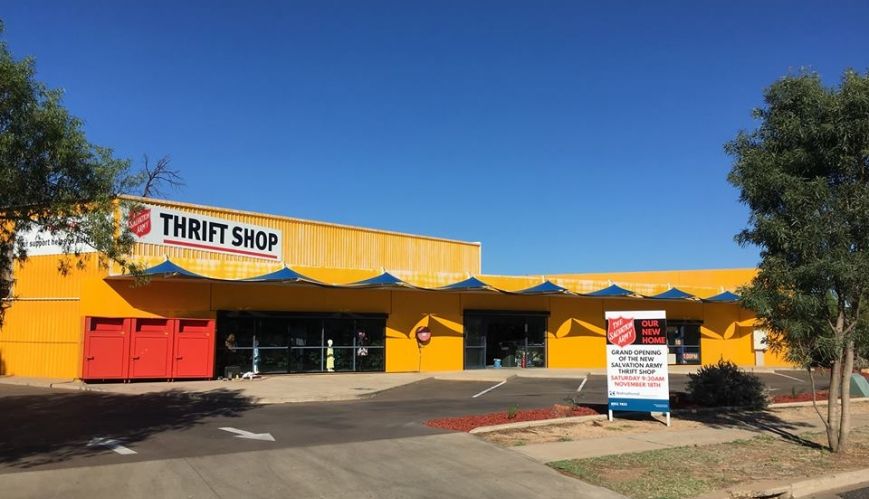 Alice Springs community says "hello yellow" to new thrift shop
22 November 2017
The largest Salvation Army "thrift shop" in the Northern Territory opened in Alice Springs on Saturday 18 November, after its relocation from a different site in the town.
Alice Spring's mayor, Damien Ryan, officially opened the new shop in the "bright yellow building" on Whittaker Street, congratulating The Salvation Army team on finding and developing a store that "can service the community of Alice Springs".
Captain Richard Parker, Northern Territory Regional Officer, also attended and offered a blessing at the opening ceremony. He prayed that the store "be a place for peace and community, that God be seen in everything that is done there, and that people find a bargain!"
An Acknowledgment to Country and tour of the facilities was part of the morning's program before the store opened to shoppers.
Hundreds of people from the town supported the event, taking advantage of the bargains in-store and enjoying the family entertainment.
There were queues of up to 20 people at the cash registers at one stage, with volunteers kept busy bagging purchases. Major Parker even collected cash from shoppers for their goods to help shorten the queues at the height of the buying frenzy!
"The community support was amazing," said Captain Nari McGifford, Alice Springs Corps Officer with Captain Stuart McGifford. "We took triple the normal day's takings and received so many positive comments about the size of the new store, its cleanliness, and the range of goods we are selling."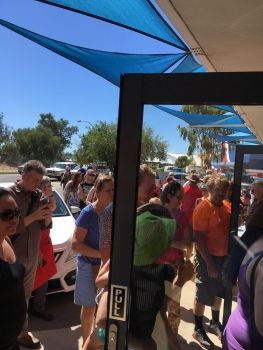 Captain Stuart added: "The floor size of the new shop is almost double that of the old one; there is a clean, fresh feel about the place and items are much easier to browse through.
"We are delighted to be able to provide the Alice Springs community with an improved store where all income is invested back into helping people here through the work of The Salvation Army and our local activities, social programs and corps ministries such as Indigenous ministries, youth and children."
The store also provides scope to provide volunteer work, for Work for the Dole participants, and volunteers from Correctional Services, sometimes assisting volunteers and participants with entering paid employment.