You are here:
Home › News › 2018 › 01 › 26 › Prayer Services Focus On The Cross As A Path To Reconciliation
Prayer services focus on the cross as a path to reconciliation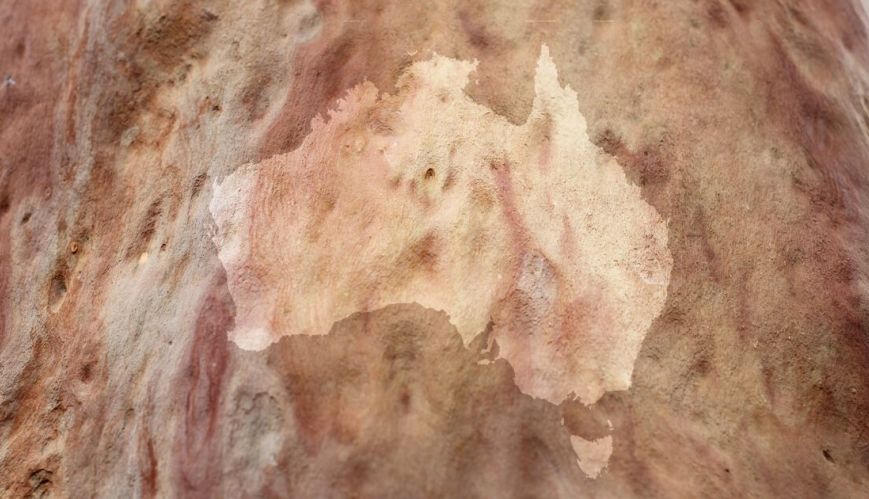 Prayer services focus on the cross as a path to reconciliation
26 January 2018
In the lead-up to 26 January – a day of mourning for many Aboriginal and Torres Strait Islander peoples – The Salvation Army has participated in 16 prayer services around the nation.
Major Sandy Crowden, Indigenous Ministries Consultant in the Australia Southern Territory, responded to an invitation from Aboriginal Christian leader, Aunty Jean Phillips (pictured below, right), Salvationist and Aboriginal Christian leader, Brooke Prentis, and the movement Common Grace, to provide an opportunity for Christians to "stand alongside our Aboriginal brothers and sisters, take time to learn about the significance of 26 January to them, and to respond".
As a result, Brooke led meetings, either in person or via video, at the Australia Southern Territorial Headquarters in Melbourne – supported by Major Crowden - the Darwin Corps, and in other churches in the capital of every state and territory. Services also took place in regional areas such as Ballarat, Bendigo, Alice Springs, Launceston and the Gold Coast.
"Aboriginal, Torres Strait Islander and non-Indigenous Christians have a shared understanding of God being a God of reconciliation, so these prayer meetings were an opportunity to come together in an act of solidarity, to learn and listen and respond," said Brooke.
After a traditional Welcome to Country by a local Aboriginal Christian from the peoples on whose land the meetings took place, the focus was on the need for reconciliation through the power of the cross and the responsibility of Christians of all backgrounds and walks of life to play an active role in making this a reality.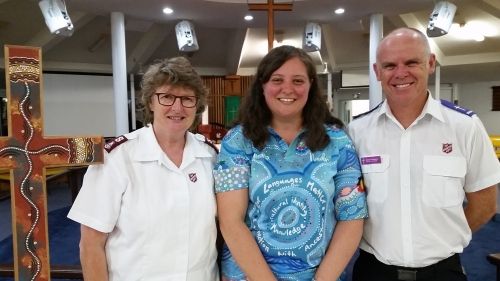 Major Chris Cohen, Brooke Prentis, and Marty Thompson (Clubs Chaplain) at the Gold Coast prayer meeting.
"We all have a responsibility to do what we can and not blame governments or each other," added Brooke. "The starting point has to be prayer – together we can achieve so much more if we're centred in prayer."
Brooke spoke about the division in Australia between Aboriginal and non-Aboriginal peoples, about the history of 26 January to the land now called Australia, and the tragic impact of massacres, genocide, slavery, stolen lands and stolen generations.
Sobering and powerful statistics were also presented, showing the enormous gap between Aboriginal and non-Aboriginal peoples in so many areas, including health, education, life expectancy, incarceration and standards of living.
"We are still fighting for survival, we are still in mourning, but we are not here for once-a-year meetings," she said. "We are here because it's a lifelong journey and we are not giving up.
"The cross brings us together, it jumps the barriers of race, language, culture and privilege and closes the divide. We, all of us, must fulfil our role as Christians and together build the kingdom of heaven in Australia."
Salvationists joined other Christians in the many services across the country.
Major Chris Cohen, Southport Court Chaplain (Gold Coast), and Chaplain for Brisbane and Numinbah Correctional Centres, attended the Gold Coast prayer meeting because, "For me personally, it was an important thing to do". She shared that she is seeing more Aboriginal and Torres Strait Islander women in custody who are showing signs of deep grief and are deeply traumatised.
"The issues around closing the gap are a major concern to me," said Major Cohen. "The original Australians are so far behind in regards to health, education, and other issues, they are incredibly over-represented in the prisons and I feel that we desperately need God's wisdom and guidance in how to address these enormous gaps in our community.
"I need to pray for my country, my leaders and 'put feet' on my prayers and participate spiritually, personally and financially in closing the gap.
"It's too big for the government. It's too big for any of us. But the bottom line is, when something is too big for any of us, it's just right for God.
"We can long for, ache and desperately want healing and reconciliation, but it's going to require a God intervention. The best way to kick that off is through personal and corporate global prayer.
"This is a Christian, an ecumenical, response. It's the Body of Christ calling on our great creator God, and doing it together on our knees."
The prayer meeting at THQ in Melbourne.
The prayer services have grown from an initial 30 people at a prayer group led by Aunty Jean and a non-Aboriginal Christian friend, Lea Maslen, five years ago, to thousands of people attending services in many churches around the country.
"Aunty Jean and Lea wanted to respond to 26 January as Christians, and what better way to do that than by praying," said Brooke. "Common Grace has been instrumental in their support of this growth."
Brooke prepared the content for the services, with input from Aunty Jean. The prayer resources used during these services will soon be available at www.commongrace.org.au/jan26_resources with a donation to support Aboriginal ministry.
During each service, an offering was taken up to support Aboriginal Christian ministry through the Grasstree Gathering, an event which brings together emerging and established Aboriginal and Torres Strait Islander Christian leaders from across Australia and from across denominations and churches.
Grasstree Gathering's vision is to celebrate, encourage, equip and inspire an emerging generation of Aboriginal and Torres Strait Islander Christian leaders. The next gathering will be held in Sydney from 16–20 March.