Salvos Stores supports Perth homelessness program
Salvos Stores supports Perth homelessness program
14 February 2018
A Perth-based homelessness program has received an $11,000 boost thanks to an enterprising fundraising campaign by Salvos Stores in Western Australia.
Major Paul Hateley, the Corps Officer at Perth Fortress, received the donation on 25 January from Sean Burgess, Salvo Stores Regional Manager in Western Australia and South Australia.
"Paul and I met in July last year to look at projects we could do together," says Sean. "Paul asked if we would consider raising funds for the Perth Homelessness Program, through perspex collection tins in stores. I was very happy to do that.
"I live quite close to the city and in the past five years I have seen homelessness become really obvious. There's a lot more begging, a lot more people obviously homeless. It's a topic that is very current at the moment.
"At the same time, I had also been reading about how, due to electronic banking, loose change has in some sense become less valuable in people's minds and I think I saw an opportunity to help raise some funds for a program that needed some extra support."
A total of 49 stores participated in the project, which has been running since last August.
Major Hateley told store staff at the presentation that their efforts would make a significant difference to those living on the streets.
"Every day of the year the Doorways program serves a meal at 7am to feed the homeless and it is all run solely by volunteers. They usually serve soup and a pie so they are getting a serve of vegetables and protein," he said. 
"This is where they build relationships and trust to find out why they are on the street and what they need to get them back into the community.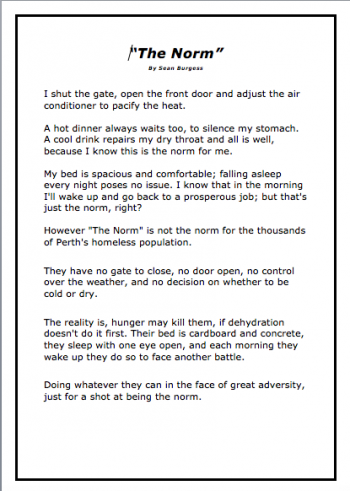 "Many are too scared to sleep at night so they open the church and let people sleep. They call it 'Snooze on the Pews'. This is available for people during the day woh have not slept well during the night due to fear of being attacked or robbed. They also have a shower block so people can come and freshen up.
"A few volunteer chefs that cook up meals once per week and a night patrol goes out on a Friday, Saturday and Sunday night looking for people in need of a hot meal.
"Currently, there is no funding for these projects and they rely heavily on donations."
As part of the presentation, Sean also shared a poem he had written (pictured right).
He said Salvo Stores intended to continue collecting money for the program, with a break planned during the Red Shield Appeal campaign.