Queensland women captivated by the wonder of God
Queensland women captivated by the wonder of God
15 March 2018
"My main take-away thought from our guest speaker at Captivated, Rosy Keane, was how we often see God's wonder in the unfamiliar," said Captain Leisa Humbley, Queensland Salvos Women Coordinator.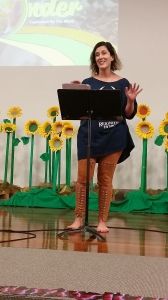 Guest speaker, Rosy Keane.
"I am challenged to remember God's wonder even in the familiar of my everyday life – in the movement of the clouds, in the incredible woven tangle of the weeds in my lawn, and in the joy of hearing my children pray!"
The Captivated by the Word women's conferences took place in Townsville and Brisbane last month.
In both locations, guest speaker Rosy Keane, Territorial Women's Ministries Social Media and Resources specialist in the New Zealand, Fiji and Tonga Territory, focused on the theme "God of Wonder – the wonder of creation, the wonder of Christ clothing us, and the wonder of community".
Divisional Creative Arts Director, Louise Mathieson, directed a combined Townsville worship band, and the worship group in Brisbane, including young women and teenagers, in uplifting worship and praise. Dance also added another creative and inspiring element to worship.
"It was inspiring to see the conference rise to a whole new level," said Louise. "We really stepped out of the box in some of the things we envisioned and planned, and it was so exciting to see God bless it and the ladies respond."
Wonder
The Captivated conferences held moments of wonder, inspiration, connection and challenge for the delegates who attended from all over the state.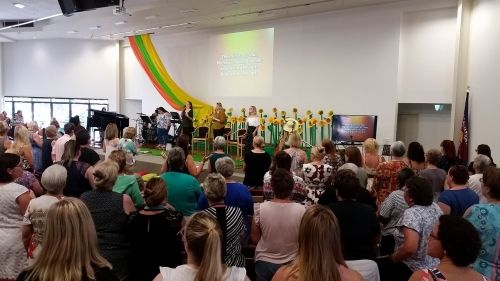 Rosy's call to respond after each session evoked some of these moments. On the Friday night, she passed a ball of yarn among all the women gathered at the front of the auditorium, symbolically linking every person to each other. Rosy encouraged the women to pray for those next to them.
At the end of the Saturday afternoon session, Rosy distributed cards to all the women. Each woman wrote their name on their card along with a person who was on their heart. Each woman brought their card forward, laid it on the altar and selected another card, not knowing who had placed it there. Rosy encouraged the women to take their cards home and to continue praying for those whose names were written on the card.
"Rosy was an innovative speaker, especially with her 'Spoken Words' and presenting biblical teaching, its application to our lives, and parallelling different parts of Scripture to different aspects of life – it was amazing," said Louise.
Rosy received a similar response in Townsville.
Lieutenant-Colonel Sandra Godkin, Major Julia Metcher, and Rosy Keane, in Townsville.
"Rosy was an inspiring teacher of the Word: truthful, impactful, challenging and empowering," said Major Julia Metcher, Salvos Women Coordinator, North Queensland.
"Rosy also delivered original dramatic poetry recitations – 'Spoken Words' – which were mesmerising to watch and spiritually moving. She was a powerful minister to all our women, and especially empowering to younger women, facilitating many prayers and spiritual conversations."

Other highlights of Captivated included a video testimony from Lieutenant Natalie Steele, Mt Isa team leader, and, in Townsville, Lieutenant Lydia Spencer, Mackay Corps Officer.
In response to the conference focus on making Captivated an intergenerational experience, Catherine Philpot, Assistant Team Leader at Brisbane Streetlevel Mission, facilitated a panel of three women from different generations – retired officer Major Olive Lucas, Rosy Keane, and Rebecca Southall, Gold Coast Temple Corps.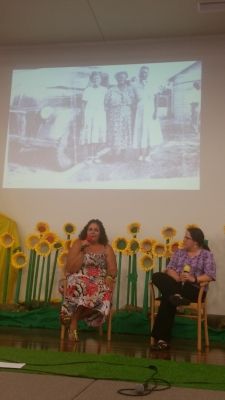 Louise Mathieson interviews Lucy Davis.
"In the context of the 'Wonder of God', the women drew upon their own life experiences and challenges and spoke authentically, vulnerably and relevantly into the various topics," said Captain Leisa.
As part of the discussions, delegates could text in any questions for panel members. "This added a really spontaneous engagement in the discussions which was wonderful to see," said Louise.
Lucy Davis, Divisional Indigenous Engagement Coordinator, shared powerfully about her heritage and some of the challenges she has experienced as an Indigenous Christian.
"In the weeks following Captivated, Lucy shared that, after her presentation, she had received many encouraging emails and calls showing genuine interest in embracing our shared history and future, and the services she has to offer corps," said Major Rowena Smith, Divisional Salvos Women Director. "Lucy saw this as a real transforming breakthrough and removal of many cultural barriers and she is excited about such acceptance and opportunities ahead for the Army and the Kingdom."
Projects
Each delegate received a token, valued at $4, from their registration fee, which they used to help support one of three projects.
The "Green Thumbs Up" project is the divisional Salvos Women project for 2018. "This project will support two Salvation Army services for women in crisis in Cairns and on the Gold Coast by providing funds to help them start their own sustainable vegetable gardens," explained Major Rowena. "We hope that as the women engage with nature and experience the rewards of their efforts, it will help them in their journey of healing."
The women could also contribute to the Lovewell Project, a café run by the Hope Foundation in Brisbane, which supports women wanting to break free from addictions and the sex industry; and the Aruna Children's' Shelter, run by The Salvation Army in Mumbai, India, which helps vulnerable and prostituted children, women and mothers.
Major Michelle Oliver sells a Salvation Army keep cup to Major Joan Birch.
In both Brisbane and Townsville, separate offerings were taken up for the Territorial Women's Ministries project, with over $2500 raised. 
A marketplace was also available during the conference, which included Salvationist Supplies, a Fairtrade stall, hand massage, and a craft stall raising funds for mission work in Kenya.
"This year, in line with our theme, we introduced some deliberate steps to make our women's events more environmentally friendly," said Captain Leisa.
"Keep cups were designed with the Red Shield logo and a verse of Scripture from Psalm 24:1 'The earth is the Lord's', and we encouraged the women to purchase them as a way to help look after the wonderful world God has created for us to enjoy."
The women also received a filled reusable water bottle, donated by Queensland Urban Utilities, rather than single-use bottled water.
In both Townsville and Brisbane, the theme of "wonder" was reflected in the spectacular décor and food.
"We have an amazing team – Louise Mathieson, Natalie Frame, Nerylie Whitecross, Emma Packer, Ellen Thompson, Julia Metcher, Rowena and myself," said Captain Leisa.
"It is an absolute delight to work with each of them and I am so pleased with the response from the ladies across South Queensland and Northern NSW – I can't believe we had 320 people attend in Brisbane and 63 in Townsville.
"We also hosted two delegates from New Zealand and two from the Australia Southern Territory. My soul is encouraged!"