You are here:
Home › News › 2018 › 04 › 09 › World Leaders Mix With Royalty And Refugees On Visit To France And Belgium
World leaders mix with royalty and refugees on visit to France and Belgium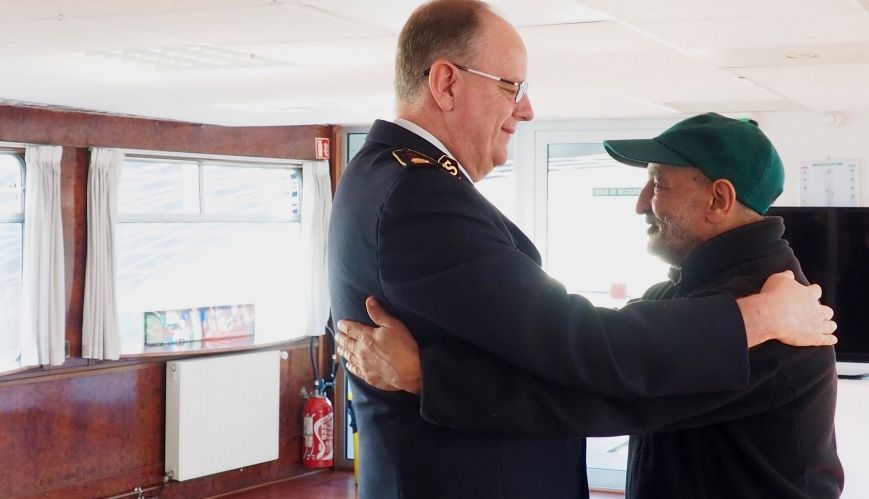 World leaders mix with royalty and refugees on visit to France and Belgium
9 April 2018
General André Cox and Commissioner Silvia Cox, World President of Women's Ministries, began their visit to the France and Belgium Territory in Brussels, Belgium, with a visit to Foyer Selah, a Salvation Army shelter for refugees and a home for single mothers with babies.
Later, while Commissioner Cox led a women's meeting at Brussels Central Corps, the General welcomed Prince Laurent of Belgium (younger brother of King Philippe) to regional headquarters (RHQ). He thanked the prince for the support he has given The Salvation Army, particularly in its provision of a shelter for homeless men and their pets.
The General enjoys some games with refugees.
The following day the international leaders met with the Deputy Prime Minister of Belgium, Alexander De Croo. Having spoken about the government's desire to work with The Salvation Army on long-term projects to help needy people, Mr De Croo showed appreciation for The Salvation Army's anti-human trafficking ministry and its mission to the European Union.
Speaking to partners, Salvationists and employees, the General re-emphasised the dual mission of The Salvation Army: to preach the gospel of Jesus Christ and to meet human needs in his name without discrimination.
During a Friday public worship meeting, the General told Salvationists and friends: "Don't look back, move forward – expand our Army so we may see lives transformed."
Travelling to Paris the next day, the General and Commissioner Cox visited the Résidence Maternelle Les Lilas home for single mothers with babies.
In the afternoon the visitors witnessed several hundred Salvationists engaged in open-air activities including young people involved in initiatives for Shine!, part of The Whole World Mobilising's children and youth weekend.
Commissioner Silvia Cox spent time with the Territory's scouts.
In the evening, at the congress venue, 70 French and Belgian young people presented El Azar, a musical composed by a French Salvationist about the biblical character Lazarus. At the end of the musical, Commissioner Cox challenged the audience to consider who Jesus was for them today and asked if they had heard his voice.
On Sunday morning, 800 people packed the congress venue, with hundreds more watching online. The meeting was attended by officials representing the Roman Catholic and Protestant traditions.
The congress concluded with a praise meeting called "Colours of Hope", featuring several music groups, scout groups, videos showing The Salvation Army's social work and a 100-strong timbrel display.
On the final day of their visit, the international leaders met staff and residents on L'Amirale Major Georgette Gogibus, a boat which accommodates homeless people and where they are offered help to reintegrate into society.