You are here:
Home › News › 2018 › 04 › 19 › Freedom Partnership Supports Service Of Lament For Pacific Island Workers
Freedom partnership supports Service of Lament for Pacific Island workers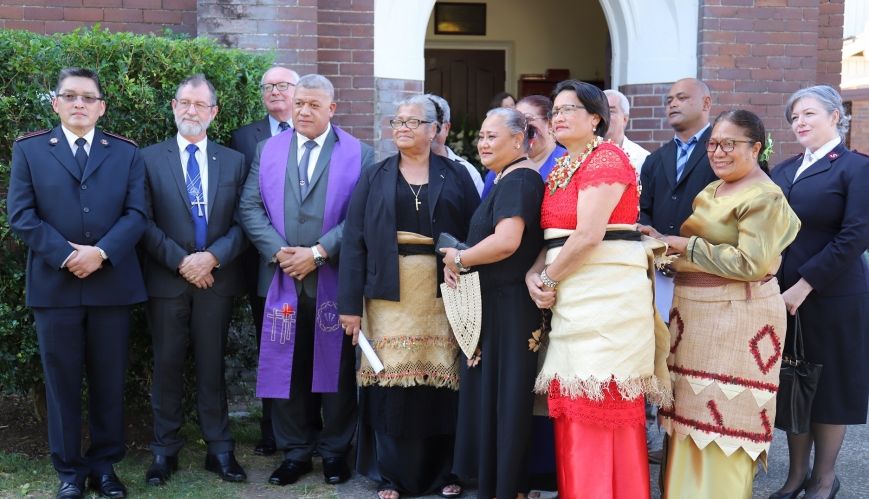 Freedom partnership supports Service of Lament for Pacific Island workers
19 April 2018
By Simone Worthing

Members of The Salvation Army's Freedom Partnership to End Modern Slavery, and Multicultural Ministries, supported a Service of Lament in Strathfield, Sydney, last weekend in memory of Pacific Island workers who have died while working on Australian farms as part of the Federal Government's Seasonal Worker Program.

The Service of Lament was initiated by the Freedom Partnership and Pacific Australia Seasonal Workers Association (PASWA), supported by the Sydney Alliance. 

More than 200 people attended the service, including church leaders from The Salvation Army, Uniting, Catholic, Hillsong, Baptist, Mormon and local Korean churches, and representatives of Tongan, Fijian and Samoan congregations.
Lieutenant-Colonel Samuel Pho speaking at the service.
Many were moved to tears as they heard stories of the effect the workers' deaths had on their families, especially young children.
There were also personal testimonies of Pacific Island Nation workers who were injured or assaulted while picking fruit and vegetables in the Australian horticulture sector.

Craig Laundy, Minister for Small and Family Business, the Workplace and Deregulation, also attended and has promised direct consultation with local Pacific communities. 
"We are thankful to Craig Laundy for hearing the community's request for greater protections for this labour force so crucial to the Australian economy and whose remittances mean so much to the development of Pacific nations," said Jenny Stanger, Freedom Partnership National Manager.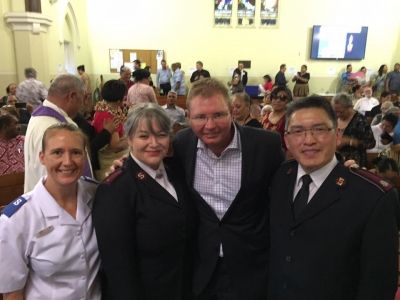 Minister Laundy with Katharine Dale, Lieutenant Belinda Cassie and Lieut-Colonel Pho.
To improve conditions for seasonal workers, PASWA would specifically like to see steps to prevent overcharging for accommodation and excessive deductions for transport, as well as low piece rates for long hours of work [any type of employment in which a worker is paid a fixed piece rate for each unit produced or action performed regardless of time].
There is also a request to follow up superannuation life insurance payments that the families of the 13 deceased workers have yet to receive.
Lieutenant-Colonel Samuel Pho, National Director for Multicultural Ministries, emphasised that The Salvation Army stands in solidarity with people who are being exploited.

"It is important to have this issue placed in the public square, when lives are being lost," he said. "This is especially true in the context of modern slavery, which is prevalent throughout the world – including Australia – and yet is still not widely known in our communities."
Lieutenant Belinda Cassie, Chaplain, Inner City (Sydney) Homelessness Services, also attended the service.
"It would be all too easy to underestimate just how important it was for The Salvation Army, through the Freedom Partnership, to be involved in the Service of Lament," she said.
"Just by being present, in standing alongside our Pacific Islander brothers and sisters in their grief, the message that was conveyed is that they do not stand alone. 
"Perhaps many of us are not fully aware of just how prevalent slavery still is in our modern society, and our Pacific Islander neighbours have a recent lived experience of it on our shores in our time. It's happening now and its happening here and it is an injustice that the Church must stand against."