Menai Songfest features congregation's 'greatest hits'
Menai Songfest features congregation's 'greatest hits'
9 May 2018
Menai Salvation Army's Songfest program last month featured 16 of the congregation's favourite hymns and gospel songs.
A survey sheet was handed out to members of the "Wednesday Community" a few months prior, asking them to list their five favourite hymns and songs. A list of 16 was finally determined and fitted neatly into a 90-minute program.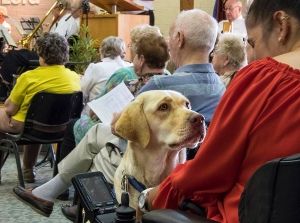 A large crowd turned out for the event, which featured the Illawarra Senior's Band, providing helpful accompaniment and colour, The Wednesday Community Quartette, as well as other soloists who provided flexibility and variety.

The survey resulted in And Can It Be and Amazing Grace rivalling for the top spot. However, the surprise, matching these two was a contemporary hymn, How Deep the Father's Love for Us, by Stuart Townend.

The band's rendition of Be Still for the Presence of the Lord took participants into a time of prayer, and a cornet solo, I'd Rather Have Jesus, by Brian Lang, reminded those attending the congregation of the incredible ministry of George Beverly Shea and the Billy Graham crusade team. Following up on the Billy Graham reflection, the quartette sang Just As I Am. Many in the congregation were moved as they reflected on the ministry of the late Billy Graham.

Songs presented from the The Salvation Army songbook included O Boundless Salvation and We're an Army Fighting for a Glorious King, as well as some old gospel classics, including Amazing Grace, including A Wonderful Saviour is Jesus my Lord, Crown Him with Many Crowns, as well as more contemporary items such as, In Christ Alone.
The Wednesday Community at Menai meets at 10.30am on the fourth Wednesday of each month, and all are welcome.