Reckless 'Abandon' at Youth Councils 2018
Reckless 'Abandon' at Youth Councils 2018
14 May 2018
A series of simultaneous youth councils have been held across NSW and ACT, focusing on the theme of "Abandon".
For many young Salvos in Canberra and southern NSW, that meant leaving aside the things of the past and running with reckless abandon towards Jesus, according to Lieutenant Jacqueline Gluyas.
In her last message of the weekend at the Greenhills centre west of Canberra, Lieut Gluyas, the guest speaker, sprinkled sand on the floor of the platform and urged the young people to step into the life that God has for them.
"It was about looking to the future, focusing on Jesus and what are we going to do now ... what's the next step," said Divisional Youth and Children's ministry worker, Joanne Paull.
The delegates looked at The Salvation Army's new National Vision Statement and then went out and served practically in mission over the weekend. They served by making meals, sewing for Operation Christmas Child, blessing a lady from a local corps who had recently suffered a stroke with some handyman and gardening chores, as well as gardening, cleaning and performing maintenance at a local respite centre and running chapel there as well.
Delegates in northern NSW also focused on abandoning the past and unhealthy life choices. At a campsite near Taree, young Salvos were encouraged by Envoy Nathan Casey, of Ingle Farm Corps in Adelaide, to allow God to change their story. "Saturday night there were about 50 people repenting of different sins that were in their life holding them back," said Divisional Youth and Children's team member, Captain Nathan Hodges. "Then we threw those written sins on the fire and we burnt them, so they were gone.
"On Sunday morning we had an amazing prayer time. It started off just leaders praying for the kids to be filled with the spirit, but then it turned into all the kids praying for each other. It was an amazing prayer time where the spirit really just fell on the place."
At Eastlakes Corps in Newcastle, cinnamon donuts rained down from the ceiling of the corps as a message was given about God's provision (his manna) and about how our negative voices keep us from the perfect plan that God has for us. While munching on donuts, the young people heard the story of Moses, Joshua and the Promised Land.
"Saturday night saw most people in the place move forward to make a decision to let go of negative voices and take up courage to walk into God's dreams for them," said Divisional Youth and Children's team member, Envoy Angela Cairns. On Sunday at Eastlakes, delegates were treated to morning tea and lunch, prepared and served by participants of The Salvation Army's Dooralong Transformation Centre.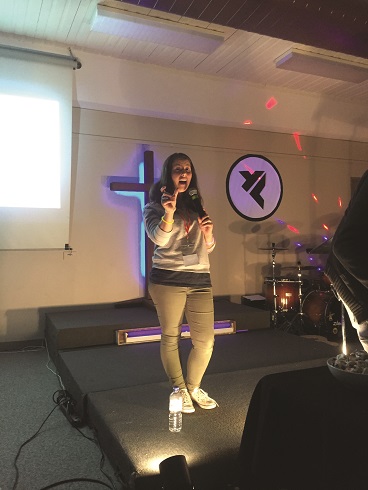 Lieutenant Gluyas encourages the youth to leave their past behind.
In Parramatta, Sydney, at the King's School on Sunday morning, you could hear a pin drop as Steve Chong shared about the way that, with reckless abandon, Mary showered her love on Jesus before young people flocked in response to "abandon all to Jesus".
"There was barely room for leaders to get to young people to pray with them, the response was so overwhelming," said Divisional Youth and Children's team leader, Major Nicole Viles.
The four events in Sydney, Canberra, Newcastle and northern NSW saw hundreds of young people making decisions to abandon what the world offered and give their lives to Jesus.
"Definitely the feeling was that this is not about just coming and being entertained for the weekend, this is about changing our life, let's go back different people than what we came," said Joanne.
There were also lighter, or more "colourful" moments, especially in north NSW where paint and water featured in what's being described as a "Mess-Tival" – a messy festival! "We had the Rural Fire Service bring a fire truck out for the slip-and-slide and for some of the games as well. We weren't burning the place down, but we had a fire truck there which was pretty amazing! The kids were saying that the 'Mess-Tival' was a highlight of the weekend," said Nathan.
In Sydney, with reckless abandon, young people enjoyed a carnival-style lunch break in partnership with Salvation Army Emergency Services, the Community of Hope Coffee Van, volunteers from the Parramatta Corps and Merrylands Mission and the Sydney Area Officers.