Salvos restore Craig's faith in a caring community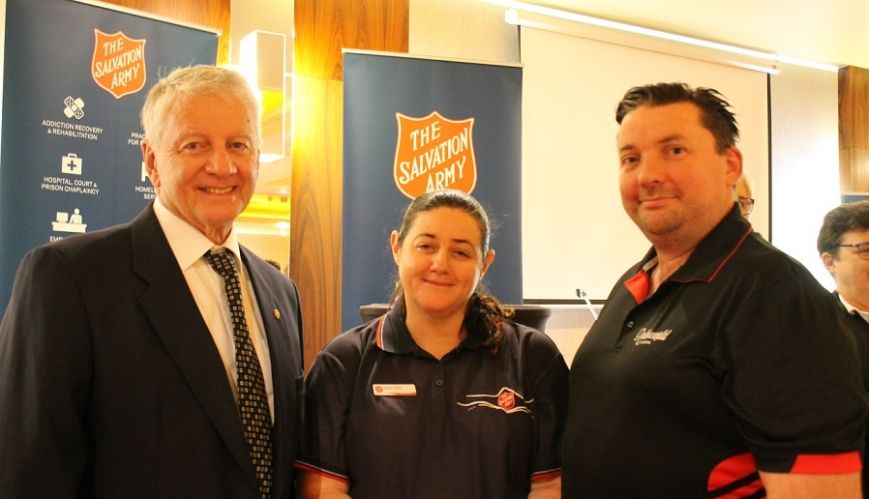 Salvos restore Craig's faith in a caring community
17 May 2018
"It was the first time in my life I'd had to think about how I was going to support my family; we just didn't have anything left. The Salvos came in at just the right time."
This is how Craig Newby summed up his experience after the family roller-skating business was devastated by the major floods of March 2017. The aftermath of Cyclone Debbie inundated Lismore and caused damage to an extent never experienced before in this flood-prone community.
Craig shared his story as the guest speaker for the Northern Rivers launch of The Salvation Army Red Shield Appeal, the event accompanied by graphic images of the flood's impact.
"Floodwater engulfed our rink higher than we had ever experienced and we were gutted, we thought that we were done. My wife Belinda and I felt that we would have to walk away from it after spending the last couple of years putting everything we had into the business.
"Our rink has been a family-owned business for almost 30 years. We are close to the river and unable to secure affordable insurance."
Water rose over two metres higher than what was predicted, and by the time Craig and Belinda knew of this change it was already too late to safely return and save anything.
"Walking back in after the water had receded ... the scene that greeted us was heartbreaking. Everything was damaged from floor to ceiling; nothing was spared," Craig said.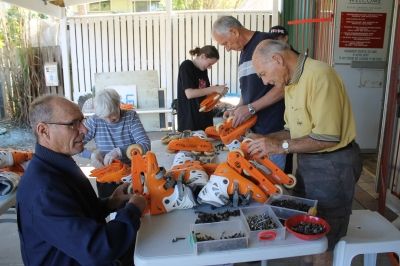 The Salvos team help to repair damaged skates.
Craig and Belinda spent the next four months trying to restore the facility, but they ran out of energy, money and hope. It was at this point that The Salvation Army arrived on their doorstep, offering special flood-disaster funding and providing a team of Salvos to carry out chores such as skate repairs.
"When the Salvos helped us, Belinda and I broke down in tears. At a time when we didn't know where to turn or what we were going to do, the Salvos helped the situation become doable and brought this sense of hope and belief that there still are people in the world that are caring for one another," Craig said.
"And the Lismore Salvos, with an extra special collection, were able to give our family a much-needed time away with the kids before Christmas," he added.
Referring to the many other donors, Craig said, "We were floored by the support we were given and now feel like there is more good in the world than bad."
His address at the Red Shield Appeal business breakfast launch also made reference to Lismore Salvation Army's own flood damage at their family store. "Despite their own problems at the time they still provided immediate support, feeding flood evacuees and emergency service personnel and gathering and distributing food and clothing to flood survivors," he said.
"Thank you Salvos for giving hope when it was neeeded most."
Salvation Army recovery teams have so far supported 650 affected households in the Lismore 2480 postcode area.