Strathalbyn students jump on board appeal fundraiser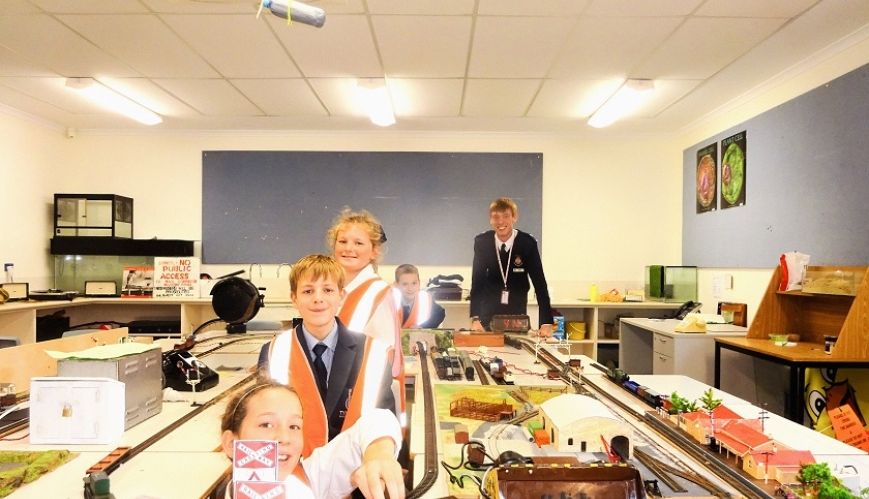 Strathalbyn students jump on board appeal fundraiser
27 May 2018
A childhood hobby and a desire to help those living rough on the streets resulted in a model railway display, set up at a local school in South Australia, to help raise money for this year's Red Shield Appeal.
James Leigh, a senior soldier at Mount Barker Corps, put together a working display of model trains for students and staff at Tyndale Christian School, Strathalbyn, from 8-10 May.
The display featured a model of the Strathalbyn railway station and railway yard – made by James – and a set of life-size railway crossing lights and bell.
Visitors used their small change to make the trains run, and to contribute to the corps' Red Shield Appeal.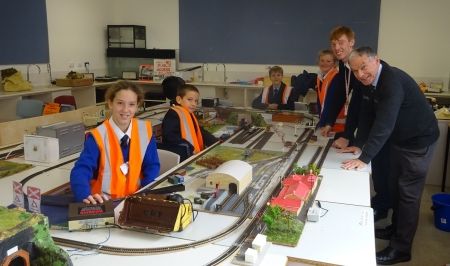 James, who graduated from Tyndale last year, also involved interested students in making parts of the display, such as the goods' and engine sheds, as well as running the viewings.
"We received an excellent response," said James. "The students got involved in a hands-on hobby and learned some new skills.
"Four Year 7 students helped to operate the display, drive the trains and fix any derailments. They did an excellent job."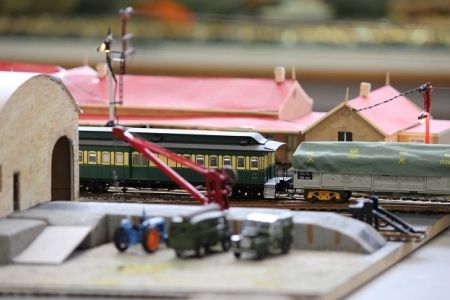 During the week the trains were on show, Major Barry Shearer (Ret.) from Mount Barker Corps, spoke at the school assembly about The Salvation Army and the Red Shield Appeal – its history, work and impact – as well as why the Army carries out the work it does. 
Lieutenant Jordan Innes, Mount Barker Corps Officer, also visited the display.
"James is a passionate soldier in the Salvation Army who loves the Lord and wants to make see lives transformed with the love of Jesus," said Mount Barker Corps Officer, Lieutenant Sarah Innes. "He inspires and encourages us by taking action to make a difference and by doing this alongside others." 
"It was good to promote the Red Shield Appeal and raise awareness about The Salvation Army and what we do through this unique fundraising effort," said James. "It was definitely a success all round, and a total of $166.55 was raised for our corps' Red Shield Appeal."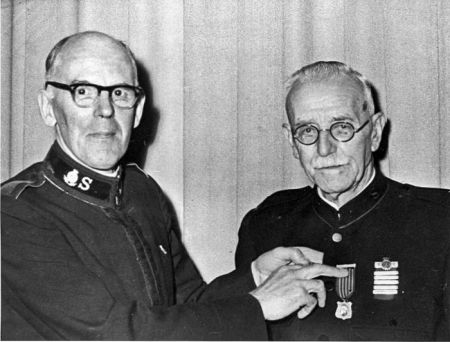 Commissioner Frederick Coutts presents the Order of the Founder to James Crocker.
School principal Nigel Croser is extremely supportive of The Salvation Army. His late grandfather, Envoy James Crocker, received the Order of the Founder –The Salvation Army's highest honour for distinguished service – in 1960. Commissioner Frederick Coutts, Territorial Commander at the time, presented the award.
James Crocker's life as a hard-living miner changed dramatically after he came into contact with The Salvation Army. He went on to serve God and his community for 40 years.