Reconciliation Week focuses on deeper relationships
Reconciliation Week focuses on deeper relationships
1 June 2018
The Salvation Army has joined the wider Australian community in marking Reconciliation Week, from 27 May–3 June. The theme this year is "Don't Keep History a Mystery".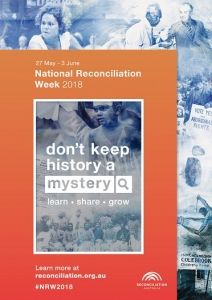 Reconciliation Australia, which promotes and facilitates respect, trust and positive relationships between the wider Australian community and Aboriginal and Torres Strait Islander peoples, has invited all Australians to learn more about Aboriginal and Torres Strait Islander cultures and histories, to share that knowledge and help our country grow as a nation.
This year's campaign highlights some of the lesser-known aspects of Aboriginal and Torres Strait Islander, histories, cultures, and achievements, to prompt Australians to ask themselves: what are some of the things I don't know about our shared history?
Reconciliation as friendship
Brooke Prentis, Salvationist, Waka Waka woman, and member of The Salvation Army's National Aboriginal and Torres Strait Islander Reference Group, is passionate about "reconciliation friendship".
Brooke recently recorded the first video post in the Reconciliation as Friendship series for Common Grace, a movement of Christians who are passionate about Jesus and justice, for whom Brooke is the Aboriginal spokesperson.
"This post is the first in our celebrating Aboriginal Christian leaders from the Grasstree Gathering and sharing their perspectives on Reconciliation," she explained.
Brooke is also the coordinator of Grasstree Gathering, a national, inter-denominational and non-denominational event which brings together emerging and established Aboriginal and Torres Strait Islander Christian leaders from across Australia.
"Reconciliation is important, but it can't just be important to Aboriginal peoples – we can't do Reconciliation on our own," she said.
"If you have a conversation with me this Reconciliation Week, you'll hear that I would rather call it Reconciliation friendship. And so this week, I'm inviting you into friendship.
"Come with me on the journey; meet some Aboriginal friends who will share with you their heart for Reconciliation, reflect on the Scriptures and think, act and pray, as we seek together to be people who value and walk in Reconciliation friendship.
Last year I shared my heart for Reconciliation in a short talk at Q Commons in Brisbane. Today, [as part of] Reconciliation Week, I invite you to listen to that talk, and hear my invitation to rethink of Reconciliation as Friendship."
"Ninety percent of Australians do not know an Aboriginal person. If you don't know us, how can reconciliation happen? Our nation needs healing, but that healing can't happen from one side. It requires friendship.
"The Aboriginal hand of friendship is extended to you.
"The Church is the perfect context for friendship to take place, as the Bible calls us to friendship and 73 per cent of Aboriginal and Torres Strait Islander peoples are Christian.
"It's time for the church to lead the way in much needed reconciliation."
For more Reconciliation Week information and resources go to:
To make a donation to the work of Common Grace, click here.