Red Shield Appeal plants seeds of hope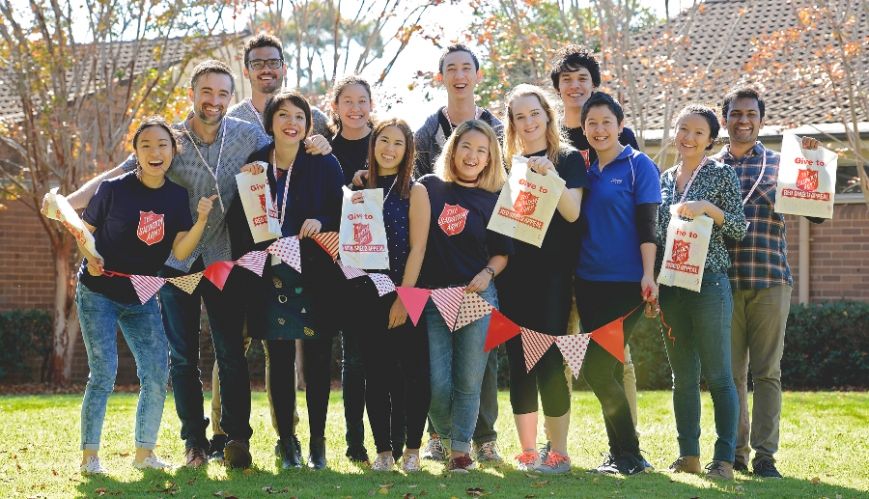 Red Shield Appeal plants seeds of hope
14 June 2018
By Lauren Martin

Stories emerging from the 2018 Red Shield Appeal are proving that it's about so much more than fundraising, with Salvos building relationships through events and at community collection points.

Leading up to the Doorknock weekend of 26-27 May, Red Shield Appeal launch events were held across Australia in big cities, regional centres and small towns, involving local business people, community leaders and supporters.

Other events associated with the Red Shield Appeal included partnership fundraisers such as school "Red Days", "Sweat for the Salvos"gym fundraisers, trivia nights, golf days and even Salvos Stores "Op Shop for a Cause" evenings.

Salvos in Adelaide combined the Red Shield Appeal with National Doughnut Day, partnering with Krispy Kreme in that state to fundraise and promote The Salvation Army's history of serving coffee and doughnuts to World War One soldiers in the trenches.

"It's encouraging to see the innovation," said Andrew Hill, Community Fundraising Director for The Salvation Army. "You're only limited by your own imagination ... and doing something together with people builds relationship and creates memories that last."

Andrew said he had hundreds of interactions with people while collecting throughout the appeal. "One lady stopped, and she had a bunch of flowers in her hand, and she gave me $10. I thanked her for her generosity and told her to have a great day. She looked at me with tears in her eyes and said, 'I'm going to put these flowers on my daughter's grave'. We were able to have a moment together – human to human – of compassion."

Andrew believes our brief conversations and interactions during the Red Shield Appeal may seem trivial, but 1 Corinthians tells us that we are to plant the seeds that God will grow (1 Corinthians 3:6-9). "I must have had dozens of significant little conversations with people. For me, it was made obvious that the Red Shield Appeal is not just about the money, it's about community connection."

Throughout the Red Shield Appeal, 70,000 Australians mobilised to volunteer. Lynda Hurley, a Salvationist from Canberra, was one of them: "I'll admit that Red Shield hasn't always been my 'thing', I don't like to ask people for money."

"But this year was a little different ... I was determined that this year getting out into the community and collecting for [the] Red Shield [Appeal] wasn't just going to be about the money, it was going to be about connecting with people and sharing with them the love and joy that God lavishes on me."

Lynda's experience collecting over the weekend outside two supportive cafes was a positive one, with her contagious joy rubbing off on those passing by. She was also able to listen to those wanting to share their stories and offer a hug to a woman who took a Salvation Army "hope" balloon to place on her granddaughter's grave.

"There were no conversations about faith, but I'd like to think that I was sharing God's love through my smiles," she said.

For Major Cathryn Williamson at Cowra Corps in south-west NSW, community collection points were about far more than fundraising.

"I got to have lots and lots of great conversations throughout the Red Shield Appeal. I had the opportunity to invite people to our groups like Home League and Kids in the Kitchen."

The Salvation Army has raised $6.3 million just from the Doorknock weekend, with more donations expected to come in before the appeal officially ends on 30 June. 
You can make a donation HERE.