New Australia Territory board meets for the first time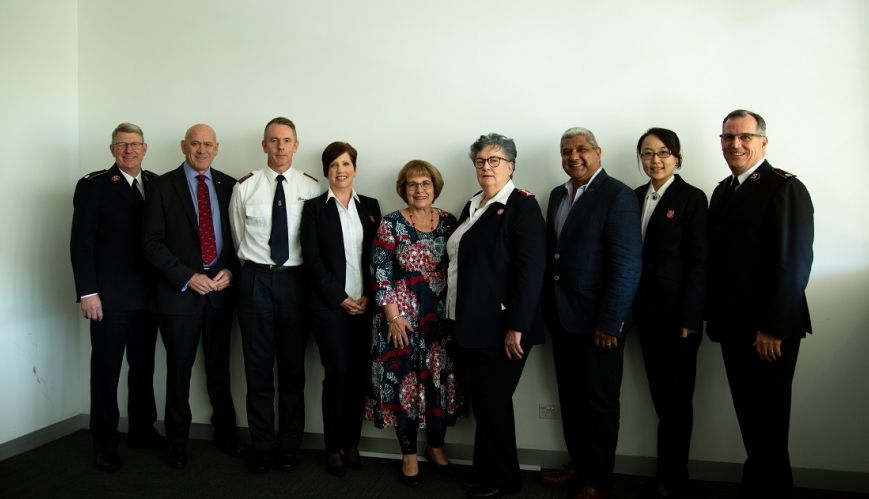 New Australia Territory board meets for the first time
7 August 2018
The new Salvation Army Territory Board, the senior governance body for the work of the Army in Australia, met for the first time last week.
By Commissioner Floyd Tidd
The first meeting of the newly appointed Salvation Army Australia Territory Board, appointed by General André Cox (Rtd.), took place on Thursday 2 August.

After months of careful and prayerful selection of the senior governance body for the mission and work of The Salvation Army in Australia, nine of the 11 board members met for a day of induction. 

As National Commander, I have been appointed to serve as Chair of the Board, and membership includes five additional officers and five independent members, all being people who live out a personal faith in Christ, two of whom are active Salvationists.

The day began with devotions and prayer before the board reviewed the history, purpose and culture of The Salvation Army and its impact upon Australia. Other items included an overview of current operations, along with the mission, vision, values and strategy. 

Focus upon the structures, business and operational supports gave board members a deeper understanding of how The Salvation Army delivers its mission. Upcoming board meetings will focus on our diverse expressions of mission and mission enterprises. 

Throughout this first day of meeting together, board members sensed the presence of God with his people gathered together sharing in learning, dialogue and prayer. It was clear that every member of the board understood the immense privilege and responsibility to serve the mission and people of The Salvation Army through their involvement. 

We are grateful for the time, effort and energy committed by these individuals to the work of the board and their involvement in various committees of the board.

The board members are: Mr Adrian Appo OAM, Colonel Mark Campbell, Greg Couttas (who offered his apologies for this meeting), Mr Richard Grellman AM (Lead independent member), Desley Hargreaves PSM, Lieutenant Lydia Hong, Captain Richard Parker, Colonel Geanette Seymour (Alternate Chair), Commissioner Floyd Tidd (Chair), Commissioner Tracey Tidd, and a final member of the board awaiting confirmation and appointment. 


The September issue of the Others magazine will provide more information on the board.
Commissioner Tidd's blog for August is available via the Australia One website.