Cubans celebrate 100 years with 100 new soldiers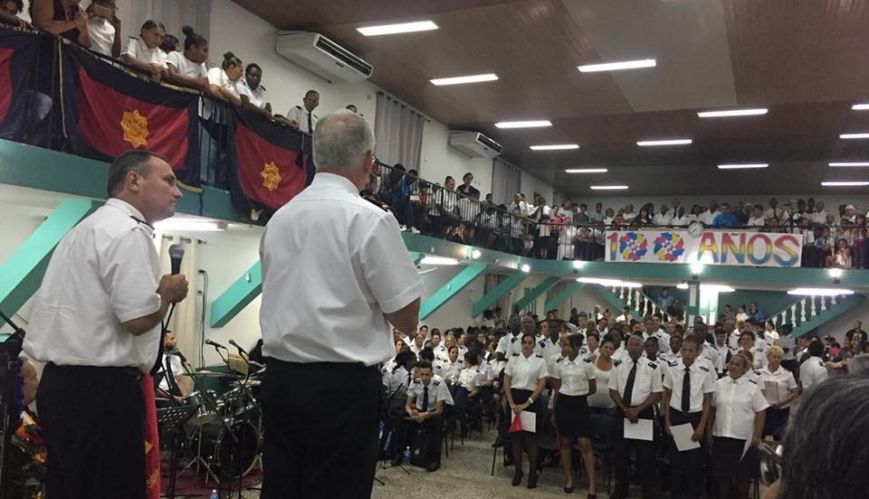 Cubans celebrate 100 years with 100 new soldiers
4 September 2018
General Brian Peddle spoke at several meetings in Cuba as part of The Salvation Army's centenary celebrations on the Caribbean island.
IHQ report
General Brian Peddle and Commissioner Rosalie Peddle joined the centenary celebrations for The Salvation Army in Cuba last month as part of their first overseas engagement as world leaders.
The anniversary weekend, themed "How Great is God", included the enrolment of 100 new soldiers.
The General and Commissioner Rosalie Peddle, World President of Women's Ministries, led a spiritual meeting for Cuba's Salvation Army officers and cadets on the Friday morning, exhorting them to be aware of the "urgency of the message of the gospel" in modern-day Cuba and to "walk with God in sincere obedience".
Commissioner Peddle speaks with the Latin American News Agency.
At the end of the meeting, the General was interviewed by the Latin American News Agency, in which he expressed his joy at being a participant in such an important celebration in Cuba.
A public meeting took place on Friday evening. The President of the Cuban Council of Churches presented the General with a traditional Cuban hat as an acknowledgement of the faithful work of the Army over 100 years.
Saturday morning commenced with a march of witness through Havana's streets, while the international leaders – accompanied by Latin America North territorial leaders Commissioners Tito and Martha Paredes – attended a fruitful meeting chaired by Mrs Caridad Diego Bello, the Head of the Office for Religious Affairs of the Communist Party's Central Committee.
The Peddles proudly wearing their Cuban hats.
All parties expressed their desire to work together for the purpose of improving living conditions of the Cuban people, both materially and spiritually.
Later, local Salvationists presented a varied sample of Cuban traditional culture in their continuing worship and thanksgiving. The General and Commissioner Peddle personally greeted comrades and friends and interacted with the crowds.
Poetry and dance featured, as did the launch of a new book, <i>The Miracle of The Salvation Army in Cuba<i>, which records key moments in a century of ministry from early Jamaican pioneers to the present time.
A holiness meeting on Sunday concluded the weekend.
This article is based on a report by Captain José Morrilla