Ride for homeless sets off from Sydney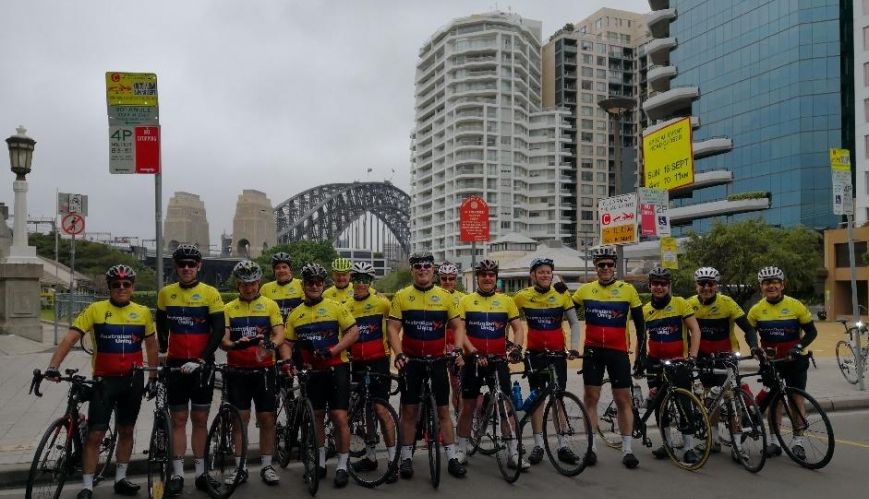 Ride for homeless sets off from Sydney
10 September 2018
The Ride for Homelessness bikers gather in a wet and windy Sydney on Saturday to start the long journey to Brisbane to raise money for those living rough on the streets.
By Naomi Singlehurst and Simone Worthing
"Everyone needs a place to call home – that is what this ride is all about," said Paul Maunder, Team Leader at Brisbane Streetlevel Mission, who has also joined the ride.
Ride for Homeless is a charity fundraising bicycle ride from Sydney to Brisbane raising funds for The Salvation Army Streetlevel Mission (Brisbane) to provide street swags, independent living courses and supported housing initiatives for people who are homeless.
Along the way, riders will be sleeping in street swags in Salvation Army halls, and will be assisted by a small support crew. They arrive in Brisbane on 16 September.
The ride is a partnership between The Salvation Army Brisbane Streetlevel Mission and Nanna Fitty's Fruit Cake Cycling Club. The club is made up predominantly of Salvationists, as well as people from a variety of backgrounds, faith journeys, or no expression of faith. Club members eat fruit cake before each ride, hence the name.
Ben Harrison is team mechanic for the ride and he shares his remarkable journey from homelessness and addiction for Others Online:
Riding for home and hope

"I almost lost my leg, my career and very quickly lost my life (or the life I had known)," says Ben.
Originally a marine mechanic, Ben had an enviable life, in a seaside suburb, building his career. He says: "I was very comfortable. I had a race car, motorcycles, my own home, a wife, dogs and cats – a wonderful life."
But then, in a serious work accident, his leg was crushed and seriously injured.
Surgery followed and Ben was left with a battery and hard-drive in his hip and wires into his spine. His trade was all he knew, but he was unable to work as a marine mechanic after the accident. He was also in great pain and became increasingly dependent on heavy prescription medication.
After two years, his doctor warned of the dangers on staying on the medication long-term and Ben stopped; but then his life took a turn for the worse. He began to drink to deal with the pain and the ever-increasing depression and sense of loss.
"I quickly fell into depression, then alcohol and drug addiction," he says. (In addiction) I ended up losing my marriage, my home, even my dogs."
Depressed and suicidal, Ben soon had no hope. He found himself living in his car, wasted away physically, plagued by suicidal thoughts. At one stage he crashed a car at high speed into a tree while under the influence of drugs.

"I just had a great sense of worthlessness," he says.
After a time in Salvation Army Pindari Crisis Accommodation and another service, Ben slept rough on the streets and in squat houses.

During his time on the streets, Ben began to visit The Salvation Army's Streetlevel Mission (Brisbane), which offers meals, services for those facing homelessness; work for the dole; counselling, material and spiritual support and more. He was then accepted into the Salvos' Moonyah (Brisbane Recovery Services) residential recovery.
"I had no idea places like Moonyah (or Streetlevel) existed. I had no hope," he shares. "I thought I had no one to help me. I came into Moonyah with no idea of the 12-steps program. I went into detox first and I was loved and cared for, which I didn't believe was possible.
"I came into the program a very angry man with no will to live and met some amazing people. It was also amazing spiritually and case workers were telling me I could have a life again. I started to do the 12 first steps – admitting to myself I was powerless over this disease – and it was the first time I'd thought of addiction as a disease.
"Although I had a strong Christian faith in the past, it was at Moonyah I turned my will over to God. God has saved my life now a number of times."
Today, Ben lives independently, and has stayed connected to the Streetlevel community throughout his journey.
"I'm probably the happiest I've ever been in my life, thanks to this place (Streetlevel)," he says. "I'm 580 days without a drink or drug in my life and a great feeling of self-worth.
"I had given up on myself, just waiting to die basically. I was coming to Streetlevel for months and months before rehab. I found some absolutely amazing people there I really look up to. I love them, I love the place – it's become my 'home'."
Ben now has a burning desire to help others and has studied and completed a Certificate 3 in Community Services.
"My passion is to help people who face homelessness and people with alcohol and drug addiction. It's definitely my calling. It is all I can now think about wanting to do," he says.
He is involved in the fundraising ride to support the team and to help others struggling with addiction and homelessness.
"The Ride for the Homeless and funds raised will support people who do not have anywhere to call home with the type of resources I have personally needed in the times that I had nothing," Ben says.
Streetlevel Brisbane's Paul Maunder adds: "The whole team is passionate about making a difference to raise the plight of people who face homelessness.
"We are riding not only to provide material support but also spiritual hope. On our shirts on one side we have printed 'Everyone needs a place to call home' and on the other a verse from (The Message) of the Bible that says, 'you're worth more than a million canaries'. This refers to words from Jesus about the great value God places on all of us."