Brunswick Salvos create a furniture-industry first Brunswick Salvos create a furniture-industry first
13 September 2018
Creative Opportunities, run by Brunswick Corps, in Victoria, provides employment for up to 70 people with physical or mental disabilities.
By Jessica Morris

Brunswick Corps in Melbourne is embodying The Salvation Army's move towards mission expressions that are thriving in their communities and respective industries.

The corps run a program called Creative Opportunities, which works with the National Disability Insurance Scheme to employ between 60 and 70 people with physical or mental disabilities on a part-time basis, teaching them valuable work and life skills.

The program has been providing people with disability (such as Jeffrey, pictured below right) with employment for many years, but has recently achieved commercial success as an Australia-first in the furniture industry.
"We realised there was market gap for children's natural-timber bedding and it's changing the whole way we do business," explains Neil Kenny, the Creative Opportunities manager.

As the sister site to Brunswick Corps, the bulk of the Creative Opportunities workload previously came from creating furniture components, such as timber bed slats, making it a supplier to other end-to-end furniture producers.

Under the direction of Neil, who entered the position in January with 22 years of experience running his own business, Creative Opportunities has found its niche in the furniture industry that not only makes work more fulfilling, but also provides furniture suppliers directly with a high-end, one-of-a-kind product.
"Doing components is something we still do, but start-to-finish products would be at least half our business now, and our future growth will come from these finished furniture goods," he says.

Creative Opportunities is the first furniture supplier in the country to utilise European water-based, non-toxic paints on natural pine furniture, and it has developed exclusive colours with suppliers to make its goods one-of-a-kind in a competitive market (pictured right, below).

"That has not only enhanced the workplace, it has enhanced the product. People love the sound of Australian made. They love the sound of ethically sourced Aussie timber, and they love the sound of non-toxic coating, particularly on kids bedroom furniture," says Neil.


Creative Opportunities has had a helping hand in the commercial sector after developing a connection with an industry mogul who has been personally touched with the purpose of helping those with an intellectual disability.

This has provided Creative Opportunities with a volunteer sales agent for its new products, and enabled it to have its end-to-end products sold in large commercial retailers including Captain Snooze, Forty Winks and Beds and Dreams.

When the first batch of beds hits stores in the coming months, they will be marked with a tag identifying them as a product of a Salvation Army not-for-profit enterprise that partners with the retailer to provide employment for people with disabilities.

"Rather than have a product and almost disguise or don't announce it, the fact that it has been manufactured by a disability enterprise is actually a sales benefit to them," explains Neil.

The change in business model has not only benefited the commercial structure of Creative Opportunities, but the workers get to see products they have assisted in creating, giving them greater satisfaction and a sense of accomplishment –the ultimate goal of the mission expression's work.

The new focus on end-to-end products has also given employees more job variety and many have built their skills, notably in the assembly area and application of paint to the products.

"Our employees (such as Lauren, pictured right) show a huge pride (in their work)," says Neil. "It gives a worker a great buzz and greatly increases work satisfaction because they can see a tangible product at the end, whereas if they're producing a component it's just a component.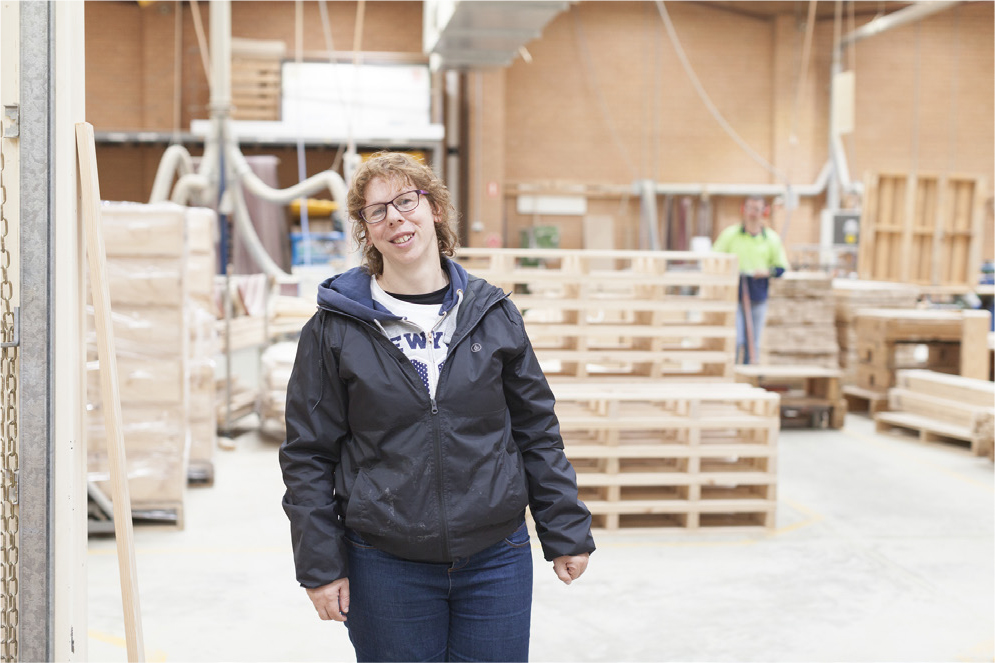 "Through Creative Opportunities, we promote how valuable employment is for one of the most vulnerable groups in our society, people that probably wouldn't get employment anywhere else," explains General Manager, Envoy Margaret Coombridge, the Corps Officer at Brunswick for the past five years.

"Brunswick Salvos endeavours to value and acknowledge some of the most forgotten and neglected people in our community. Creative Opportunities is just one way we get to partner with other service providers, agencies and supports to let people know they are valued."

While Brunswick Salvos Creative Opportunities is still in the early stages of this new business model, it is keen to partner with others – both within and outside the Army to expand its invaluable work and product across Australia.

"It's changing the perception a lot of people have of creative people," says Neil. "We're serious furniture makers and I know we'll have a good future doing this."
Contact Brunswick Salvos Creative Opportunities HERE.