Bells are starting to jingle!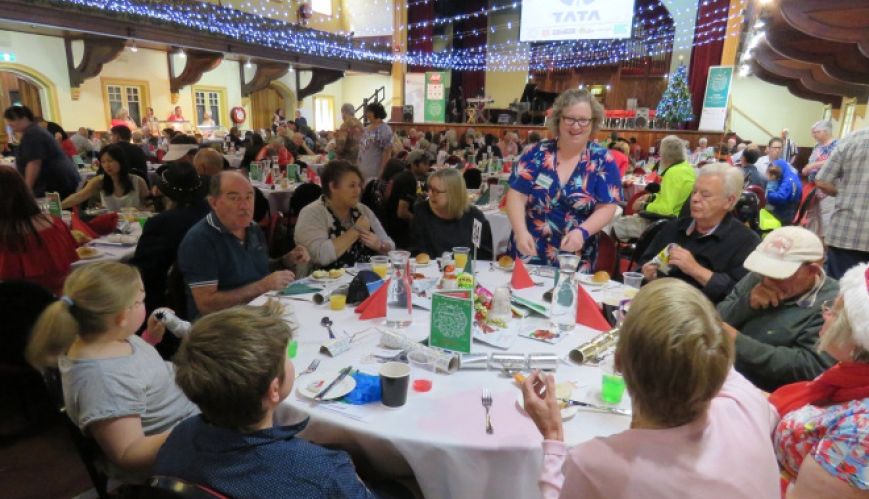 Bells are starting to jingle!
24 September 2018
The Salvation Army is one of the many organisations that put on the annual Launceston City Community Christmas event in Tasmania.
By Lauren Martin and Simone Worthing

September is the start of the "silly season" for most Salvation Army corps across Australia, with Christmas Cheer, carols, services and other missional activities being booked in and prepared for.

Talk to anybody in the street during the month of September about their Christmas planning and they'll probably laugh at you. Talk to a Salvo, and they'll be able to rattle off dates and plans (with that crazed "silly-season"look in their eyes!).

Already, Salvos are in the swing of Christmas Cheer operations. In Tasmania, it's the Launceston City Community Christmas 2018 – a joint initiative of The Salvation Army, the Launceston Benevolent Society, St Vincent de Paul and Launceston City Mission and supported by the Launceston City Council, Tas Independent Wholesalers and suppliers and Johnson Breward Brown Accountants. 

The event (pictured right) is in its third year and is for anyone in the Launceston Community needing somewhere to go on Christmas Day.


At Craigieburn Corps, north of Melbourne, Captains Jo and Peter Brookshaw (pictured right collecting donations at his local shopping centre) and their corps are partnering with local shopping centre Craigieburn Central to run a food drive for their Christmas Cheer hampers. The appeal ran from 30 August until mid-September.

"As Christmas fast approaches, we become ever so aware of hardship and injustice,"says Captain Peter. "We see Salvos who work tirelessly in this season, to partner with whoever is willing, and support whoever is hurting.

"In Craigieburn that means establishing significant partnerships with local businesses and individuals and it means reaching out with the love of Jesus in very practical ways to bring hope to others at Christmas."

Many corps across the country also partner with their local shopping centres. At Grafton Corps on the NSW mid-north coast, the local Salvos park their trailer inside Grafton Shopping World before Christmas, with a Christmas Appeal sign and a list of what non-perishable food items are needed.

Other corps have plans well underway for community engagement at Christmas time. At Eastlakes Corps in the NSW Hunter region, corps members will be performing "Random Acts of Carolling" in the local area.


"You don't need to have any talent, and we don't have any instruments," says Eastlakes Corps Officer, Auxiliary Lieutenant Terri Muendel (pictured right with an elderley member of the corps they blessed last year). "We just show up in front of people's houses and start singing to them!" 
The group visits the driveways of a number of corps members who are elderly, as well as choosing random locations to stop and carol.

"It's so much fun, is spreads joy and makes people smile," says Terri. "One year we decorated our cars with tinsel and decorations and drove in convoy. Last year we baked some cookies and took those and gave them out as well, people come out of their homes to see what's going on and they love it."

In Queensland's south east, Christmas is a time for unconditional love. Captain Craig Harlum and the Lockyer Valley Corps run a "Hope Starts Here" event where members of the community who can't provide Christmas gifts for their children are invited to come along to the corps and be blessed with toys and other gifts, no questions asked.

"If you're someone who's unable to provide toys for your children, then we are here for you," says Captain Harlum. "We don't ask them any details and we don't confront them by asking them to give details about their situation.

"We take their contact details and then later on in the new year we use that information to send them through information on our children's programs, other activities and church service and invite them to come."

At Katherine Corps in the Northern Territory, the Christmas season provides unique connections in the community that don't happen any other time of the year.

"We are only allowed in the school at Christmas and Easter, so make sure we use these opportunities to share with the children and teachers," says Corps Officer, Captain Julie Howard.

The connected Katherine Doorways Hub, in the same building as the corps, also increases their welfare during this season. As well as providing hampers and toys for their own community members, the Hub also receives referrals from other organisations for those doing it tough.

The corps will host a Christmas lunch on Christmas Day, immediately after the morning meeting. Approximately 150 people are expected to attend from the local community and beyond.

Local businesses generously donate food and other items for this meal, and locals assist with volunteering to prepare and serve the lunch.

As well as a meal, Captain Howard and her volunteers make sure every person receives a gift, with the Christmas story attached on a colourful card.

Christmas meals are also hosted at the smaller outlying towns of Pine Creek and Wataranka.

Captain Greg Howard, the flying padre, also takes hampers and toys to outlying communities as flying conditions in the wet season allow.

"It's only September, but definitely, we are planning ahead already,"says Captain Julie.

Bunbury Corps in Western Australia will be providing food and toys through its Doorways program, with volunteers and community groups sorting and packing all the hampers and other parcels.

"We are definitely already in Christmas mode and will stay there until January," says Captain Mark Schatz, Bunbury Corps Officer.

A local radio station is doing a drive for food and toys, the local Treendale shopping centre is providing a collection point in its premises.

The Southwest Bikers will be doing their annual charity toy run, with donated toys being distributed by The Salvation Army. "It's all happening!"says Captain Schatz.

Other ideas from corps across the country for connecting with communities over Christmas are:
- Engaging a volunteer photographer to take free Christmas family portraits.
- Christmas parties at corps with free jumping castles, face painting, petting zoos and a Christmas message.
- "Carols by Morning Light" services for those families who don't like taking their kids out late at night.
- Christmas gift wrapping at local shopping centres.