Brengle for Kids helping young people live in freedom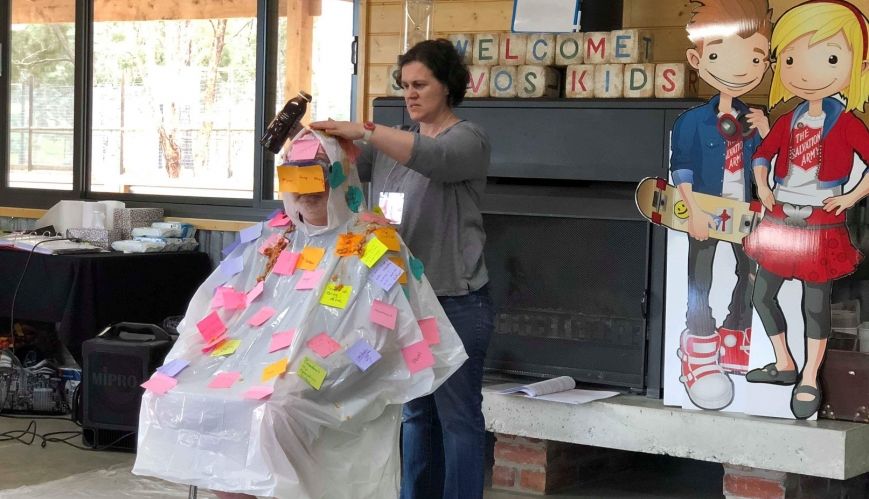 Brengle for Kids helping young people live in freedom
10 October 2018
Captain Sonia Jeffrey helps the young people put post-it notes with their fears and struggles written on them, all over 'Jesus' to show that he takes our sin for us.
By Simone Worthing
"To put it bluntly, many adults are not living victoriously and drag their sins and guilt around with them, and we wanted to provide tools to help our older kids transitioning into high school avoid this," says Captain Sonia Jeffrey, Territorial Children's Ministries Secretary, based in Melbourne.
"We wanted to develop a program that could in a fun and relatable way, help them to make good choices and not carry guilt about the things they have done or could be heading into.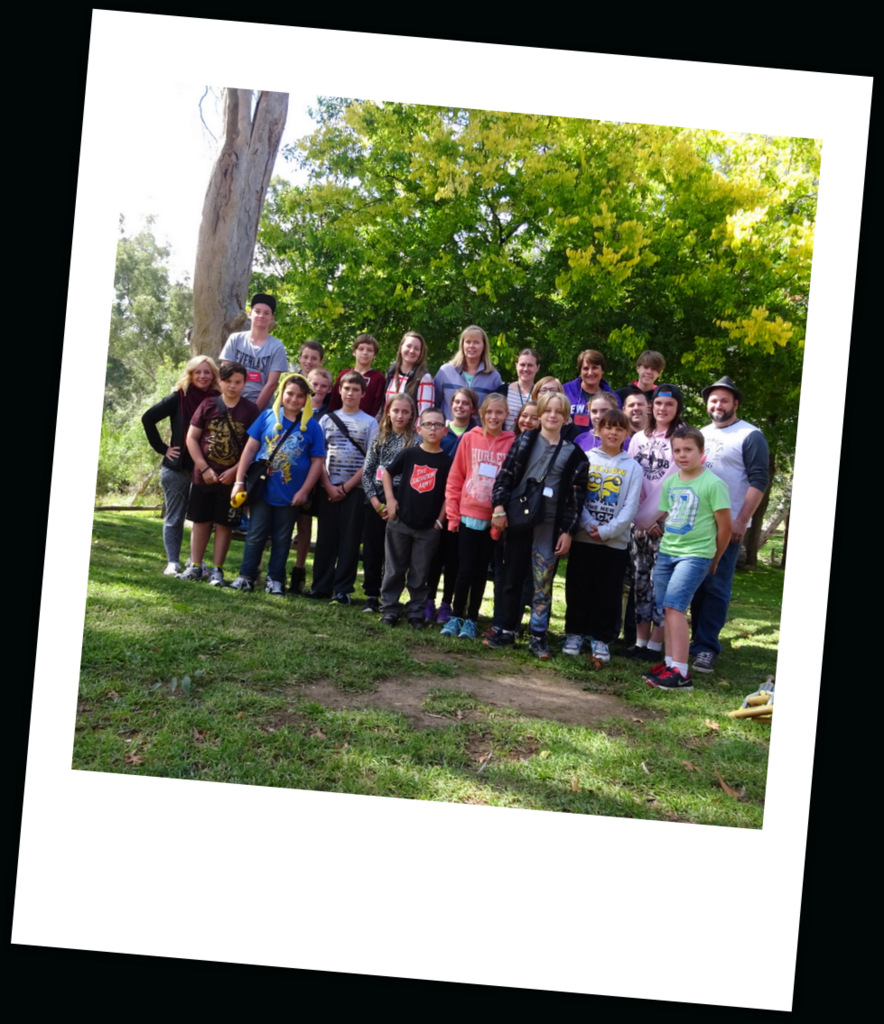 Kids Brengle South Australia, 2015.
"We also wanted to provide teaching on the Wesleyan holiness tradition, and for our young people to have something that progressed from the good spiritual foundation in the Junior Soldier program."
The then, Captain Stephen Court, Training Principal at the School for Officer Training at the time, first hosted a Youth Brengle at the college in May 2009. Following soon after that, in October 2009, Captains Tracey Davies and Genevieve Peterson piloted a Brengle for 27 young people.
"From then on, we knew it was going to work and it grew from there," says Captain Jeffrey. "Brengle has now reached more than 530 kids since it started."
Since the program's beginning, a team from the Australia Southern Territory, including Debbie Taylor (Territorial Children's Resource Writer and family pastor at Mornington Corps), and Amanda Merrett (Assistant to the Social Justice Secretary), with their backgrounds in education, chaplaincy and pastoring, have reworked the material and developed five lessons for Brengle – each with a "big group" teaching and some small group discussions.

"There is ongoing assessment on the program - we're always tweaking and refreshing it to make it as relevant and powerful as possible," says Debbie.
Each Kids Brengle only takes up to 20 young people for each camp or session. "It's a small and intense camp, very similar to the officers' or soldiers' Brengle," says Captain Jeffrey. "It's deep and there is no fluff."
There is no application process for Kids Brengle. Corps officers nominate children in Grade 5 or 6, aged approximately 10 or 11, who are already enrolled as junior soldiers and have shown a commitment to their own discipleship and spiritual development, to participate in the program.
New creation

Captain Jeffrey and Debbie share the teaching at camp, while divisional leaders provide facilitation for the small group discussions and support.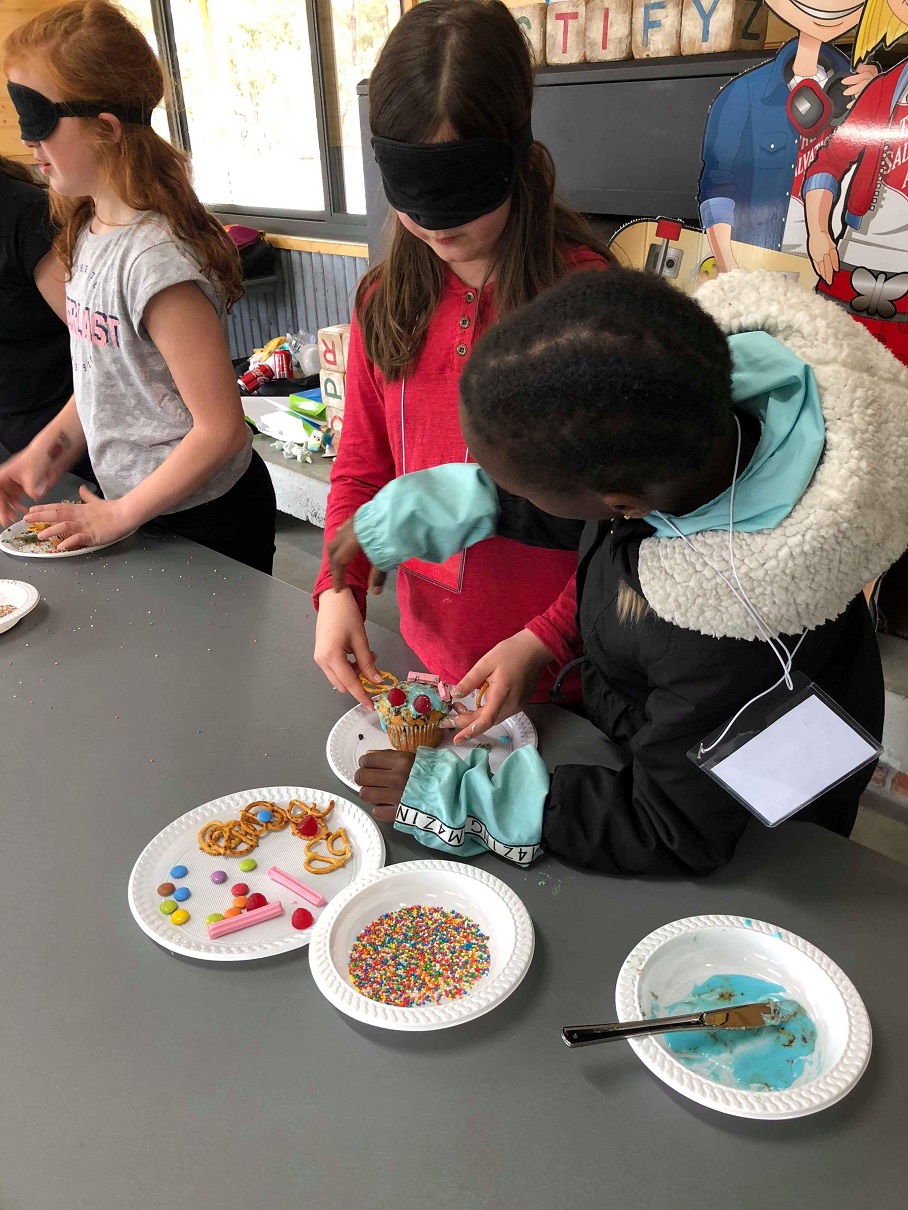 Making new cupcake creations at Kids Brengle 2018.
"We teach the young people about Samuel Logan Brengle – who he was, his ideas on holiness and sanctification, and the concept of being able to have victory over sin," says Captain Jeffrey.
"We explore the possibility of asking the Holy Spirit to help the children make better choices and have some discussions around that.
"We work to help the children understand that Jesus was willing to take our place, our punishment for the unwise choices that we make and make us each a new creation because we believe in him.
"These topics can be challenging so we try to make it fun ... the kids love it."
Captain Jeffrey and the Brengle leaders find that, at camp, the kids are ready to admit that they're struggling and that they don't feel great about themselves.
For example, during one activity, the children were asked to write some of the issues they were struggling with onto "post-it" notes and stick it on "Jesus", who was camouflaged with a garbage bag. The kids responded, with many sticking multiple notes onto Jesus.
"Jesus" was Colonel Wayne Maxwell, National Ambassador for Holiness and Prayer with Colonel Robyn Maxwell. The Maxwells were participating in Kids Brengle for the weekend with a view to introducing the program into NSW, the ACT and Queensland.
"There were many tears and emotional reactions to this activity, and the kids saw graphically how Jesus takes the mess for our lives and wrong choices, that he takes anything we can throw at him, and that he forgives us and makes us a new creation," says Captain Jeffrey.
Debbie adds that many of the kids also learn to conquer long-held fears through activities such as high ropes, a giant swing and zip lines.
Ongoing connection

Follow-up of the children after camp is an important part of the program and includes contact with Brengle leaders, corps officers, divisional youth leaders and small groups.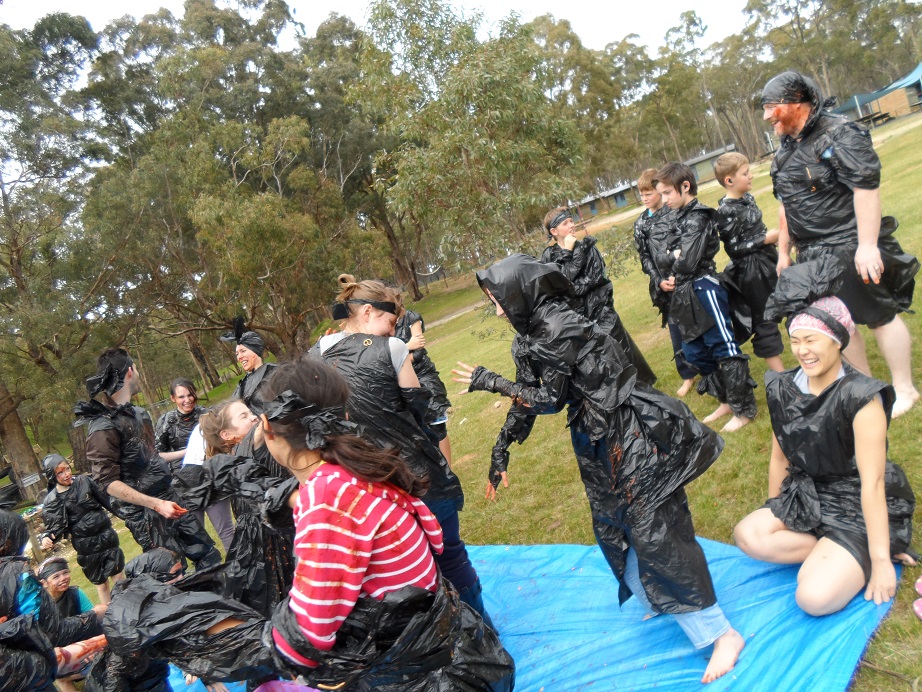 The infamous 2013 "food fight" in full swing.
During the camp, the young people write a letter to themselves, outlining something significant that has happened to them over the weekend, how they're working on their character with God, and something that is really bothering them or they're struggling with.
"After 90 days, we send this letter back to the kids, with a letter from me addressing the issues they've raised and photos from the event, just as a reminder of what they've experienced and the support they still have to continue the journey," says Captain Jeffrey.
"The kids have shared some significant issues - soul searching and stresses in their lives - and it's a privilege for us to respond to this and help them stay connected."
New model

A new trial is underway for Kids Brengle, with the introduction of local leaders for the program.
"In the September Brengle in Ballarat, Victoria, two youth leaders from Western Australia attended and were trained in program delivery," says Captain Jeffrey.
"They took all their training materials, books and toys home with them and will run the program independently there, instead of us having to travel there. We are hoping this can expand around the country as Australia becomes one Salvation Army territory."