Theological council launches Chinese translations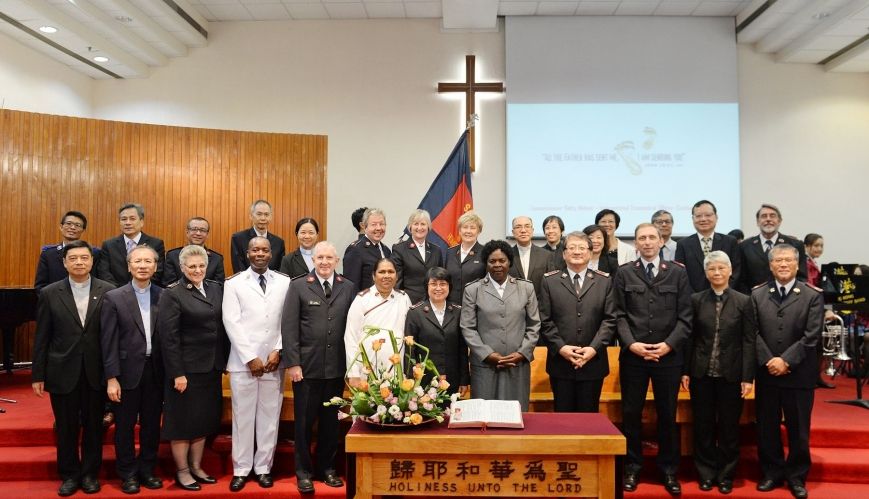 Theological council launches Chinese translations
11 October 2018
The Salvation Army's International Theological Council met recently in Hong Kong to launch the Chinese translations of two Army publications, and learn about specific local matters.
IHQ Report

The Salvation Army International Theological Council held its latest meeting in Hong Kong, where it took part in the launch of the Chinese translation of The Salvation Army Handbook of Doctrine and Doctrine for Today publications.

The translation is available for Salvationists and their ministry in Hong Kong, Macau and mainland China, and also for Chinese corps and Salvationists worldwide.

The biannual meeting of the council usually takes place at Sunbury Court near London, although it occasionally meets elsewhere to learn about specific local matters. Such an opportunity was given by the Office of the General for the October 2018 meeting to take place in Hong Kong.

In addition to witnessing the launch of the Chinese translation of the Handbook of Doctrine, the theological council met with Hong Kong church leaders, supported a newly formed student theological fellowship and engaged in meaningful one-on-one conversations with Salvationists.

Together with the leaders of the Hong Kong and Macau Command, executive members of the council also participated in the 100th anniversary of the Church of Christ in China, and held meetings with the Guangzhou Christian Council and the Guangdong Union Theological Seminary where discussions centred on possible shared future partnerships in ministry.

Serving globally

The principal purpose of the theological council is to serve the General and the global Salvation Army by being faithful custodians of Army doctrinal positions, whether those positions are to be found in the eleven Articles of Faith, in official Army publications, or in formal statements approved by the General.

The council also advises the General on matters pertaining to the theological education of Salvationists, and especially of officers on active service.

As approved by the General, the council enters into conversations and interacts with other churches, ecumenical organisations and religious or similar bodies.

It also keeps abreast of theological trends, maintaining appropriate contact with relevant institutions and academics both inside and beyond the Army.

The council's 15 members are from 14 different countries, providing a global perspective and understanding of the impact of different questions around the world.