You are here:
Home › News › 2018 › 10 › 17 › I Now Have A Life Thanks To The Salvos Moneycare Service
I now have a life, thanks to the Salvos' Moneycare service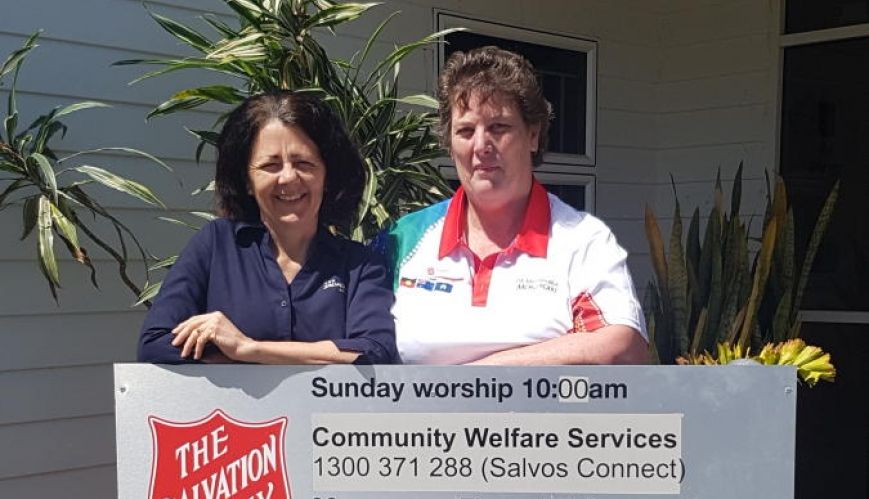 I now have a life, thanks to the Salvos' Moneycare service
17 October 2018
Debbie Robbie (left) with Elizabeth, who came to The Salvation Army to access its Moneycare free financial counselling service. She's never left. 
As told to Lauren Martin

When Elizabeth was at her lowest, she couldn't even leave her room at her sister's house where she was staying on Queensland's Sunshine Coast. She had only recently moved, her bills were piling up, she was unemployed, and she had health issues. Life had become overwhelming and she tried to shut it all out. Here she shares her story with Others.

My depression got so bad that I couldn't handle a lot of things. I was just going downhill. I wasn't going out. I stayed in my room at my sister's house. My communication with others was bad. My depression just went deeper and deeper.

I had run up a Telstra debt. When I was with my sister I didn't want to use her internet, so I went and got a new connection in the house and, well, you forget that you're on a plan and your bills get higher and higher. That was the main bill I was worried about [but there were others as well].

I needed a script for my thyroid medication, so I had to find a new doctor. After hearing my story, the doctor said I needed professional counselling. After a series of events, I was recommended to contact The Salvation Army and its Moneycare program.

I wasn't very friendly towards the idea. By this time, I was so sick of having to repeat myself to everybody that it took me a fair while to go and actually see them. There was the pride thing as well. You don't like to admit that you are in that situation. But I eventually made the appointment and went and saw the financial counsellor. That's when I met Debbie Robbie.

I walked in and I said to Debbie, "Look, I'm here for financial help, I'm not here to be preached at. I don't want the Bible thrown at me", and all that sort of stuff. She said, "That's fine, we'll deal with your finances."

Debbie really made me feel comfortable and [over a period of many months] we got all my finances worked out. She got me back on track and we did a budget and worked out everything I had to pay and how much to pay. She was really great and a weight just lifted off my shoulders. To walk out of the office and just feel lighter, it was one of the best things that I ever did. I [felt like] I was starting to stick my head up out of the water.

Debbie gently made you sit up and take notice and she believed in what you were saying. She just had this aura about her – that she was a safe place to go. We became friends. I wanted to do something to repay her, and she said, "Well, there's always lots to do for The Salvation Army", and so I started volunteering. I got involved with the Mainly Music program.

I felt comfortable with all this, but then I felt the urge to explore my religion. I said to Debbie, "I want to go to church, but I don't want to go by myself." And she said, "OK, which one do you want to go to?" [After trying one other church] I said, "What's yours like?" And she was telling me about The Salvation Army corps and I said, "I might give it a go."

It was totally different to what I had expected. I was made to feel welcome from the first day. It still took me a while and I didn't go every week, but I did feel welcome and accepted. I started helping out with Kids Church and now I'm also volunteering with Moneycare. Of course, all of this did help with my depression. Don't get me wrong, I do still struggle, but I am a bit more outgoing than I used to be.

Without the Salvos, I'd be stuck back at my sister's house and I wouldn't have gotten anywhere. I would not have gone anywhere. I wouldn't have been able to bring myself to admit that I was in all that financial debt. I'd be stuck back there if it wasn't for The Salvation Army.

I now have a life!

A free and confidential service

Moneycare is one of the largest providers of financial counselling and related services in Australia.

The Salvation Army marks Moneycare Day during Anti-Poverty Week every October, hosting events designed to encourage anyone having trouble with their finances to contact its free and confidential Moneycare service.

An internal analysis of people accessing The Salvation Army Moneycare services over the past 10 years has found the proportion of people over the age of 55 accessing Moneycare financial counselling and capability services has increased by 37 per cent over those 10 years.

The statistics also showed that the proportion of private renters over 55 has increased by 55.5 per cent (from 27 per cent in 2008-09 to 42 per cent in 2017-18). Credit card debt has also increased among this group. This marks a significant increase in the number of people who may enter retirement in debt and without the extra security of owning a home.

Tony Devlin, the head of Moneycare, says both state and federal governments must adopt "an affordable housing strategy, including a focus on older Australians to minimise the risk of homelessness, and promote a sustainable and affordable retirement system."

The Salvation Army encourages anyone in need of assistance to contact its free and confidential Moneycare financial counselling service. Staff can help with a range of issues including budgeting, credit, debt and repossession. To contact your nearest Moneycare service please visit https://salvos.org.au/moneycare or call 1800 007 007 (National Debt Hotline).