Expo designed to equip Salvos for ministry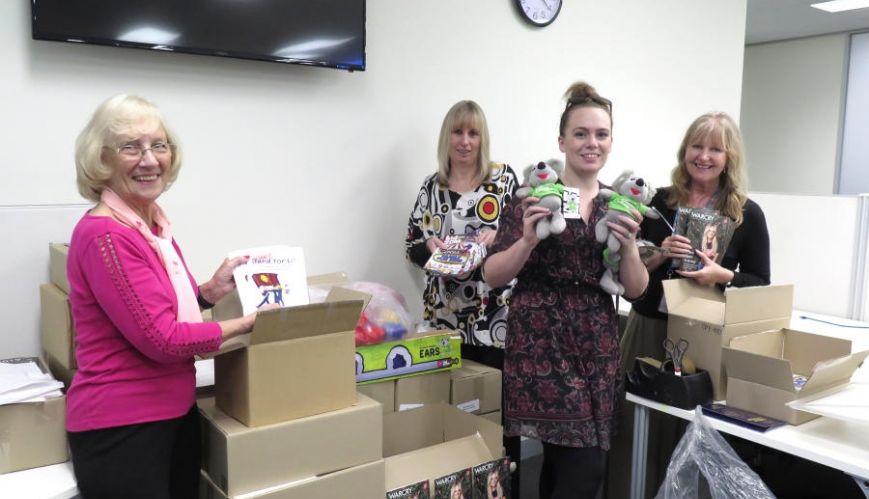 Expo designed to equip Salvos for ministry
22 November 2018
Team members from Warcry and Kidzone magazines and Salvo Publishing getting resources ready for their stalls at the Still Others expo.
By Lauren Martin
Salvationists attending Still Others in Melbourne next weekend are being urged to visit the expansive Salvo Expo in the exhibition space at the Melbourne Convention and Exhibition Centre.
"There's going to be more than 30 stalls," says joint organiser Major Len Turner, who's been working on the expo with Major Gary Hart.
"We'll have our Red Shield Defence Services truck in the space, an excellent kids space with a pirate-themed playground, stalls containing books, music and resources, and two stages set up for artists and ministry showcases."
The Salvo Expo has been designed to equip and empower Salvationists with transferrable concepts for ministry that they can adapt for their own communities.
"We want to show Salvos what they can do to increase their impact," says Major Turner. "Things like 'Kids in the Kitchen' and 'Salvos Catering', they're ideas that are transferable. People can pick up a concept and, maybe with some tweaking, take it back to their areas and use it to engage more with their communities."
Major Turner suggests people set aside an extra hour, either before or after a session, to wander through the expo, which will be open from Friday to Sunday.
There will be a massive Salvos Stores pop-up shop that will open at 9am on Friday 30 November, with General Brian Peddle and Commissioner Floyd Tidd visiting at 10.15 to pray a blessing over the stall – and who knows, maybe pick up a bargain themselves!
Salvos Trade will also open at 9am on Friday. Other mission and ministry stalls will be opening at midday Friday.
Visitors can learn about The Salvation Army's work within the Australian Defence Force, with a Sallyman truck on display. Major Turner says the APY Lands trailer will also be on display, with Majors Denis and Kathleen White on hand to talk about their work in Aboriginal communities of the Northern Territory. 
Eva Burrows College will also have a large lounge space with staff on hand to talk to those interested in exploring ministry and study opportunities. The Collaroy Centre and Stanmore House will also have stalls, as well as every division and every mission expression. 
Salvation Army books will also be available for purchase at the Salvos Publishing stall, which will be next to a stall promoting Others, Warcry and Kidzone magazines.
"The expo will be spread across 2500 square metres and we will also have two stages operational with musicians, book launches and ministry displays," says Major Turner. "If you're going to be at Still Others, don't miss the Salvo Expo – it's going to be great!"