Mission Conference reflections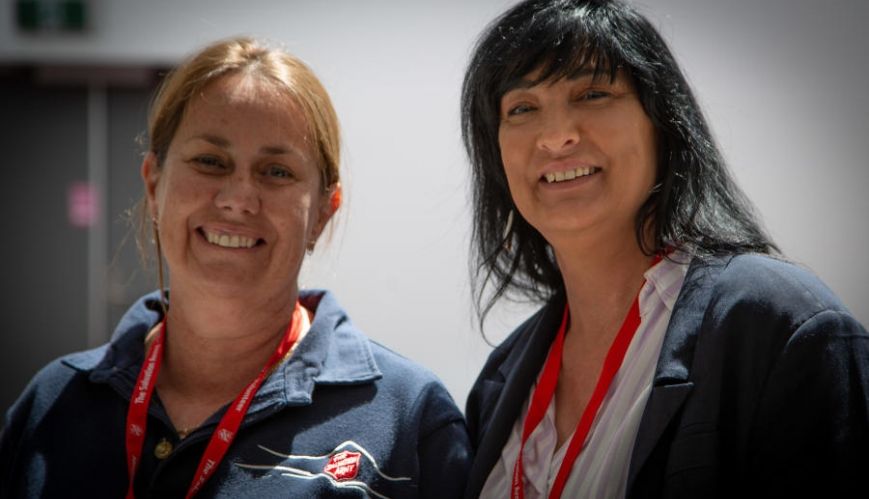 Mission Conference reflections
1 December 2018
Sharryn Matthews and Sonya Button say the Mission Conference was a great event to meet others working in the social service provision space from across The Salvation Army. Photo: Bruce Redman
Compiled by Lauren Martin
Captain Peter Brookshaw, Craigieburn Salvation Army, VIC
I felt stirred in my heart during the Social and Community Mission Conference. Day two consisted of inspirational keynote addresses from Bernie Geary, former Victorian Commissioner for Children and Young People and Professor Richie Howitt. We listened to workshops about chaplaincy, holistic mission in a multicultural context and spirituality within an AOD framework.
Bernie told of gut-wrenching stories of people in desperate need of hope and love. He spoke of young people in West Heidelberg, and youth caught up in the criminal justice system. He relayed stories of helping the most vulnerable in our state, including through his work with the Mental Health Tribunal. I walked away thinking, we need to do more. We need to sit with people who are marginalised. We need to hear their story. We need to advocate on their behalf. We need to speak truth to power.  And we aren't paid to love people! We love people because we love people!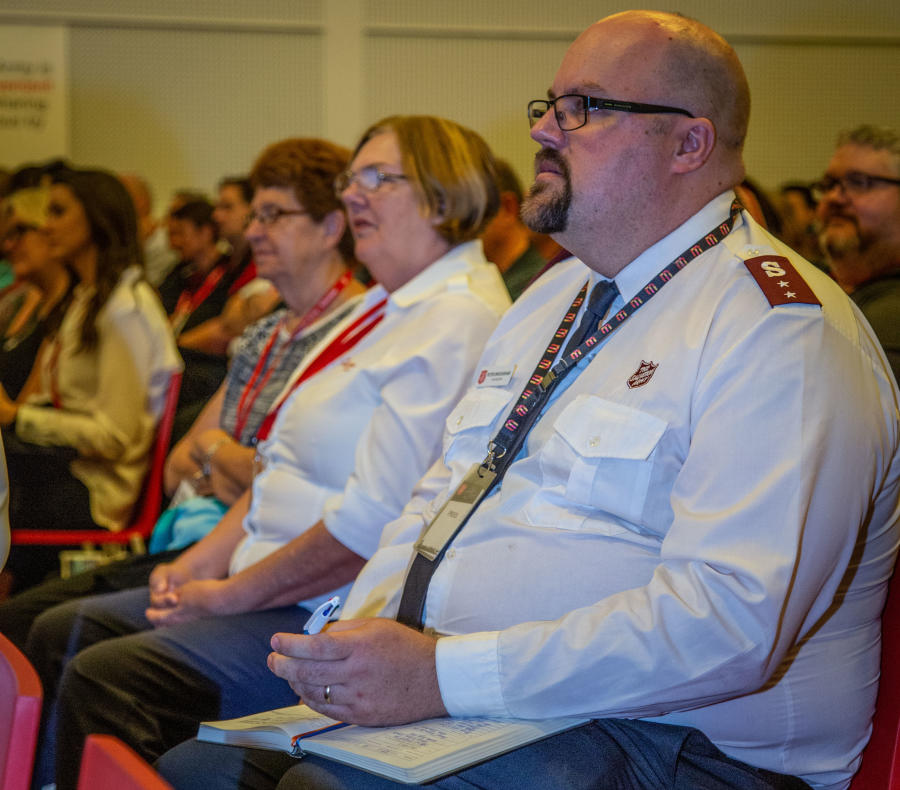 Craigieburn Salvation Army officer, Captain Peter Brookshaw
The research team, led by Richie Howitt spoke about the community development principles embedded within the work of the Ivanhoe estate at Macquarie Park. He presented articulate and well-considered research about the effectiveness of The Salvation Army in that community.
Hearing this, I am reminded that I love seeing God at work within communities of faith, and hearing stories of Salvos willing to roll up their sleeves and love people (just like Jesus did).
There's one thing to travel into a community, do a whole lot of mission and leave again. I've done that before, and it's enjoyable and no doubt you make a bit of difference. Though, it's another thing to lay your life down to live and breathe in a community that needs a redemptive lift. I'm amazed at Salvos across this nation that choose to live and serve in patches of a broken community, seeking God's restoration of every place in which they minister. 
This whole concept of walking alongside others cannot be over-emphasised. Whether it be chaplaincy, or ministry in a multicultural setting, or finding God in a rehab centre, I walked away from that conference day considering afresh the importance of coming alongside others. We can do it in many ways: coming alongside the broken and hurting; being a listening ear to someone on the streets; advocating for someone who is about to leave prison; supporting a case worker who just needs to vent about her day.
Some of the talk was challenging. Like, how is The Salvation Army using its position and standing in the community to speak to the social justice issues of our day? Have we gone a little quiet? How can we provide a consistent voice in a national landscape? There are many questions, but in the midst of delving through the possible answers, you and I are part of a Salvation Army that is being the hands and feet of Jesus in a world that desperately needs love and grace.
I'm honoured to serve in a Salvation Army that is committed to serving the marginalised in our world. But when it comes to walking alongside others and supporting them, I think we have only just begun. 
Sonya Button, Carinya Women's Services, NSW
One of the best things that I think has come out of the Mission Conference is to meet other people within The Salvation Army, in similar roles to mine but from other parts of the country. We would love to continue our working relationship by visiting each other and learning about the way homelessness services operate within The Salvation Army in other contexts and environments. 
My favourite session was hearing Bernie Geary (OAM), the Victorian Children's Commissioner. He was talking about how we, as a Salvation Army, need to have a stronger voice in advocacy and I really believe that.
There's been a lot of teaching and discussion at the Mission Conference about the new Local Mission Delivery model and Area Leadership Teams. This is a change that does bring with it some questions for social service practitioners like myself, so to be able to talk through those has been really helpful. 
It's great to feel included in the wider Salvation Army and I really hope that continues within the Local Mission Delivery model, that social service practitioners will be consulted and listened to. Because all of us in The Salvation Army share the same passion to give help and hope to people in need.
Sharryn Matthews, Broken Hill Adults and Families Service, NSW
I feel really honoured to have been invited to this. Coming from Broken Hill [in western NSW] we often feel very isolated from the rest of The Salvation Army. To be able to meet other Salvo service providers and talk about all of the changes that are happening at the moment has been really great.
We all face challenges around working in partnership with other organisations and also with other Salvation Army expressions and to be able to articulate those and have our voices heard has been good.
I've also met so many great people who share the same passion. We've made plans to visit each other's services and learn from each other and I'm really excited about continuing those relationships moving forward.
Read another story about the Missions Conference.