Still Others is what it's all about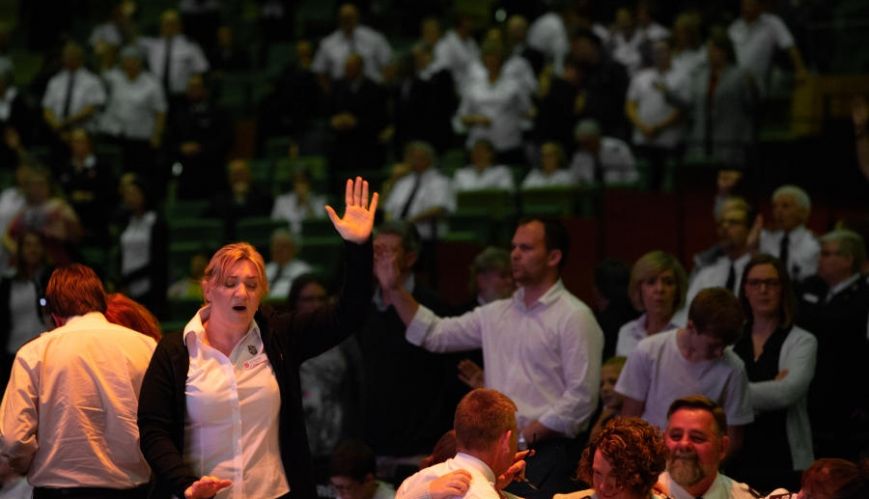 Still Others is what it's all about
9 December 2018
By Lauren Martin
 
Salvationists who attended the Sunday morning Commissioning service at the Still Others event, or those who watched online, may have noticed a man sitting near the front of the stage, who, early in the service, was escorted away by security. 
 
His name is Michael, and he was invited to the meeting by Envoy Craig Stephens, new expressions coordinator for the NSW Central Coast. He had met Michael on a Melbourne tram on Friday night, struck up a conversation with him, and told him that God loves him.
 
In what most people would call a "coincidence", Craig ran into Michael again the next day, sitting on the banks of the Yarra River, near the Melbourne Convention Centre. "I shared with him that I didn't really believe in coincidences," says Craig. "I remembered his name and his story, and I think that surprised him. Then I said to him, 'Look, I told you Jesus loves you, but I wonder if you want to have him in your life where he can actually release something of his abundance for you?'"
 
There and then, Michael gave his heart to Jesus.
 
The theme of the Still Others event was drawn from God's word in the book of Isaiah: 'The Sovereign Lord declares – he who gathers the exiles of Israel: I will gather still others to them besides those already gathered' (Isaiah 56:8). Here it was, the verse actually being lived out on the banks of the Yarra River between a follower of Jesus in Salvation Army uniform, sharing his faith with a man after listening to his story.
 
Craig wanted to stay connected and invited Michael to the Sunday morning Commissioning service. Michael gave his word that he would see Craig there. True to his word, he attended, walking right to the front of the Plenary auditorium and sitting near the large floor map of Australia. Like most who attended, Craig didn't notice Michael until he was aware that MCC security was having a chat with him and escorting him away from the stage.

"I managed to interrupt him being removed from the venue," Craig says, adding: "They were just doing their job."After sitting through the meeting, Craig and Michael went to the altar to pray together, a public declaration of Michael's new faith. They celebrated together afterwards with Craig's family over lunch.
 
Craig doesn't know when or if he will see Michael again. He has given him his contact details and has tried to connect him to The Salvation Army's 614 mission in Melbourne's CBD. "It was fairly straightforward," Craig reflects. "Just listening to his story and me sharing Jesus in that context." 
  
Other stories of the manifestation of the "Still Others" Bible verses playing out during the event are starting to emerge. Captain Darren Kingston from Sydney's Inner West Corps preached on trams, prayed for a Hindu man to receive Jesus, and invited a Muslim man to Sunday's Commissioning meeting. "I saw God heal a Hare-Krishna lady's back who was bent over," he posted on Facebook. "Now [she] believes in Jesus, and can walk straight ... praise God. He wants to see all people in heaven."

Rachal Mills, a senior soldier of The Salvation Army's Macquarie Fields Mission, also hit the streets of Melbourne with her corps officer and the corps officer from nearby Merrylands Salvation Army in Sydney.

"On the Thursday night I sat with a lady in the park for a while and spoke to a young man under a bridge," Rachal says. "I bought him pizza and a coke and spoke about how he was a child of God and has an incredible purpose here, even at this time."

Then on Saturday night she visited The Salvation Army's 614 Mission in Melbourne's CBD: "Wow,"she says. "What a humbling, beautiful experience of Jesus alive on the street!".