Kids on song for Christmas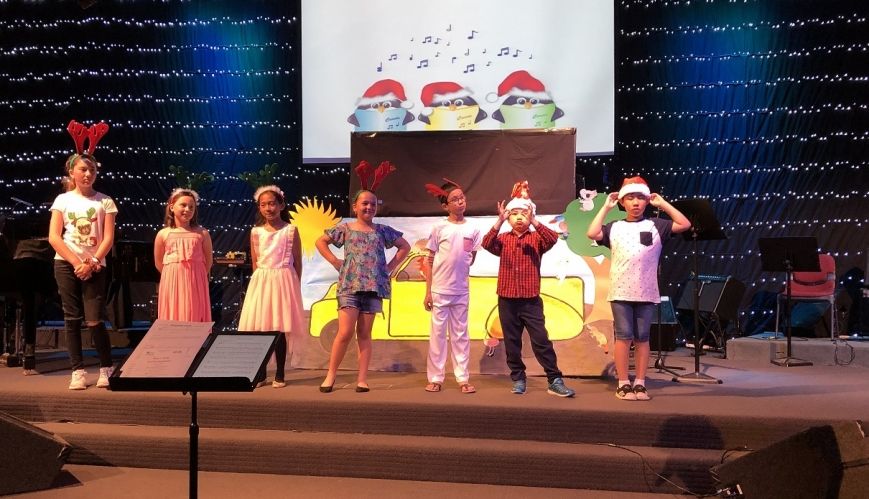 Kids on song for Christmas
10 December 2018
The Kids on Song Christmas concert is a highlight of the year for the children, their friends and family, and the corps.
By Simone Worthing
"I am trying to make the sacred normal in the lives of children," said Merryn Steel, founder of Kids on Song, a small business that runs choral programs for children.
Merryn (middle, left) with her team and students.
Over the past couple of months, the children have been working on the program "Sing a Song at Christmas time" and last week presented a concert for family and friends at the Brimbank City Salvation Army, in north-west Melbourne, where Kids on Song is based and supported.
Merryn is a Salvationist, and the conductor of the Melbourne Staff Songsters and a range of community choirs. She also has a heart for children.
"Links with the corps are very much a part of Kids on Song," explained Merryn. "Although we're not Salvation Army-branded, it's clear to everyone who we are. We invite the families to our Christmas service and other corps activities and build links and connections between the corps and community.
"The kids are a real mix and come from the community, through Messy Church and from the corps. Everyone has fun and it's all about making it an enjoyable experience."
As part of Kids on Song, the children learn about music theory, general and basic breathing and vocal techniques, and performing in public.
The kids learn to perform with confidence.
The children are also introduced to a wide variety of genres, adding to their overall appreciation of music and singing.
"The kids learn songs they enjoy, and this term we have focused on both sacred and secular Christmas songs," said Merryn.
Merryn, who has a strong belief in the ability of music, and in particular singing, to bring people together and a create a sense of community, wanted to give local children a singing experience that may otherwise not be available to them.
"Our team provides a 'fun and worthwhile choral experience without the hefty price tag' for children aged 7 to 12 years, regardless of knowledge or experience, and we aim to make our very special service available to any family who wants to get involved," she said.
"It is important to us to provide each child that joins us an experience that will help their confidence, creativity and their love of singing and music to grow."
Merryn, who originally studied science and has an honours degree in health and nutrition, grew up in The Salvation Army, took professional vocal lessons, and from an early age was always part of a singing company, and then the songsters.
She returned to university, completed a degree in music, and has been conducting both children's and adult choirs "in and out of the Army" since 1986.
For more information on the Melbourne Staff Songsters, click here.
To learn more about Kids on Song, click here.