Global musical experience impacts young band members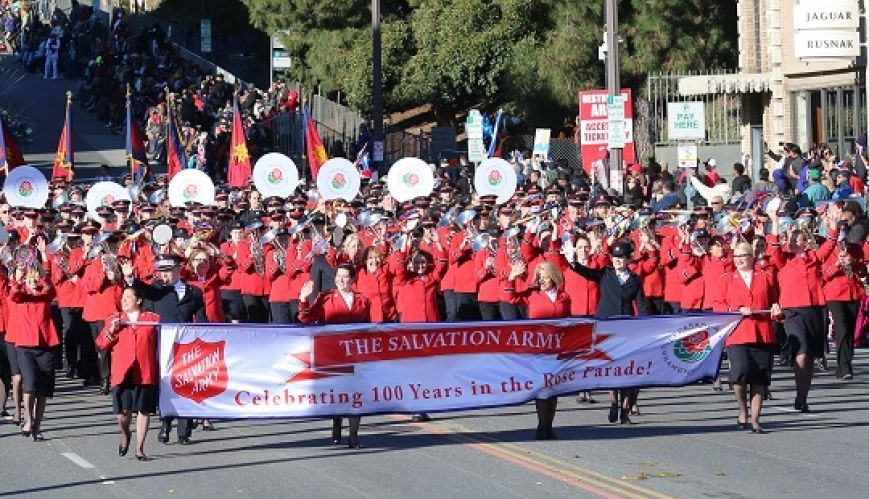 Global musical experience impacts young band members
11 January 2019
More than 400 members of Salvation Army youth bands and instrumentalists from bands around the world marched together in the Pasadena USA Rose Parade on New Year's Day.
Compiled by Simone Worthing
The Salvation Army Australia Territory Youth Band (ATYB) joined more than 400 instrumentalists from bands across the USA, Canada, New Zealand, and the United Kingdom, as well as individual musicians from Brazil, South Africa, Jamaica and India, to mark the 100th occasion of a Salvation Army band marching in the world-famous Pasadena Rose Parade on 1 January.
This year's event in the Southern Californian city, 17km north east of Los Angeles, saw record numbers of Salvation Army musicians taking part – the majority of them young people.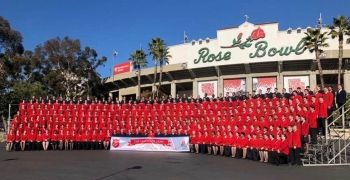 Youth band members and instrumentalists from around the world.
Typically, around 180 Salvationists march down Pasadena's Colorado Avenue each year. The group is usually comprised of Southern California-area band members, a guest band and individuals from other territories.
The Tournament of Roses Parade travels along the city's Colorado Boulevard, cheered on by more than one million spectators with many millions more watching live on national television.
The Salvation Army Rose Parade Band is organised by the California South divisional music department, led by Bandmaster Kevin Larsson, who has served in the post for 18 years.
"It's the world's biggest open-air," he says. "That's why we keep on investing into it ... we're playing Amazing Grace or Stand up for Jesus and often the name of the song is displayed on TV, so we can reach millions, millions and millions with that ministry," he said.
Australian contingent
The ATYB's tour began 26 December 2018 when the group, made of up musicians from all over the country, arrived in Los Angeles.
The band was led by bandmaster Ken Waterworth, executive officer Captain Matt Reeve, Chris Brindley, Wayne Collyer and Jordan O'Brien.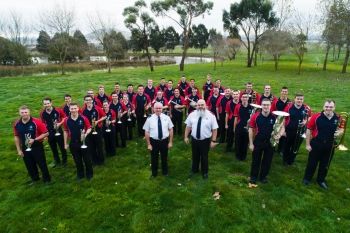 The ATYB with Ken Waterworth (front right) and Captain Matt Reeve.
The ATYB joined other participating Salvation Army bands at an international music school at Camp Mt Crags, about 60km west of Pasadena, and were broken into eight international sub-bands that performed and led worship at local corps throughout the week.
"We presented concerts at Pasadena Tabernacle, Tustin Ranch and San Diego Citadel – all of which were well received," said the ATYB leadership team.
Australian officers, Captains Cheryl and Nesan Kistan, serve as corps officers at Tustin Ranch Corps.
"We received a standing ovation after playing our Pasadena concert, which showed how moving the gift of music can be for the listener. We consistently received comments of how God had moved through our playing, which was greatly encouraging to hear."
The ATYB also performed at a National Basketball Association game [LA Clippers v Sacramento Kings], which ended in a deafening roar from the Staples Arena crowd. They also played at a Bandfest for 10,000 people, and marched in the Disneyland Parade on 3 January.
In addition, the band led worship at both Tustin Ranch Corps and San Diego Citadel and were well received.
Lasting impact
After discussions with band members, the leadership team believes this tour will have a lasting impact on those who participated – musically, in relationships, through acknowledging a global army, and in their personal faith journeys.
"Our young people have had the opportunity to learn from some of the best musical trainers the Army has," they explained.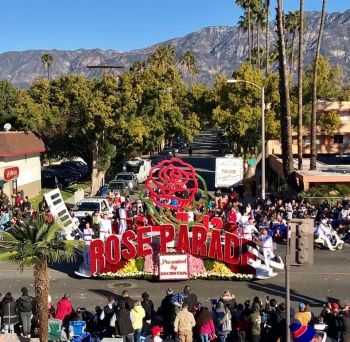 The Rose Parade is viewed by millions around the world.
"There were five staff bandmasters, as well as many other territorial music leaders, who led rehearsals throughout the music school. They shared with our young people copious amounts of knowledge, which will benefit our territory for years to come."
"We had the opportunity to meet hundreds of Salvos from across the country, and from across the world, and this has helped our young people to form relationships that will last a lifetime.
"This has been a great exercise to show our young people the magnitude of our organisation and the impact we have globally, as well as in our local context.
"The young people have come back with finely-tuned skills, a broader understanding of the Army and with energy and excitement to further the kingdom through music."
Personal reflections
Several young people shared how the experience had impacted them: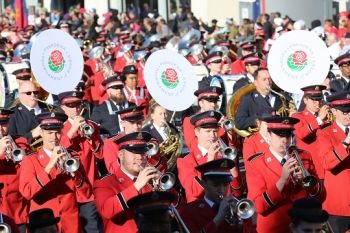 The Salvation Army Band at the Rose Parade.
"I have been greatly encouraged and inspired on this trip, through opportunities to develop my musicianship and abilities God has given me, alongside hundreds of international Christians," said Mackenzie Anderson, from Sydney Congress Hall.
Hannah Heathcote from Waverley Temple, Victoria, "loved the opportunity to connect other young Salvationists from around the world who share the same faith and passion for the Lord."
Matthew Terracini from Brisbane's Carindale Corps shared that, "It was encouraging seeing so many young Salvationists from around the world. It gave me hope for the future of The Salvation Army."
For Connor Hutchinson from Wollongong Corps, "the highlight of the trip was undoubtedly the unique opportunity that we had as a group of 350 young musicians to witness to such massive crowds and playing Kevin Larsson's energetic arrangement of Amazing Grace, to the 700,000 people lining the streets of Pasadena, as well as at the Disneyland parade and during a time-out break of the Clippers vs Kings NBA game at the Staples Centre in LA.
"We were met with huge applause and shouts of 'Thank God for the Salvation Army', countless smiles and heads nodding along to the familiar words 'I once was lost, but now am found; was blind, but now I see'. We give praise and thanks to God for what was truly an unforgettable experience for all members of the band."
Jordan O'Brien reflected on the impact on the band as a whole, "Throughout this journey it has been great to see our young people connect as we became a national group, and then to see them work as a team and connect on an even greater global scale throughout the tour. Australia was well represented."
To see the video of The Salvation Army's involvement in the Rose Parade, click here.
To see the video of The Salvation Army's parade at Disneyland, click here.