SAES ramps up assistance in flood-stricken Townsville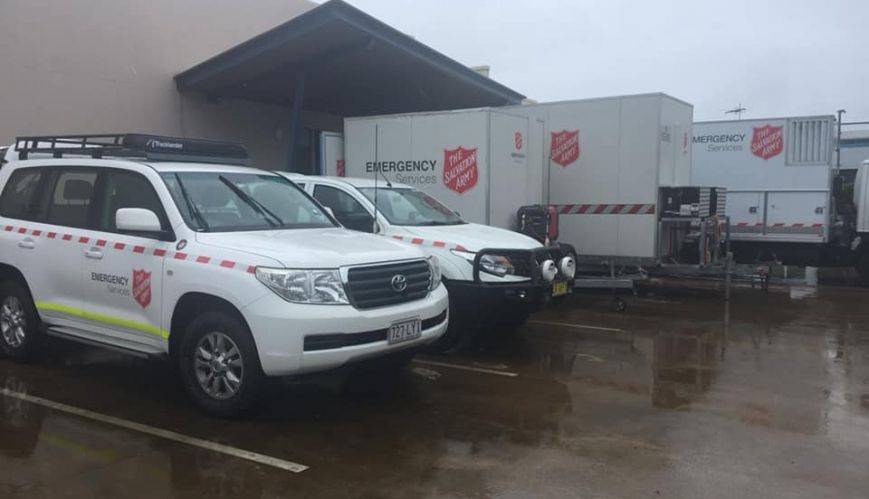 SAES ramps up assistance in flood-stricken Townsville
5 February 2019
Salvation Army Emergency Services response teams are feeding hundreds of people and providing emotional support at three evacuation centres as rain continues to fall in Townsville.
By Simone Worthing
As Townsville endures its worst flood on record and heavy rains from the monsoonal trough continue to deluge the city, The Salvation Army Emergency Services (SAES) is stepping up its response.
SAES teams are serving hundreds of meals across three evacuation centres, to residents from more than 20 suburbs whose homes have been inundated with floodwaters.
More than 2000 properties are in the flood zone, with more than 650 inundated so far. More than 18,000 houses are without power.
The Salvation Army's two corps buildings in the city have both suffered some minor damage. Townsville Recovery Services Centre and the officers' quarters have so far escaped harm.
More than 1100 people have been staying at the evacuation centres overnight, with many returning to their homes yesterday and today to assess the extent of damage.
SAES teams have up to 30 people providing catering and offering emotional support at three of the five evacuation centres around Townsville. The numbers of people being fed have increased dramatically, with as many as 750 being served meals.
Lieutenant-Colonel David Godkin, Queensland Divisional Commander, arrived to help provide relief for exhausted volunteers last night. He is being joined by more volunteers today.
SAES teams from nearby Mackay, Innisfail, Cairns and Atherton remain on standby, although these towns could also be facing their own flooding and possible evacuations in the coming days.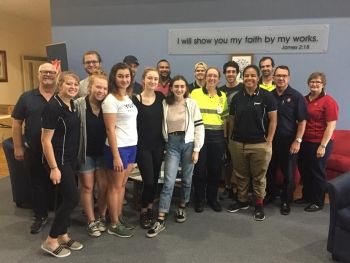 Lieutenants Bronwyn and Perry Lithgow (in  high vis shirts) with volunteers.
"All agencies in Townsville are having the same problems with managing the sudden surge of need," said Adam Cole, The Salvation Army Strategic Emergency and Disaster Coordinator Queensland.
"The locals are doing amazing things under really trying circumstances and they are exhausted.
"Two Critical Incident Peer Support teams (CIPS) have been activated to be in Townsville to provide additional support to our staff. Planning also continues for ongoing support of evacuation centres over the coming days."
Townsville Faithworks Corps Officer, Lieutenant Bron Lithgow, said sourcing food to feed such large numbers of people had been a challenge.
"Yesterday, after breakfast, we had limited supplies of food and the preparation crew had arrived to get lunch ready, and we didn't have enough for the approximately 700 people we were expecting," she said.
"Then the Woolworths logistics people turned up to help with salads, fruit and other items, and the greengrocer next door opened so we could get hams. Other local companies have been extremely generous. It was unexpected and unplanned, but within an hour we had enough food to feed hundreds of people, and two qualified chefs to cook dinner. God is good and the theme of the day was God's provision.
Volunteers working hard in the kitchen.
"This continues today, with Domino's Pizza and The Ville Resort-Casino providing meals to help alleviate the workload on volunteers, allowing teams to focus on service for a few meals."
Lieut Lithgow explained that, with more than 400 people staying in the evacuation centre at Heatley High School, where SAES teams are catering, the situation is stressful.
"Many people have been living in the hall since Friday, and they are edgy," she said.
"Their stories are all so similar – they just don't know what is happening and everyone is uncertain. Many can't get back to their properties and don't know whether everything is okay, or whether they have lost everything.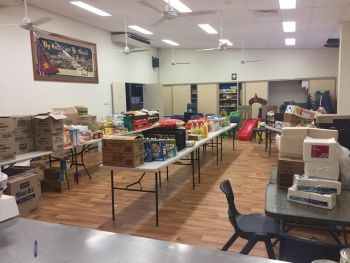 Organising supplies for the evacuation centres.
"There are university professors here, people struggling with addictions, those with mental health issues, and average everyday people. Floods don't discriminate. We have the whole community in one room. It can be volatile and stressful and everything is magnified."
Woolworths is mobilising its local stores to support Salvation Army teams at the front line.
Lieut Lithgow said that the most helpful and useful way for people to provide assistance is through financial donations rather than goods-in-kind.
"We so appreciate that people want to give and help, but we don't have the personnel to go through donations," she said. "Giving money allows us to buy locally all that we need."
The national not-for-profit organisation GIVIT is the Queensland Government's officially appointed organisation for the distribution and coordination of donated goods, if people would like to give that way.