David Beckham helps fund new football field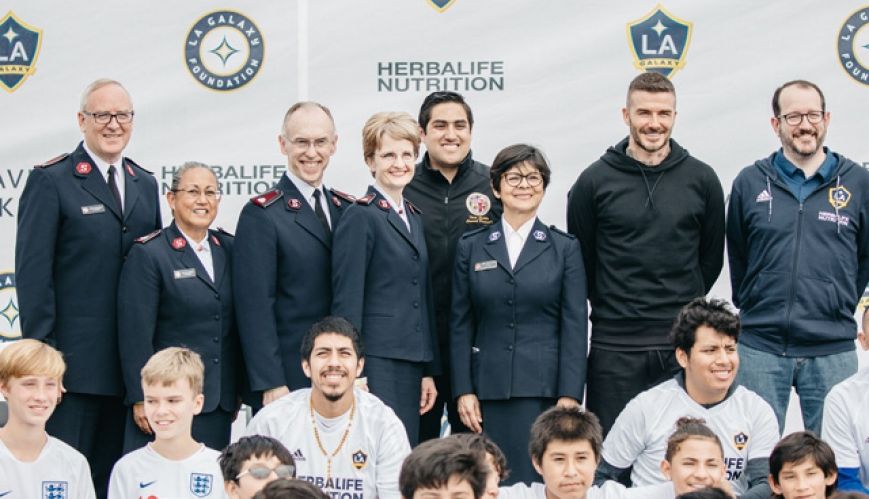 David Beckham helps fund new football field
6 March 2019
Caption to go here. Photos by Joy Yi.
By Hillary Jackson
Football legend David Beckham and a number of other benefactors have funded the replacement of a well-worn football field at The Salvation Army Red Shield Youth Centre in Los Angeles.
David Beckham joins the football clinic at the Red Shield Centre, LA.
The David Beckham L.A. Galaxy Community Field will give 2000 young people from the under-served neighbourhood of Pico Union a safe place to play football.
"I stand here in awe of the beauty of this field," said Irene Lewis, Executive Director of the Red Shield Youth Centre. "They use the term 'it takes a village', and let me tell you: here is our village."
At the dedication of the field on 1 March, Irene thanked Beckham and the partners whose contributions made the field possible – including the L.A. Galaxy Foundation, Herbalife Nutrition and AEG – many of whom have supported The Salvation Army's efforts throughout her 28-year tenure.
She then turned to Beckham, who had two stints playing with the L.A Galaxy football team in the American Major Soccer League.
"It's individuals like you who are committed to the lives of young people," Irene said. "Individuals who say, 'I want to make an investment. I want to make a change in the lives of children ... especially these kids in Pico Union'. There's a lot of challenges here, but with your support with AEG, L.A. Galaxy and Herbalife, you are definitely making a change and building a legacy for the lives of these kids."
The dedication of the new football field at the Red Shield Centre.
Irene then counted down for the group of around 50 kids seated by the podium, who screamed "Thank you, David Beckham."
The sentiment was echoed throughout the event by community members looking on from the other side of the field's chainlink fence – community members who have experienced the happenings of the Red Shield Youth Centre's football programs that started in 1992.
"We have seen the transformation that can happen in the lives of young people as a result of football," US Western Territorial Commander Commissioner Kenneth G. Hodder said, recalling the impact that a makeshift football field made on youth in Kenya during his appointment there.
"I, therefore, have every confidence that what takes place here will be even more transformational for these young people and for young people for years to come in this community."
California South Divisional Commander Lieutenant-Colonel John Chamness credited football for playing a "pivotal role" in his character development, and turned to thank Beckham for extending the opportunity to kids in Pico Union.
"Today we honour one of the greats, one of the legends of soccer, David Beckham, for the contribution he has made in the countless lives of boys and girls around the globe," Lieut-Colonel Chamness said. "[He] has inspired many by his great legacy to realise soccer can have such a powerful impact on the lives of those who are committed to the sport."
Beckham, who also joined in a football clinic at the new field that day, responded: "When I was your age, I didn't have the opportunity of a great field like this, of a safe field like this. You have a real opportunity, but it's all about your dreams. It's all about what you want to do with those dreams, and if you can be polite, be energetic, be committed and be passionate about what you want to do. Just believe in those dreams."
This story first appeared in New Frontier Chronicle.