Donaldsons 'privileged' to lead Australia Territory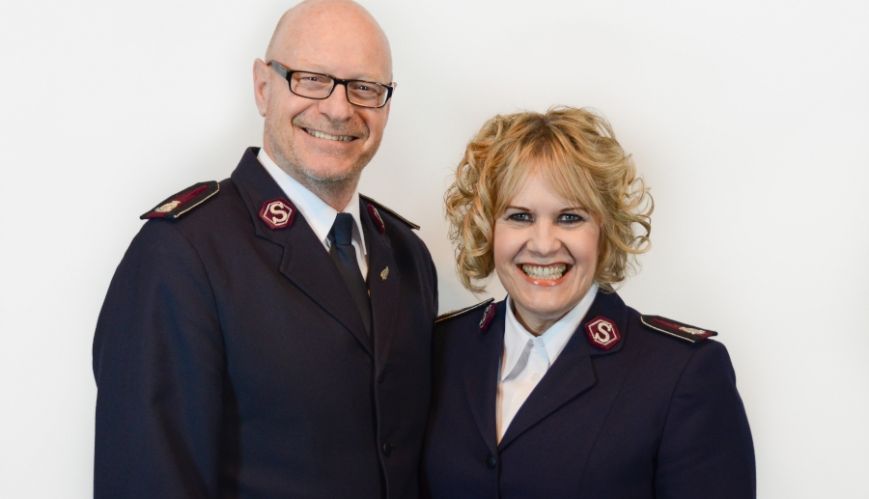 Donaldsons 'privileged' to lead Australia Territory
8 March 2019
"Our prayer is that our contribution to Australia will be honouring to God and fruitful for his kingdom" - Commissioners Janine and Robert Donaldson.
By Scott Simpson
Commissioner Robert Donaldson is a first-generation Salvationist who enjoys playing his euphonium and watching rugby and cricket. Commissioner Janine Donaldson is a fifth-generation Salvationist, the daughter of officer parents, an avid reader and loves Jack Russell terriers.
The above is just a personal snapshot of a couple who will become increasingly well known to Salvationists in Australia over the coming years, following yesterday's announcement that they will assume leadership of The Salvation Army Australia Territory in a few months' time.
The news, released by the Army's International Headquarters (IHQ), confirms that Commissioner Robert Donaldson will serve as Territorial Commander and Commissioner Janine Donaldson as Territorial President of Women's Ministries. They will take up their new appointments on 1 July.
The Donaldsons currently serve at IHQ in London; Robert as International Secretary for Accountability and Governance, and Janine as Zonal Secretary for Women's Ministries in South Pacific and East Asia and editor of Revive, the Army's international women's magazine. Prior to this, they were the territorial leaders of the New Zealand, Fiji, Tonga and Samoa Territory.
They will succeed Commissioners Floyd and Tracey Tidd, who will take up new yet-to-be-announced appointments also on 1 July, having led The Salvation Army in Australia through one of its most significant periods.
"We are grateful to the General [Brian Peddle] for his trust and we are excited at the privilege and prospects associated with these appointments," said the Donaldsons. "We trust our faithful God for his grace and leading.
"To succeed Floyd and Tracey, and to work with the senior leaders will be an immense honour and privilege. We will work hard, alongside [Chief Secretary] Mark and [Territorial Secretary for Women's Ministries and Gender Equity Advocate] Julie Campbell, to assist the Australia Territory to move forward in alignment with the plans that have been so carefully and prayerfully agreed."
Commissioners Donaldson have extensive experience of The Salvation Army in this part of the world. They are New Zealanders, but have a strong connection to Australia.
Two of their sons live in Melbourne and have done so for several years. One of those sons is married to an Australian and the other has an Australian fiancé. A third son lives in Wellington, New Zealand.
"Over the years we have enjoyed many interactions with The Salvation Army in Australia and appreciated the Salvationists we have met or served alongside," the Donaldsons said.
"We have been privileged to observe, and to a small degree accompany, the leadership of the Australia Territory as it has navigated the Australia One journey.
"We readily embrace the Vision, Mission and Values statements that have been developed and are convinced these will guide the territory to positive mission outcomes. The vision is compelling, the mission is true to purpose of The Salvation Army, and the living to the values will create a culture that is God-honouring.
"Our teaching ministry has often focused on holistic and integrated mission and we celebrate the emphasis on this in the Australia goals and structures such as the Local Mission Delivery Model and the Area Leadership Teams.
"Finally, on a personal level it will be simply wonderful to be back 'down under' and to live in a city that two of our sons have called home for many years. To be able to share life more closely with them and their wife and fiancé will be a rich blessing.
"Our prayer is that our contribution to Australia will be honouring to God and fruitful for his kingdom."
Read Tidd's Farewell Australia.