Can't stop the music at South Barwon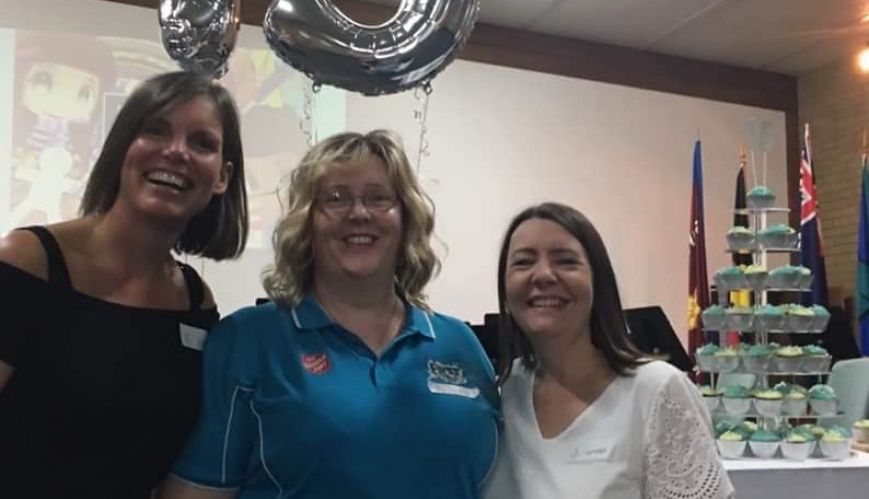 Can't stop the music at South Barwon
12 March 2019
Former leader Sue Smith, current program co-ordinator Kath Davey and Lyndel Berris, who established the program, were some of the 80 past and present volunteers and attendees who recently celebrated 15 years of the Mainly Music ministry at South Barwon Corps.
By Jessica Morris
South Barwon Corps is perhaps better known as the flagship of the Just Brass program, but it's Mainly Music ministry has also had a significant impact.
Last month, South Barwon celebrated 15 years of Mainly Music, a ministry that teaches motor skills and socialisation to children and their caregivers, all under the mantle of The Salvation Army.
It has been estimated that more than 900 children have participated in the corps' Mainly Music program since 2003.
Program coordinator Kath Davey paid tribute to the many volunteers who have helped keep Mainly Music running so successfully.
Photo Booth fun during the anniversary celebrations.
"Fifteen years ago Lyndel Berris responded to the call from God to set up Mainly Music at South Barwon," Kath said. 
"[The program] has been a huge part of our corps mission outreach. It is all about connecting with families, sharing their journey and sharing the love of God with them."
Founded in New Zealand in 1990, South Barwon was one of the first corps in Australia to facilitate the program.
Major Mal Davies, the South Barwon Corps Officer, said Mainly Music is a great way to connect young families with the mission of The Salvation Army.
"As corps officer, the Mainly Music program works for me at different levels," he said. "It gives members of the corps an opportunity for service, and I'm thrilled that we have volunteers aged from 20 to 70 helping out.
"It provides a means for young families to get together and support each other and is especially helpful for first-time parents. It also serves as an entry point to our faith community and we often have Mainly Music participants attend Messy Church services or send their older kids to our kids club." 
Mainly Music is held each Wednesday morning at South Barwon, welcoming children and parents through the doors with a promise of increased skills, education and community.
"Children are introduced to music, creativity and more. Plus families are given a chance to think about the God-part of life," Kath said. "[It's] amazing to think that all this can be achieved in a loving, shared family environment."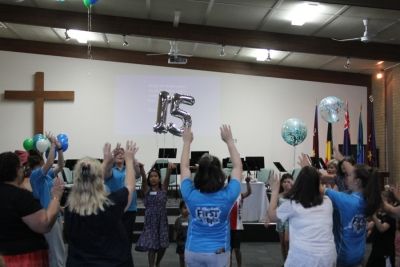 Celebrating "hokey Pokey" style!
More than 80 past and present volunteers and attendees came together to celebrate the 15-year anniversary. The celebration included an animal farm, jumping castle, face painting, craft and a coffee van. They also came together for a singalong, of course, proving that the 'Hokey Pokey' never goes out of style.
Recognising past and present leaders, Kath honoured Lyndel and former leader Sue Smith, as well as Kath Hart and Sharon Schmidtke, who were unable to attend.
"General Brian Peddle has issued a 'call to mission' for 2019 and the corps is giving that call a real central focus," Major Davies said. "Mainly Music fits in perfectly with our current aim for increased interaction with the community."