Making women's voices heard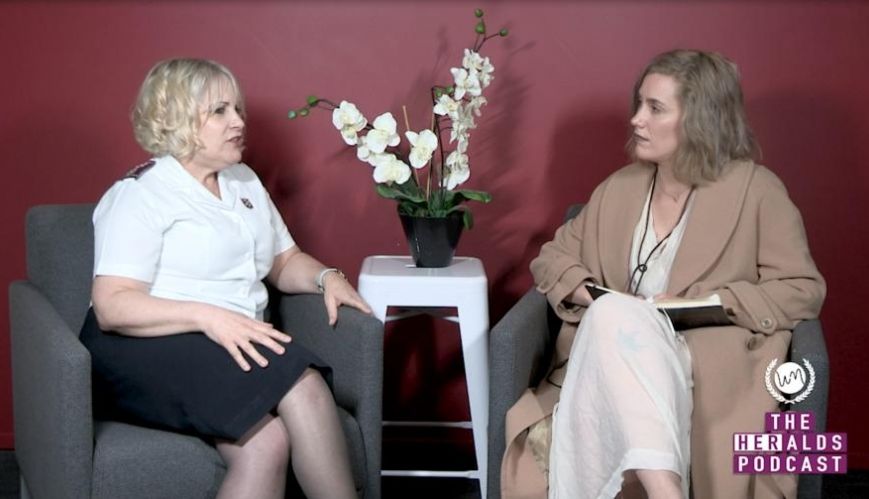 Making women's voices heard
25 March 2019
Commissioner Janine Donaldson spoke with Rosy Keane from New Zealand's Women's Ministries Department on the HERalds Podcast.
By Lauren Martin
Commissioner Janine Donaldson*, the incoming Australia Territory President of Women's Ministries, has taken part in a candid interview with Rosy Keane from the New Zealand Women's Ministries Department.
The interview, for the HERalds Podcast, covered various topics including 'Holy Courage', 'Holy Power' and 'Holy Leadership'.
Also discussed was domestic violence against women, an issue about which Commissioner Donaldson said The Salvation Army needed to take a firmer stand.
"I think we run the risk now of always wanting to be politically correct and not taking a political stand, and I think sometimes we have to just push the boat out," she said. "That's what [Salvation Army founders] William and Catherine Booth did. I think we have got to be a little bit more ... and I'm going to use the word 'aggressive' ... in saying: 'This will not do'."
She said, however, that as a woman in leadership she sometimes felt a reluctance from others to engage in talking these sorts of issues.
"I'm in a position sometimes where I feel that if I bring a topic up, everyone's just going to look away or roll their eyes because I'm addressing the topic again.
"I would love for someone to say, 'Actually, that's really important, how can we join together, how can we put our voice to the voices of women to make a stand against that'. I would just so love to hear that!"
Commissioner Donaldson said she often needed to ask God for 'Holy Courage', to boldly speak into leadership discussions about what God is putting on her heart to share in her role as an ambassador for Salvation Army women and the women that the Army served. "It's a real prayer as you go in ... just trust him to fill your mouth with what he wants you to say," she said.
She also said that it had been a huge privilege to represent women from 10 nations in her current role as Zonal Secretary for Women's Ministries in South Pacific and East Asia, in addition to being editor of Revive, The Salvation Army international women's magazine. 
The hour-long podcast can be viewed or listened to, HERE
* Commissioners Janine and Robert Donaldson take up leadership of The Salvation Army Australia Territory on 1 July 2019