Red Shield Appeal launches in Brisbane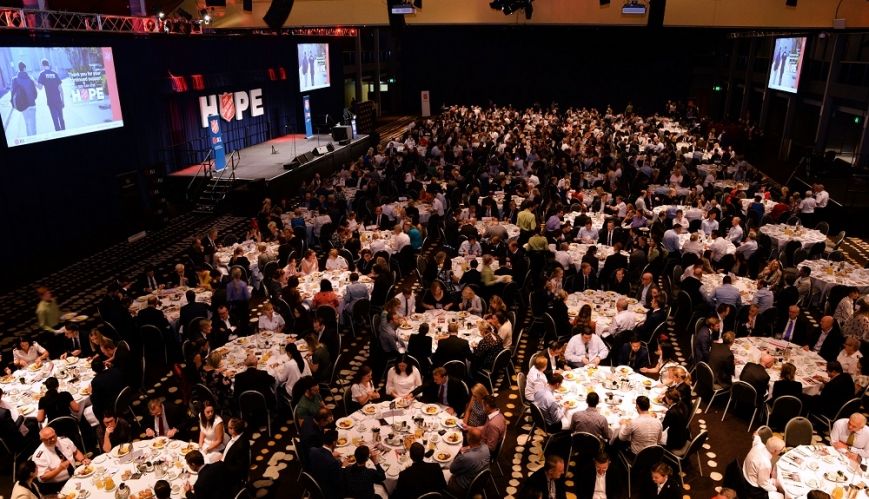 Red Shield Appeal launches in Brisbane
4 April 2019
The Brisbane business community came out in support of The Salvation Army at the breakfast launch of the Red Shield Appeal in Queensland's capital today. 
By Simone Worthing
Almost 900 of Brisbane's business community came out in support of The Salvation Army this morning at the 2019 Queensland launch of the Red Shield Appeal at the Brisbane Convention and Exhibition Centre.
It was the first of the capital city launches, with Canberra (2 May), Sydney (3 May), Melbourne (9 May), Darwin (14 May), Perth (15 May) and Adelaide and Hobart (16 May), to follow.
Regional launches across Australia also began today, with the Cassowary Coast (Far North Queensland) business launch and the Coffs Harbour launch. More will follow over the coming weeks before the national Red Shield Appeal Doorknock weekend on 25-26 May.
Paul de Jersey, Governor of Queensland and Red Shield Appeal Patron, officially opened the Queensland appeal.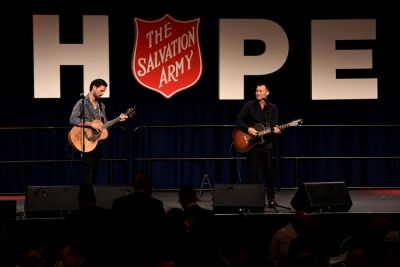 Country music artist Adam Brand (right) performs at the RSA Launch, Brisbane.
He spoke about the work of The Salvation Army that he had seen firsthand in the Townsville and Central Queensland floods earlier this year, last year's fires in Baffle Creek and surrounds (north of Bundaberg), and the ongoing drought covering most of the state.
"These experiences have deepened our appreciation and respect for organisations – The Salvation Army prominent among them – who help communities in the path of nature's wrath, and who are even today still experiencing dislocation and loss," he said.
"You have a remarkable record of sharing practical help, comfort and hope with respect and dignity and it is this spirit of giving to the community that we acknowledge and celebrate today."
The Governor then listed some of The Salvation Army's services, such as those for the homeless, those in recovery, personnel serving in the military and crisis accommodation for women.
"This list is long and the call on these resources is high, so please, as author Charles Dickens wrote, 'Do all the good you can and make as little fuss about it as possible'," he said. "Giving to the Red Shield Appeal is a generous way to do good."
The State Government kicked off the appeal with a $100,000 donation. The Premier of Queensland, Annastacia Palaszczuk, was unable to attend and was represented by Coralee O'Rourke, Minister for Communities and Minister for Disability Services and Seniors, who officially presented the donation.
"We recognise the incredibly important work of The Salvation Army in providing services to the most vulnerable Queenslanders and bringing hope to those who need it most," she said.
Stephen Conry, CEO of JLL (Red Shield events Principal Sponsor), and Michael Hansel, from HopgoodGanim Lawyers (Brisbane Sponsor), also spoke about the transformative work of The Salvation Army and the need for ongoing assistance.
"The Salvation Army really does change lives, repair souls and give hope where there is none," Michael said.
Motivating testimony
Paul Maunder, Brisbane Streetlevel Mission Team Leader, introduced Ben Harrison, a man who now calls Streetlevel 'home' and is dedicated to serving God and giving back to The Salvation Army.
"I wouldn't be here if it wasn't for The Salvation Army," said Ben, as he shared his remarkable journey from homelessness, addiction and loss to physical and mental health, having a spiritual family, and living with purpose and hope.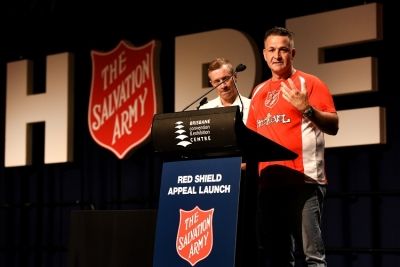 Ben Harrison shares his testimony, supported by Streetlevel Team Leader, Paul Maunder.
After a life-changing accident at work, Ben battled an addiction to prescription drugs, became an alcoholic, lost his family and job and attempted suicide.
He experienced homelessness, spending time at The Salvation Army Pindari Men's Accommodation Services before being offered a place at Moonyah (The Salvation Army Brisbane Recovery Services).
"There I learned about my drug and other issues, about myself, other people, and grew spiritually and emotionally. I am now happy and healthy and have my life back.
"I have now dedicated my life to giving back through The Salvation Army, including a new social enterprise program at Streetlevel fixing up and giving bicycles to the marginalised and homeless to help them turn their lives around.
"Giving to the Red Shield Appeal is an opportunity to help change the life of someone like myself."