Palm Sunday celebration of unity in the west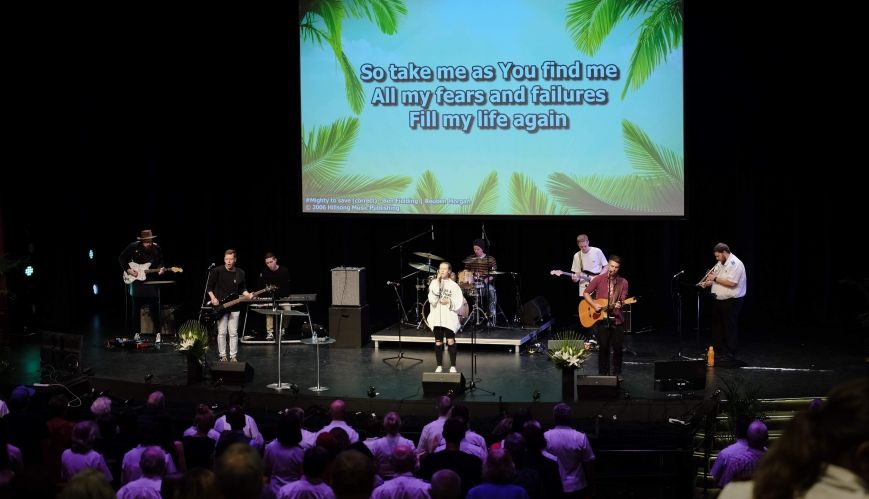 Palm Sunday celebration of unity in the west
17 April 2019
Close to 300 people gathered in Perth for the Western Australia Divisional celebration and worship event on Palm Sunday. Photos: Joel Gibson.
By Joel Gibson
The Salvation Army Western Australia Division came together on Palm Sunday for a special time of celebration and worship in Perth. It's the second consecutive year the divisional event has been held.
Chief Secretary of the Australia Territory, Colonel Mark Campbell, and Territorial Secretary for Women's Ministries and Gender Equity Advocate, Colonel Julie Campbell, were the special guests for the weekend.
Close to 300 people gathered for the event, which was held at St Hilda's Anglican Girls School in Mosman Park, representing the many corps and centres across the division.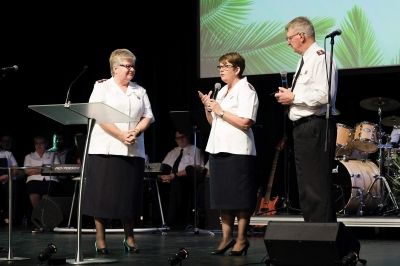 Colonels Mark and Julie Campbell share their vision for WA with Lt.Colonel Chris Reid (left).
Divisional Commander Lieutenant-Colonel Chris Reid led a time of worship that focused on the journey the division continues to take as part of the new Australia Territory.
As part of this time, three people were invited to the stage to be interviewed about how God has used The Salvation Army to transform their lives.
The trio all spoke about their various struggles in life, including the battle to maintain a roof over their heads, and how they now have a hope and a future, which involved helping others. One interviewee, Melissa, said: "To keep what I have, I have to give it away, that's the only way I'm going to maintain it."
Another special guest was Shirli Congoo, General Manager of Indigenous and Torres Strait Islander Ministry.
Shirli, along with the Campbells, shared their vision for The Salvation Army in Western Australia – a vision of coming together and of replacing the geographical isolation of Salvationists in Western Australia with the structure and expression of one Australia Territory, and of 'doing a new thing'.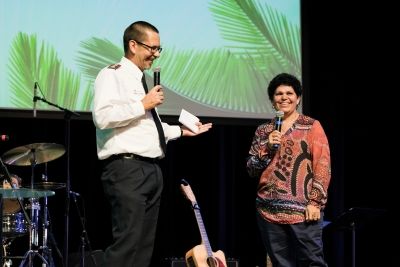 Lt-Colonel Stuart Reid discusses Indigenous Ministries in WA with Shirli Congoo.
"If we do what we've always done then we're going to get what we've always got," said Shirli.
Lieut-Colonel Reid also spoke about some of the new things that are happening in the division.
"We are not alone anymore, we are part of something bigger," she said in announcing two new mission expressions that are taking shape in Western Australia.
The first is "a place for training and development of a mission movement" at The Salvation Army Rivervale building, a place that has seen little use over the past four years. The second is a new ministry out of Subiaco where Floreat Corps is establishing a space where people can meet and be restored.
"It's been a long time since we've had new ministry expressions start," said Lieut-Colonel Reid. "But I believe that we are going to see more and more because God wants to bless us and we want to see it happen."